It seems like Julianne Moore does not rest. She won Best Actress for "Still Alice" in February, and eight months later she had two movies to promote at the Toronto Film Festival. One of them, "Freeheld," opens this weekend, while the other, the Noah Baumbach-esque comedy "Maggie's Plan," just sold to Sony Pictures Classics for a future release. In the former, she plays Laurel Hester, a cancer-stricken New Jersey policewoman who became one of the original faces of the new millennium's marriage-equality battle when her domestic partner, Stacie Andree (Ellen Page), was denied pension benefits. Right before heading to Toronto, The Huffington Post gabbed with Moore about her busy schedule, the many strides in the quest for LGBT rights and sharing in her co-star's coming-out experience. 
Belated congrats on your Oscar win. Please tell me you took some time off after that grueling campaign season. 
Thank you very much. Thank you! Yeah, I just had a really great summer. I did "Maggie's Plan" right after the Oscars and then kind of just did stuff with my kids and hung out for the summer. And I'm just gearing back up again, so I did have a nice break. 
That's like a second job, campaigning. I can't believe you went right back to work when you could have kicked your feet up and ogled your trophy.
I know. But I did! What was funny was literally the day after the Oscars I was on the ice in a Brooklyn ice-skating rink where we were shooting "Maggie's Plan." I was like, "What the hell?" 
"Freeheld" is coming out at an interesting time now that we have marriage equality. It's like a reminder of how far that's come in just a decade. What would the conversation surrounding "Freeheld" look like had same-sex marriage not been legalized a few months ago? 
Well, I think the amazing thing about "Freeheld" is that it feels at once completely fresh and new, because I don't think we've ever seen a domestic partnership on film, and anachronistic at the same time because that's already moot, because people don't have to register for domestic partnerships anymore -- they can get married. So that's what's amazing about the film, where it exists in that moment in time, because so much has transpired in the years since the documentary was made and since Laurel and Stacie had their historic moment with the freeholders. That's one of the things that I love about it. And I love that we can look at this movie, hopefully, as a celebration of what Laurel and Stacie did, of their love for each other, of the utter normalcy of who they are and what they wanted. They basically were just asking for what everyone else had. They weren't asking for anything out of the ordinary.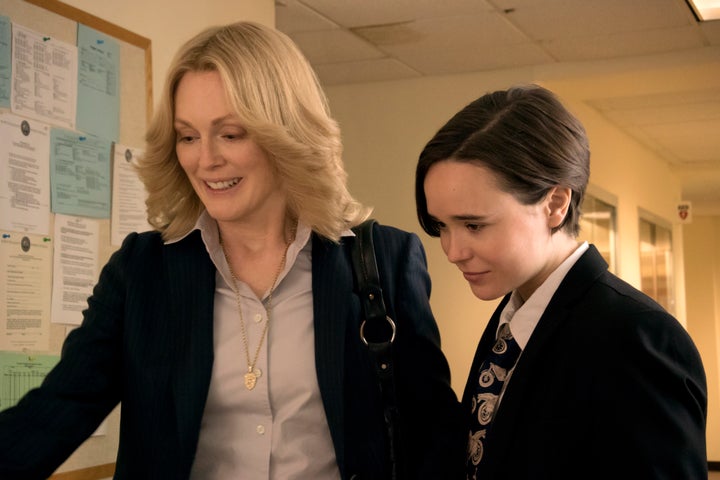 You've gotten to tell so many rich stories about the state of gay rights over the years, from "Far From Heaven" and "The Hours" to "The Kids Are All Right" and this. Do you feel a stricter sense of responsibility when chronicling these characters in various time periods?
Well, I think what's interesting about being an actor -- and the thing that I love most about it, and just about how we live our lives and who we are -- is that you're always trying to find the essence of what it is to be a human being. So I'm never playing politics. I'm trying to find out who we are as people and what we want and who we love and what we care about. Those things are very basic, and oddly, when it comes to someone's sexuality or someone's point in time or someone's points of view, I'm literally just thinking about that person, and I think that's the most important thing. I think that's why we go to the movies. We go to the movies to see ourselves and our emotional lives reflected back to us, and that's what I want to do regardless of a person's gender or sexuality or point in history. I think where we're most effective emotionally in film is when we connect to an audience on a very, very human, very personal level.
How did you capture Laurel's essence, given that you were playing a real person?
Since I've played real people before, what you do is you gather as much information as possible. First of all, we have the doc, which is beautifully, beautifully made by Cynthia Wade. And we also had incredible access from Stacie Andree, who opened her home to us and showed me so many documents and photographs and letters, and then Dane Wells, who Mike Shannon plays, who was Laurel's partner, also offered the same scope to me -- hours on the phone about their relationship. I spoke to Laurel's brother and sister, and Cynthia gave me all the transcripts from the film and also other things that didn't end up making it into this film. I had a lot of information, and her friends and family members and Stacie, they were just so generous with their time and way more open than they needed to be, even. And I did say to Stacie, because she's obviously very emotional about this, that it is my intention to make this a tribute to you and Laurel and I want to be as accurate as possible and I wouldn't ever do anything that was hurtful. We want to tell the story delicately and as beautifully as possible.
Even when they're delicate and beautiful, it's become increasingly tough to market movies like this and "Still Alice," which are both heavy stories about illnesses. Maybe it's not your responsibility to answer this question, but there's a breakdown in way independent movies are promoted. How do we fix it?
Well, maybe this is your job. [Laughs] Because honestly what we do do is we talk about them. That's why we do press. People don't know about movies automatically, so you contact the media and the media puts the noise out there that this is a movie worth seeing. And when you guys do it, that's when people respond. But if people say, "Don't go see this movie," believe me, they won't! I think it's your responsibility, and it's my responsibility as one of the people who believes in the movie, to tell people that I love it and that it's beautiful and that it's true and it will make them feel something. I like to go to movies that make me feel something. I mean, the worst thing that can happen to me is when I walk out of a movie and I can't remember what I just saw.
I just saw "Grandma," and it's a beautiful, beautiful film. Beautiful. And really so touching. I remember thinking that night, after I saw it, that I felt like I'd had this whole big experience that stayed with me and keeps resonating for me. That's what I want people to know about "Freeheld," that it's that kind of experience. It will make you feel a lot and it will probably make you think about who you love and why you love them and how much you value them. I think by me talking about that and you talking about that and that message getting out there, that's how you get people to see a movie like this. So you have to do that. [Laughs]
And I will gladly accept that challenge. But sometimes it feels like writing into a vacuum when so few mid-budget films have staying power.
I think there's a lot of content out there these days, so it takes an extra effort to rise above the noise, but that's why we continue to talk about them. That's why I'm on the phone with you, because I believe in it and I believe that people will have an experience watching it and that they'll be as touched by Laurel and Stacie as I was. 
What did it mean to you to experience this movie with Ellen Page right after she'd come out?
Well, first of all, I adore her. Ellen and I had never met, and we didn't meet until I was cast in the movie. She came over to my house and we just kind of chatted about it. I think we really had an instant connection and I just loved her. I loved that she was completely unprotected and so unbelievably frank with me about what it meant to be closeted and then to come out. She was so generous in her sharing of her experience in being a gay woman. She was 100 percent my partner every single day. I was always so happy to see her on the set. We went through everything together. It just felt so easy, and I think we have great chemistry together. I'm really happy about that. You never know with an actor. You could really love somebody and the chemistry doesn't show up. But this, I think, does. We just believe them. It's always wonderful when you have a partner when you make a film, but even more than that, Ellen has become a very, very good friend and someone I absolutely love and adore. It was a privilege to get to be with her on her first film as an out, gay woman, too. It was interesting, she has this kind of dichotomy happening because obviously we were making a movie that was a tremendously sad time in the lives of these actual people, Laurel and Stacie. And yet she had so much joy coming to work every day, getting to play someone who has the same sexuality she did. And that was her first time doing that! What an extraordinary kind of experience for her to have, and how lucky was I to get to be there while she had it.
PHOTO GALLERY
Fall Movie Preview 2015
For a constant stream of entertainment news and discussion, follow HuffPost Entertainment on Viber. 
Calling all HuffPost superfans!
Sign up for membership to become a founding member and help shape HuffPost's next chapter