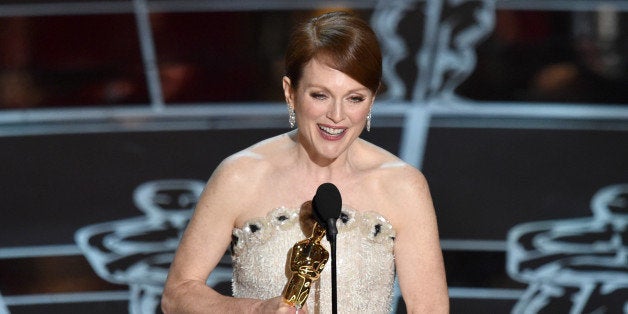 What does it take to get to the top -- without losing your center? Our "Making It Work" series profiles successful, dynamic women who are standouts in their fields, peeling back the "hows" of their work and their life, taking away lessons we can all apply to our own.
Julianne Moore just won her first Oscar two weeks ago and it doesn't look like she's slowing down any time soon.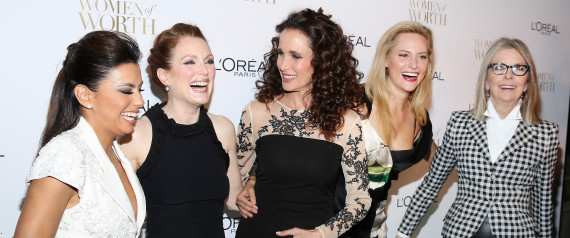 Moore with Eva Longoria, Andie MacDowell, Aimee Mullins and Diane Keaton at the 2014 L'Oreal Paris Women of Worth event.
Moore moved around a lot before her rise to stardom in the the 1990s. She was born at the Fort Bragg army installation in North Carolina and lived in eight different states before moving to Germany during high school, where she discovered her love of theater. She graduated from Boston University in 1983 with a BFA in Theater.
Her breakout role came in 1997 with the drama "Boogie Nights," for which she earned her first Academy Award nomination. Moore starred in other big hits such as the 1998 comedy "The Big Lebowski," 2011's "Crazy, Stupid, Love" alongside Steve Carell, and more recently, in "Hunger Games: Mockingjay – Part 1" in 2014 This year, Moore earned the Oscar for Best Actress in a Leading Role for her performance in in "Still Alice," a story about a woman who's diagnosed with early-onset Alzheimer's Disease.
This past winter, Moore participated as an ambassador for the L'Oreal Paris Women of Worth campaign, which recognizes 10 remarkable women who are making an impact in their communities. Alongside other ambassadors including Eva Longoria, Blake Lively and Diane Keaton, Moore introduced one of the 10 inspirational women honored at L'Oreal's December 2014 event. This year she'll be back to introduce one of the 2015 honorees. L'Oreal Paris is currently calling for nominations for the 2015 Women of Worth.
Moore spoke with The Huffington Post about the awesome women of worth she's met through L'Oreal, how she defines success and her thoughts on feminism.
How would you define success?
Success is personal. I think you feel successful when you're doing something well that you enjoy. And that can be anything. It doesn't have to be something that's paid, it can be something that you really love doing. It can involve your family, it can involve your work, but it's just the feeling that you're accomplishing something that you want to accomplish.
By that definition do you consider yourself successful?
Yes, right now I definitely do! I feel very fortunate to have been able to support myself doing work that I love. It doesn't feel like work to me. And I also have a great family and that's what I wanted. That was something that I had really hoped to accomplish. So I feel great about that.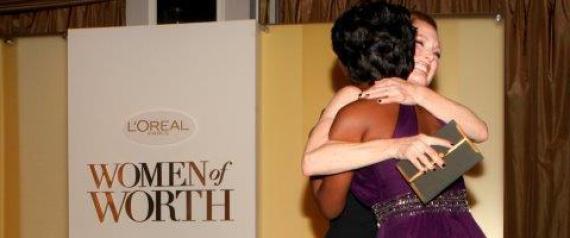 Moore introducing Rachel Jackson-Bramwell, one of L'Oreal's 2014 Women of Worth, at the December 2014 event.
I know you have a young daughter yourself -- what advice would you give to young girls growing up right now?
Well, some advice I'd give to young men growing up -- and I think it's important not to be divisive about that -- what advice I'd give to both of my kids, I have a 17-year-old and an almost 13-year-old, I'd say I'd want them to find the things that they enjoy doing. To tell them to open themselves up to possibilities and follow their interests and see where their interests lie.
Feminism and the debate over what the term feminist means has been a huge topic of conversation lately. Do you consider yourself a feminist?
Absolutely I consider myself a feminist. I think a feminist is the same thing as a humanist. A feminist is someone who wants gender equality and I think that's important for all of us right now.
I was actually at the L'Oreal Women of Worth event this past fall and I was hoping you could tell me a little bit about the campaign and what it's like being a spokesperson?
Amazing! I was blown away by the amount of inspirational women.
It really is an amazing campaign. This was my first year with the campaign and I think I felt the same way that you did, I was very very impressed with the differences these women are making in their lives and the lives in their communities. They're people who saw a need somewhere and found a way to really help others, often brought on by either something they were experiencing themselves or sometimes something they observed. It's really a lesson in how every individual can make a tremendous difference by caring and doing.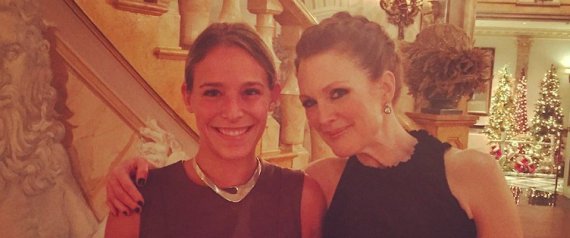 Moore and me at the 2014 Women of Worth event. (We ran into each other on the bathroom line!)
What do you think are the big issues women are facing? What's holding us back from gender equality?
I understand that's a pretty big question.
[Laughs] Yes! What do you think is holding us back from gender equality?!
I think that if we could answer that we wouldn't be struggling with it. I think just talking about it is what's most important. I get this question a lot about whether or not this kind of inequality is endemic to show business and I'm like, of course it's not. We're talking about what's happening all over the world. Just the fact that people are acknowledging that this exists is a step in the right direction.
Well I have a movie coming out called "Freeheld," it's about the women who changed the domestic partnership laws in the state of New Jersey and I made that movie with Ellen Page. It's probably coming out in the fall, based on the documentary on the same name. And then I'm shooting a movie for Becca Miller, a comedy with Greta Gerwig and Ethan Hawke and Bill Hader.
This interview has been edited and condensed.
Head over to L'Oreal to nominate an inspiring woman who is making powerful changes in her community to be one of this year's Women of Worth.
Before You Go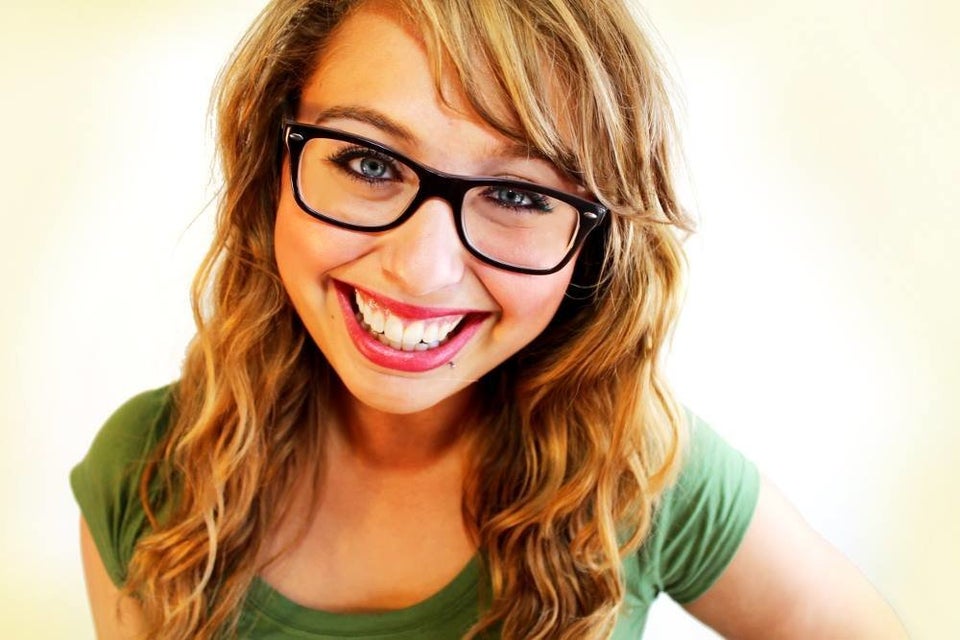 How Amazing Women Are "Making It Work"
Popular in the Community