Julianne Moore's acting career began with theatre and television roles in the early-mid 1980's and has since soared to a rarified prominence that very few actors can lay claim to. Moore, who earlier this week was honored with the Best Actress Award at the Cannes Film Festival for her starring role in David Cronenberg's Maps to the Stars, can now add that to her multiple SAG Awards, Golden Globes, BAFTA Awards, Emmy Awards, and Academy Awards. She has several feature films in the hopper, among them her much-anticipated role as President Alma Coin in the third and fourth films in The Hunger Games series.
Besides all of this, which would keep any mere mortal busy enough, Moore is also a New York Times best-selling author of children's books. Her first book, Freckleface Strawberry, was an immediate best seller upon its release in 2007. Two more successful books have since been published in the series, and she's recently signed a five-book deal with Random House to launch Freckleface Strawberry as an early reader series.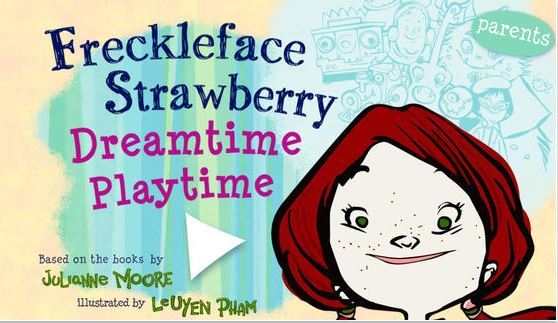 In addition to the book series, Moore has developed the character of Freckleface Strawberry into an iTunes app store game for iPad, iPhone, and iPod Touch. The new app is titled Freckleface Strawberry Dreamtime Playtime and was created by Julianne with producer Andrew McLeod and Night & Day Studios. The app is targeted towards ages four and up and allows users to interact with Freckleface Strawberry as she plays both in her dreams and in her imagination. Children learn three key math concepts through using the app.
Moore named the character for her nickname as a child growing up in Nebraska, when she was teased for her freckles and red hair by other children. During our conversation, it occurred to me that the names we're called as children can be so powerfully hurtful and it was terrific that she was able to take the name back and make it into that of a hero figure. "Thank you!" laughed Julianne. "When I was writing the book I remembered how much I hated it but of course now I'm like, oh my gosh, that's adorable -- what a great name! So in a way it really ended up being a huge jumping off point for this character."
One of the most engaging parts of the Freckleface app is the vivid illustrations that bring one right into her world. I asked Julianne how she discovered the very gifted illustrator, LeUyen Pham, who had worked as an animator at Dreamworks. It turns out that her publisher had pitched Pham along with several other illustrators and Julianne loved her work and reached out to her.
The app reinforces subliminal 'good' messages such as looking upon bedtime as an adventure; eating heads of lettuce as a snack. "Actually I wanted it all to be kind of a positive reinforcement, you know, the entire app, even in the beginning where you have a mini-movie where she talks about the things that she likes to do, what she likes to play, you know," Julianne told me. "She rides a bike and she gets on the jungle gym and she plays monster games in her imagination and then bedtime: oh I'm excited about bedtime because I can play in my dreams! Because of course kids always hate to go to bed. So we have something that reinforces that and helps you get ready for bed, you know, what do I do? I take my bath, I brush my teeth, I put on my pajamas, all the things that kids do and I'm familiar with. So I kind of wanted the whole thing to be positive and to be real."
One of the things I was most curious about was the process of finding the right app developer to make this into a three dimensional experience for children. Moore explained that while on the set of Game Change (for which she won an Emmy, a Golden Globe, and SAG Award), she was speaking to someone on set who ended up connecting her with the app developer she worked with on the first Freckleface Strawberry app. For this new app, the original developer discovered Night & Day Studios, who have a long track record in educational software design, brand development, and developmental psychology.
The voice of Freckleface Strawberry is that of Moore's 11 year old daughter, Liv. "She does a great job and it was fun for us to work together too," said Liv's proud mom. "I just love listening to her voice and the character sounded so warm and real and adorable, she just does a great job."
I mentioned that I found Freckleface evocative of the scrappy and beloved Pippi Longstocking character treasured internationally for several decades. "The character does have that realgirl kind of quality, like Pippi does, you know? Somebody who lives in their own world and cares about imaginary things -- someone who was a real girl and not like a princess or a fairy or something," Julianne agreed.
What were her favorite books as a child? "Oh my goodness -- there were so many -- I loved all the Little House books, all of Laura Ingalls Wilder, I read everything that Louisa May Alcott ever wrote. My mother brought us to the library every week and I read everything. I loved Harriet The Spy and The Little Princess and The Secret Garden and oh my gosh, there's so many!" All of these books, we noted together, have stood the test of time and are beloved by generations of children because they continue to resonate.
"I think that's one of the great things about literature. That feeling of interconnectedness you get reading, I don't know if you get that anywhere else," Moore mused. "When you're a kid and you're reading, you think how did they know this about me? How did this author know this? That idea that we all have similar feelings and experiences -- it's such a great thing for kids to feel."
Freckleface Strawberry Dreamtime Playtime is available for $2.99 from the App Store on iPad, iPhone and iPod Touch or at www.appstore.com
Calling all HuffPost superfans!
Sign up for membership to become a founding member and help shape HuffPost's next chapter