More than 26 years after convicted sex offender Mary Kay Letourneau became a tabloid fixture, a new film loosely based on her shocking case is garnering early award season buzz.
On Tuesday, Netflix unveiled a trailer for "May December," due in theaters Nov. 17 before a December streaming release. The movie, directed by Todd Haynes, follows Elizabeth Berry (played by Natalie Portman), a television actor who is hoping to portray Gracie Atherton-Yoo (Julianne Moore) in a biographical film.
Gracie, as it turns out, is the former owner of a pet shop who is now living in relative seclusion with her husband, Joe (Charles Melton), and their children after her release from prison. The couple met when Gracie was 36 and Joe was a 13-year-old seventh grader.
Catch the "May December" trailer below.
"May December" is clearly reminiscent of Letourneau's case, though many of the specifics are changed. In 1997, Letourneau pleaded guilty to the second-degree rape of Vili Fualaau. The former Seattle area teacher began abusing Fualaau when he was a student in her sixth grade class.
The pair ended up having two children, one of which was born while Letourneau was behind bars. They married in 2005, about a year after Letourneau was released after serving more than seven years in jail.
Early reviews of "May December," which premiered at the Cannes Film Festival in May, have been mostly positive. Vulture described the film as "both humane and scathing," while The Hollywood Reporter praised Moore and Portman's "riveting" performances. Both actors are widely expected to be award season front-runners.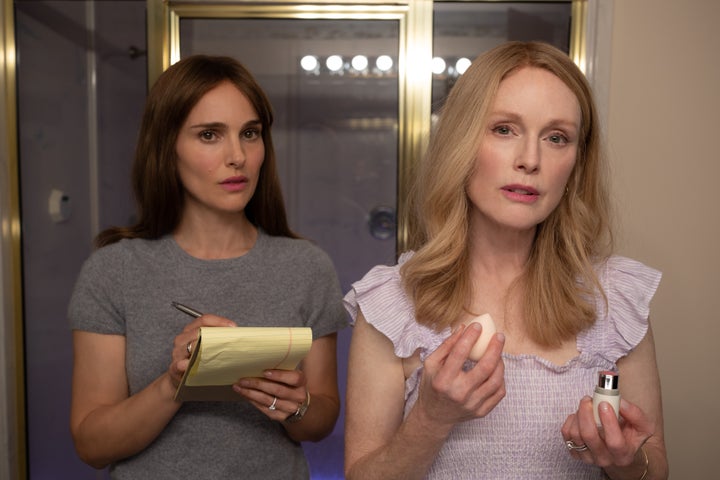 In an interview with Entertainment Weekly published Tuesday, Haynes made no mention of Letourneau, who died in 2020 at age 58. Still, the "Far From Heaven" and "Carol" filmmaker acknowledged that his latest film poses "pressing questions that a society and the legal system had every right to interrogate."
"It's exploring the issues that women have to balance in their lives and the contradictory roles that they're often asked to play as objects of desire, and yet, as mothers and guardians of the family and the institution of marriage, they have to navigate all of these complicated demands that come out of society," Haynes said. "I find that to be the place where so much universal experience resides."
Support HuffPost
The Stakes Have Never Been Higher
Popular in the Community