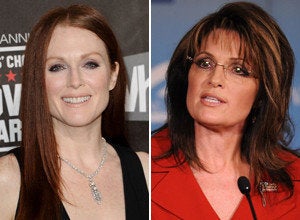 Julianne Moore is getting fit for claws -- she's about to play Sarah Palin, the Mama Grizzly herself.
HBO Films announced on Wednesday that the actress will take on the role of Sarah Palin in its film adaptation of the 2008 election tell all book, "Game Change," written by Mark Halperin and John Heilemann. Moore is the first member of the cast, which will feature screen versions of the top players in the election, such as Barack Obama, Hillary Clinton and John McCain.
In one such story, McCain adviser Steve Schmidt was quoted telling Palin's foreign policy advisers that, after testing the candidate before a debate, "You guys have a lot of work to do. She doesn't know anything."
It will take quite an acting job for Moore to play the role -- she's an outspoken liberal, and backed Obama during the election.
HBO Films' GAME CHANGE follows John McCain's 2008 presidential campaign, from his selection of Alaska Governor Sarah Palin as his running mate to their ultimate defeat in the general election. Based on the bestselling book "Game Change," by John Heilemann and Mark Halperin, the film is directed by Jay Roach and written by Danny Strong, whose previous collaboration was HBO's Emmy Award winning film, RECOUNT. The 2008 film also earned an Emmy and DGA Award for Roach and an Emmy nomination and WGA Award for Strong.

Credits:
Cast (to date): Julianne Moore as Sarah Palin

Director/Executive Producer: Jay Roach

Writer/Co-Executive Producer: Danny Strong

Production companies: HBO Films in association with Everyman Pictures