Julianne Moore was firing off a text message to one of her two kids when we walked into a lower Manhattan hotel room to chat about the new movie "Still Alice," which has dominated this year's leading-actress accolades and will likely do so again at the Academy Awards on Feb. 22. Moore earned the Oscar nod on Thursday. When we spoke Tuesday, she'd just returned from winning at the Golden Globes in Los Angeles. She was shipping out again two days later -- the morning of Oscar nominations -- to attend the Critics' Choice Movie Awards, where she again took home a trophy.
That is Moore's life right now: shuffling back and forth between her home in New York City and Los Angeles, where the bulk of high-profile award ceremonies take place. She doesn't mind, though. Her two Golden Globe nominations (the other was for David Cronenberg's dark Hollywood satire "Maps to the Stars") came in the same year that she commanded supporting roles in the action-thriller "Non-Stop" and as President Alma Coin in "The Hunger Games: Mockingjay - Part 1."
2014 was Julianne Moore's year -- her latest of many. She's one of 11 actors nominated for two Oscars in the same year (2003, for "Far From Heaven" and "The Hours"), and those are sandwiched between box-office beasts like "The Lost World: Jurassic Park" and "Hannibal," cult favorites like "The Big Lebowski" and "Safe," and indie sleepers like "The Kids Are All Right" and "A Single Man." After all that, she somehow still seems to take in award shows without a hint of jadedness. Despite Hollywood's dearth of roles for women over 40, Moore, at 54, hasn't seemed to encounter any trouble. In "Still Alice," she plays an accomplished linguistics professor with early-onset Alzheimer's. It's not like snorting cocaine in "Boogie Nights," donning period garb in "Far From Heaven" or stepping into Sarah Palin's shoes in "Game Change." Instead, the movie that will likely result in Moore's first Oscar win is a quiet tale of one woman's health decline. HuffPost Entertainment chatted with Moore about navigating awards season and what's to come for the actress:
Are the Golden Globes a blur now?
I don't actually feel like it's a blur. A lot happens, but it's also kind of a long process, so I do try to really enjoy it. It was hot in there, though.
Everyone looked like they were glistening a little more than usual.
Exactly. I'm not much of a sweater, but I said, "Is it me or is it really hot?" But it was really hot.
Where's your Globe right now?
On my desk, I think. I brought it home in my suitcase.
Congratulations on "Still Alice," independent of awards. Was it hard to memorize lines predicated on forgetting what you're supposed to say?
Hmmm. No. No, it's interesting because memorizing lines is only difficult when the lines don't make sense. I find that when I'm having difficulties memorizing something it's usually because there's some kind of line of thought that's not being articulated properly so that there's not a through line there. Oddly, what's interesting about Alice is she does have a through line for the most part and then suddenly it drops out, so I knew where to do it. I think that [writer-directors] Wash Westmoreland and Richard Glatzer adapted the book so beautifully. It was lovely, so I didn't find that hard.
What are the chief differences in working with two directors on a set?
There are just two voices. They're often partners, like the Coen Brothers are brothers. There are Swedish directors I've worked with who were friends since they were 10 years old. Rich and Wash are work partners and romantic partners, so they tend to be people who work very closely together or are married or related or something like that. The differences are not as dramatic as you'd think. As all people do, generally one will have a slightly different sensibility. I'd say that Wash is the more romantic of the two and Richard is the more pragmatic, so they have a shared vision and they're up at the monitor together and they're able to communicate what they want.
Had you seen Julie Christie in "Away From Her," another wrenching Alzheimer's story?
I had seen the performance -- it's so beautiful. She's a great actress. But I did not look at anyone else's performance before I did this. It's a little bit like when I was doing "Game Change." I had seen everything Tina Fey had done, which is brilliant, but I didn't watch any of it while I was doing it. You can see it afterwards and then it's fine.
Does living inside this character make you go home and play memory games?
No, it doesn't. It's interesting because people say, "What did the movie do for you? Did you worry about having Alzheimer's, and did you feel really sad when you came home?" But it actually works conversely. I came home feeling really, really grateful for the life I have. I was very appreciative of my husband and my children and my dumb dogs and everything that I have in my life because I think really what the movie does is make you think about what you care about and what you want in your life and not taking anything for granted.
"Still Alice" and "Maps to the Stars" are both small festival movies that haven't gotten splashy releases. It seems that's all anyone gets attention for now: gigantic movies or tiny awards films that few people will see.
Hopefully if it's an awards movie people will see it. That's one of the reasons that distributors certainly care about awards, because they bring an unbelievable amount of attention, especially to small films, so people actually go to see them. Where you run into trouble is when you have a small movie that doesn't get any attention, and then really nobody sees it. But that's not something we have any control over. I only have control over the movies that I do and the people I work with and what I say yes to. I think you'd make yourself crazy if you're always thinking about whether or not somebody is going to be watching something. It's a little like worrying yourself about how many hits on the Internet you're going to get. You can't control that on a website.
You've been nominated for four Oscars.
Zero for four, as they say!
Do you have a favorite Oscar gown?
Do I have a favorite Oscar gown? Probably. I'm trying to remember what I wore. I wrote a white Prada one, a green one, I wore a Calvin Klein. Maybe the emerald-green YSL that my friend Tom Ford designed. I think that was for "Far From Heaven" and "The Hours."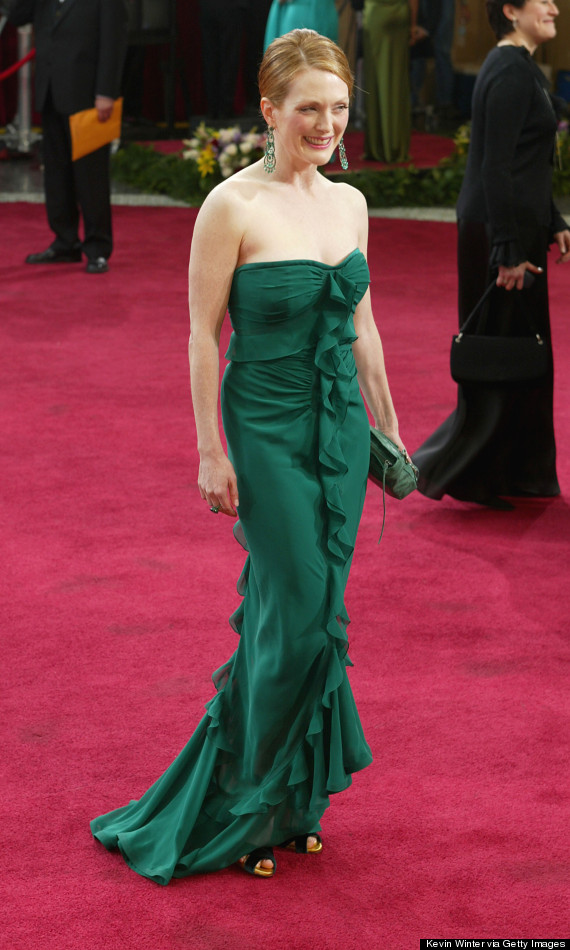 There's been a smattering of articles lately that ask who's more overdue: Julianne Moore or Amy Adams.
I don't think you can talk like that!
What is your response to pitting two people next to each other like that?
I don't pit us against each other. I actually recently met her. We just hadn't crossed paths, and she's so lovely. So incredibly talented and beautiful and gracious, and so the last thing in the world you want to do is be pit against another actress you admire. So I think there's room for everybody, and there's no way to determine who gets more. It's just a crazy thing. One of the benefits of this awards season, I can say, is that I got to meet her. I don't know that we ever would have been in the same movie together, so it's really lovely to get to know her and to be with all of these women -- to get to be with Reese Witherspoon and Rosamund Pike and Felicity Jones, who I hadn't met and who's so great, and Jennifer Aniston, who's been so fantastic. Tilda Swinton is always great, and Marion Cotillard is always great, so the women that we're talking about right now are tremendous actresses.
And you didn't know many of them prior? Surely you must know everyone by now, right?
You don't! You'd be surprised. It's a little like when someone says, "What town are you from? Do you know so and so?" And you go, "We don't know everybody!" I think that actors are like that, too. You might even feel like you know somebody because you've watched their work and admired it and stuff, but you don't always get to meet them or work with them. I think the thing for women, unfortunately, is we never end up in the same movie because we're just not all together. It's always really great to meet them.
Which of them are on your radar to work with now?
I think all of the people I just spoke about. I haven't worked with any of them, but I would work with all of them in a heartbeat. Laura Dern and I are friends and have worked together briefly for about three days, and we're always trying to find something interesting to do together. She's wonderful. I think just about everybody they're talking about.
Have you thought about an Oscar gown yet?
No, I have not been nominated yet. That would be hubris.
Fair. You have a month between nominations and the ceremony, though. What will you fill that time with?
You're generally doing press, that's what you're doing. And I have two kids, so I'm doing that kind of stuff. I'm also in pre-production for a movie that I'm doing. But I like to be prepared. I always admire those women who are like, "I tried on three dresses this morning and I chose this one." I'm like, "This morning?" I'd have a heart attack! That I can't do. I really can't do it.
What was your reaction to being name-checked on M.I.A.'s last album?
Oh my God! I'm so flattered! I was like, "M.I.A. just said my name!"
How did you find out?
I don't know. Someone told me. They sent me the video and I was like, "Where is it, where is it?" I was so flattered. Are you kidding? It made me feel like a part of popular culture.
Have you met her?
No! I bet she's very cool. I don't run into anybody! That was super cool and really fun, and I never imagined that I would be that cool.
I remember rewinding it the first time I heard it.
I know, like, "Did she just say Julianne Moore?" What? Yeah, I know. I was so flattered. And shocked!
This interview, which has been edited and condensed, was conducted before Thursday's Oscar nominations, where Moore scored her fifth nod. "Still Alice" opens in limited release on Jan. 16 and expands to more theaters in the weeks that follow.
Calling all HuffPost superfans!
Sign up for membership to become a founding member and help shape HuffPost's next chapter
BEFORE YOU GO
PHOTO GALLERY
Julianne Moore's Style Evolution