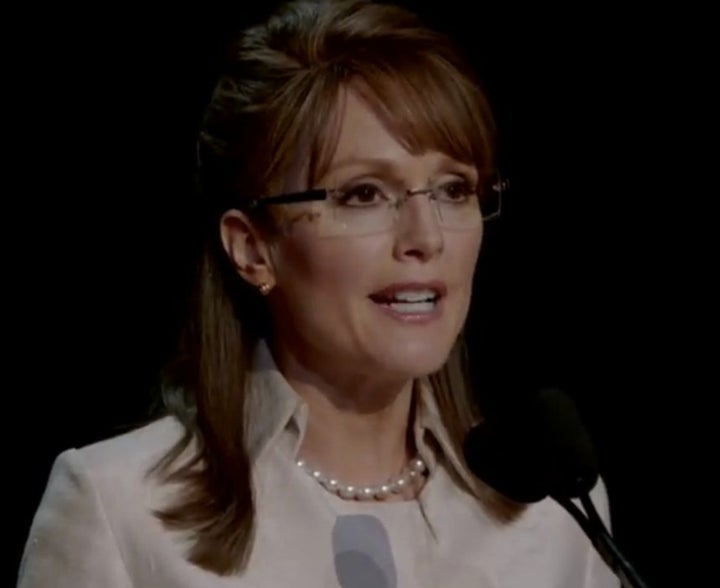 Still photos have proven that she can look like Sarah Palin; now, Julianne Moore is promising that she'll sound like the former Vice Presidential candidate when she portrays the Alaskan in the upcoming HBO film "Game Change," too.
"I did a tremendous amount of research," Moore told an audience of reporters at the Television Critics' Associations gathering on Friday. "The first thing I did was hire a vocal coach. For me, she has an incredibly idiosyncratic way of speaking. We looked at hours and hours of her speaking, I read her book, I read 'Game Change,' [I read] her assistant's book. Absolutely everything I could get my hands on."
Moore is taking the lead in the March-scheduled TV movie, which is based on the 2008 campaign book "Game Change" by Mark Halperin and John Heilemann. Ed Harris plays John McCain, while Woody Harrelson plays adviser Steve Schmidt.
Moore praised Palin's "adorable" parenting, which she studied while watching the reality show "Sarah Palin's Alaska." She did not, however, rave about her preparedness to be a vice presidential candidate.
"We have her displaying moments of sheer brilliance – I mean, she was unbelievably charismatic," she said. "Suddenly here was this working class mother who popped out and seemed to be able to command the world, but of course upon further inspection, she was clearly not prepared. She didn't necessarily have the experience necessary to lead our country, and that's what we were attempting to characterize."
In December, Moore discussed her distaste for the entire political system that she discovered while researching for the role.
"So much is about how do you get on the air, how do you get the most media attention, how do you make the most noise. When, in fact, what we're all looking for is leadership," she told ABC News. "We don't want noise. We want people who are going to take care of us."
Calling all HuffPost superfans!
Sign up for membership to become a founding member and help shape HuffPost's next chapter