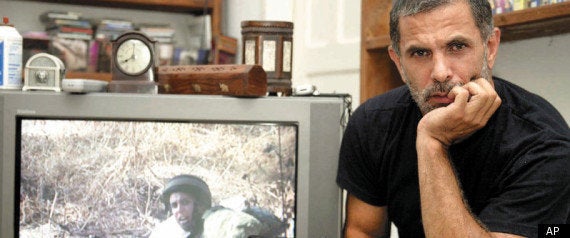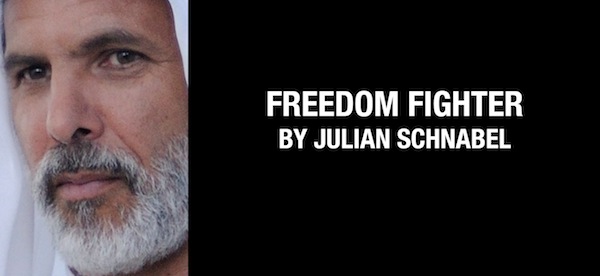 Last year millions of parents and children around the world lined up at movie theaters to see Johnny Depp in Alice in Wonderland. For most, it was a fun escape from reality. In the city of Jenin, the play, Alice in Wonderland, featuring kids at Juliano Mer-Khamis' Freedom Theater, symbolized something different. In this town marred by conflict and blinded by zealotry, Alice in Wonderland is actually "dangerous." That's how Juliano described it weeks before he was senselessly and brutally murdered. For those grieving in this part of the world, his murder is, in my mind, on par with the shock and grief we felt in Central Park after the loss of John Lennon. To kill a person like Juliano is like killing peace itself. This murder is yet another cold reminder of how this prolonged conflict between Israelis and Palestinians has deformed people's sense of up and down, good and bad, right and wrong. They literally can't recognize their friends from their enemies.
Born to a Jewish mother and a Palestinian Communist father, Juliano was, as his daughter Milay eloquently said at his funeral, "100 percent Arab and 100 percent Jewish." There were no boundaries, no labels or compartmentalization. Although the visuals of Juliano's life in Jenin often included demeaning checkpoints and ugly interrogations, Juliano saw beyond them. He accepted the yolk of his life. And he wore it, in order to work within it. He could have easily run away -- his talent and his fame afforded him that opportunity. He chose to stay and raise his voice for peace. If that is not an act of bravery, I don't know what is.
Juliano's evolved sense of purpose, sorely lacking in the region on both sides of the conflict, was a result of an extraordinary, if not unorthodox, upbringing. His mother, Arna Mer, was a fighter -- she was a member of the Palmach militia, later in life she battled cancer, and most importantly, she fought tirelessly on behalf of the children of Jenin. Arna began a theater school for Palestinian children during the first intifada. Juliano captured his mother's work in his deeply moving 2004 documentary Arna's Children. Juliano began to film his mother and the children from her theater school as they began their love of the art form. Dressed in colorful costumes with paper crowns, these fleeting moments amidst violence and terror were the few in which one could see these children reveling in their youth. Early on in the film, Arna is seen advising another teacher: "If the children make a mistake, please don't be angry. And please don't correct them."
Over the span of a decade, Juliano filmed 10 of the children from Arna's theater school, and when he returned in the last year, he found that six out of the 10 children were killed as suicide bombers or in altercations with guns in Tel Aviv, two were in prison, and only two remained. As we know, and woefully ignore, the cycle of violence consumes all who continue it -- even those who are taught to know better.
A mutual friend of ours tells a story of how Juliano spoke of his dreams as a young man: "Just because my father was a Palestinian Marxist doesn't mean I can't be the best fighter pilot in the Israeli Army." But clearly, something in him changed. Like his mother before him, Juliano started the Freedom Theater to educate children in the only professional venue for the arts in the Northern West Bank. Juliano envisioned the Freedom Theater as a "third intifada" -- a cultural uprising, with poetry, music, theater, cameras and magazines used to fight back against the violence. The Freedom Theater serves as a safe haven for many children, where they could turn to develop their creativity and emotions in the midst of military occupation. It is a place where young girls who are being abused can come and talk in confidence, where children can freely express their fears, and where a young boy who stutters can overcome his speech impediment through acting.
Juliano was shot five times outside this theater -- in front of his wife and youngest child.
If you knew Juliano, as I did because of his work on Miral, you couldn't possibly imagine such a tragedy. He was a very big man with a very big smile. The man was strong and on a mission. He came over to my house in Jaffa to meet me. He didn't want to go to the production office. He wanted to come to my home, meet Rula Jebreal, the author of the script, and learn about me personally before committing to the film. He was very late -- checkpoints gave him a fit. He brought his kids who made themselves at home. They were polite, comfortable and proud. Then Juliano sat on my couch and studied my face -- to see what my intentions were with Miral. Trust is immensely important, and not easily granted from a man living amidst a violent military occupation. In hindsight, I am lucky I got it.
During production, when Juliano was given his expensive robes for the role of a Kuwaiti sheikh, he scolded the costume designer: "Why did you spend all of this money on these robes? We could have used this money for something more important." When he finally put on those robes, he unbuttoned the top button -- something a sheikh would never do. For Juliano, it was another gesture of freedom, from a man who gave us many.
All of us involved with Miral are mourning the loss of our colleague and collaborator, Juliano Mer-Khamis. Our film, Miral, is a cry for peace and is intended to open a dialogue to end the cycle of violence. The Freedom Theater in Jenin is a beacon of light in a very dark place. If you would like to support it, and continue Juliano Mer-Khamis' peaceful mission, please visit the website. Thank you. This article first appeared on Foreign Policy's Middle East Channel.