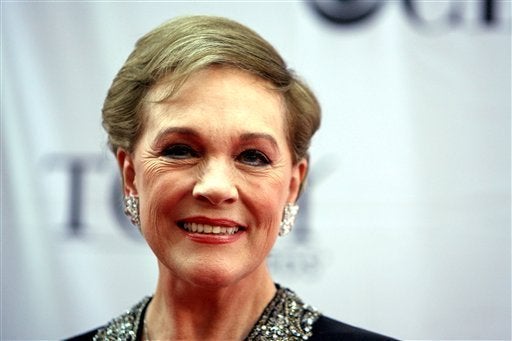 Dame Julie Andrews has revealed in her memoirs that she was forced into bed with her alcoholic stepfather when she was nine.
In a shocking episode in her autobiography, the Oscar-winning actress described how Ted Andrews, then in his late thirties, told her he wanted to "cuddle" her.
She said she felt "trapped and claustrophobic", adding: "Something about it didn't feel right to me at all."
Dame Julie, now 72, said the incident happened when she was travelling with her stepfather, a variety entertainer billed as the Canadian Troubadour, whom she knew as Pop.
It was Ted Andrews who first noticed his stepdaughter's incredible voice and gave her singing lessons, and she went on to perform on stage with him.
They shared a one-room "digs" in 1944 - the first time they were ever alone together - while Dame Julie's mother Barbara, a music hall pianist who had married Andrews five years before, journeyed to meet them.
Dame Julie wrote: "It was uncomfortably quiet and suddenly Pop said, 'Come into bed with me and I'll keep you warm'. I replied, 'I'm fine ... I'm a bit sleepy'.
"'No, no, come on, come on,' he pressed. 'Let's have a cuddle'. Very reluctantly I climbed into bed and lay with my back to him. 'I'll show you how I cuddle with Mummy,' he said. 'Give me your feet'.
"He placed them between his legs, and I was acutely aware of his heaviness on my tiny limbs. I felt trapped and claustrophobic.
"Eventually, summoning my courage, I claimed that I was too hot and that I was going back to my own bed. To my relief and surprise he let me go.
"I was very grateful when my mother arrived the following day."
The revelation is contained in the actress's autobiography Home, published today, which lays bare several family secrets, including that she was born of an illicit affair.
It also details another incident in October 1951, when she was 16, when her stepfather kissed her drunkenly in her bedroom in the family home in Walton-on-Thames, Surrey.
REAL LIFE. REAL NEWS. REAL VOICES.
Help us tell more of the stories that matter from voices that too often remain unheard.