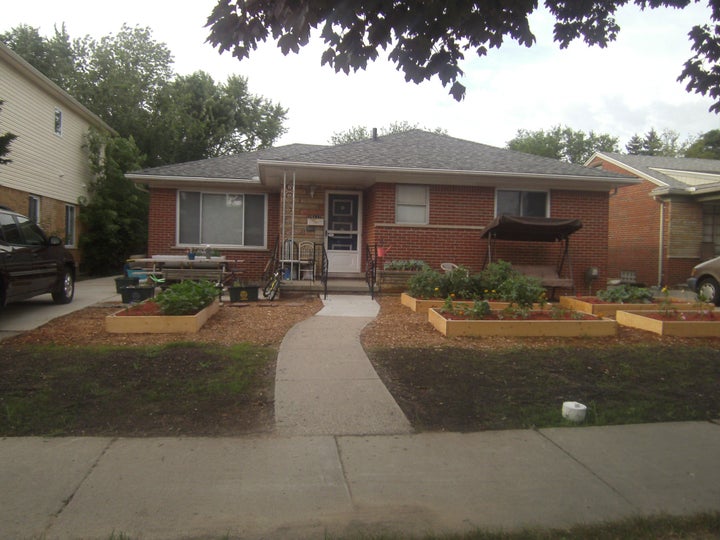 This post has been updated with new information and quotations since it was first published on Friday, July 8.
This isn't your typical, garden-variety crime.
After a warning, a ticket and now a misdemeanor charge, an Oak Park, Mich., woman faces up to 93 days in jail for refusing to remove a vegetable crop from her front lawn.
Julie Bass says that she thought it would be "really cool" for the neighbors and kids to see a frontyard garden, but some city officials don't appreciate the vegetable plot.
"It just made me angry that the city can bully you into doing something when you're not in violation of anything," she said.
According to Bass, the disagreement stems from a gray area in the city legislation which allows for decorative planting in the front yard but does not specifically address vegetable gardening. She planted the garden after a busted sewage pipe tore up her lawn.
To fight the charges, Bass has started a blog -- Oak Park Hates Veggies -- to chronicle her battle with the authorities.
"We now find ourselves in a storm of controversy worthy of some high level mischief. Seriously?" she wrote in an entry. "It's a GARDEN. It's not a high crime or treason or murder. IT'S VEGETABLES. And yes, we did throw in a few flowers."
According to a local ABC affiliate, city code states that "all unpaved portions of the site shall be planted with grass or ground cover or shrubbery or other suitable live plant material."
Posing the question: Are cabbages, peppers, tomatos and cucumbers "suitable" for the front lawn?
"If you look at the definition of what suitable is in Webster's dictionary, it will say common. So, if you look around and you look in any other community, what's common to a front yard is a nice, grass yard with beautiful trees and bushes and flowers," Oak Park City Planner Kevin Rulkowski told MyFox Detroit.
Nevertheless, Bass has refused to comply with the city's requests to remove the plants or place them in her backyard.
"I thought that what we were doing was completely in line with what is suitable," Bass said.
As far as whether she's willing to do hard time for farming on the front lawn, Bass says she will fight to the end, but actually going to jail is just too much to think about.
"I'm willing to go to jail in a theoretical sense, but the idea of me going to jail for this is so mind-blowing," she said.
Bass has hired an attorney and a pre-trial is scheduled for July 26.
WATCH:
Related
Popular in the Community