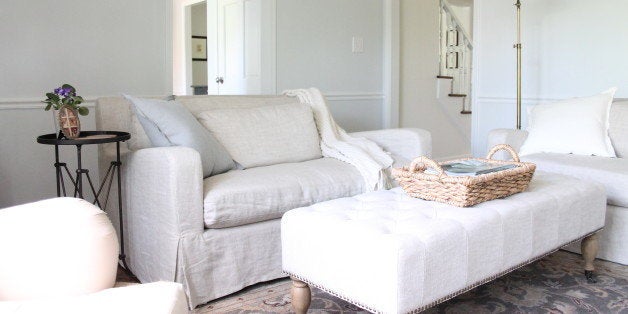 On the spectrum of DIY projects, there's the pretty and practical, and there's the purely aspirational (like these 8 Pinterest project we're likely never going to do). Event planner and blogger Julie Blanner's suburban Kansas home takes us to a place somewhere in between, with its neutral palette, old-meets-new wares, and a running list of completed home projects, including a bathroom remodel she and her husband did for $700. (There is something to be said for living in a way more affordable area of the U.S.)
Location: Leawood, Kansas
Size:2,700 square feet
How long you've live there and with whom?: My husband and I purchased our home two years ago when expecting the birth of our second child. Now, just two years later, we have almost completely renovated it and have grown to a family of five.
Own or rent? Own.
Home style: I consider it an East Coast Colonial home. In a city whose architecture leans largely toward the West Coast, our home has a lot of East Coast elements.
Where can we see your approach to design (entertaining + design) the most? In our living room. I am a minimalist and love including thoughtful items throughout our home. Everything must have a purpose or history behind it. Many entertaining items find a home in our built in bookcases while not in use. For example, our bottle opener rests against a book, my favorite brass serving tray rests on the shelf to conceal electronics and a decanter provides balance to the shelves on top of books. It keeps both entertaining and decorating simple. In addition, family mementos like my grandmother's heirloom bibles fill the space.
Have you done any major renovations? We have updated every space of our home, much of it was original from the 1960's. We had the white carpet in the kitchen and bath removed and designed hand carved hardwood floors with an oil finish (versus traditional polyurethane) to look authentic and warm. We removed the original carpet in the laundry room and painted the floors with a heavy concrete paint to create a mudroom that cleans easily. We added a bench and hooks for convenient storage. All of the dark, wood trim and cabinetry was painted white and wood shutters removed to add light to the previously dark home.
One of my favorite updates was the new 9-light exterior door, again, adding much needed natural light. Other simple changes included changing hardware including door knobs, faucets and light fixtures.
It's amazing how much new energy it added to the home. The once dark space is now full of light. We have done most of the updates ourselves in effort to add a little charm. Favorite projects include creating a window nook and adding window planter boxes.
Where do you go for inspiration/how-tos for your home projects? Everywhere! Catalogs always offer a plethora of ideas as do blogs or a trip to the store. I find myself often tearing corners of Better Homes and Gardens and Martha Stewart Living magazines as well.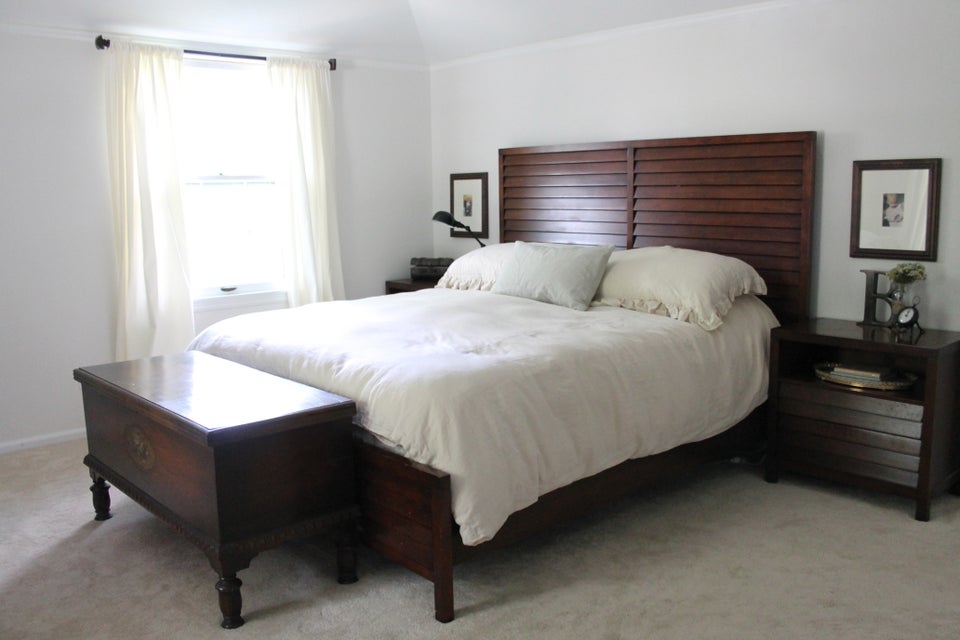 Coordinately Yours House Tour
Do you have a home story idea or tip? Email us at homesubmissions@huffingtonpost.com. (PR pitches sent to this address will be ignored.)
Related