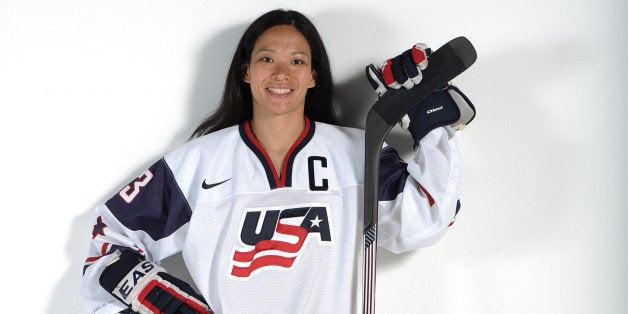 Welcome to our "Like An Olympian" series. During the 2014 Sochi Olympics, HuffPost Healthy Living will take a look at lifestyle and fitness lessons from competitors, coaches and former Olympians alike. We recently had the opportunity to speak with USA Hockey forward Julie Chu, who has partnered with Proctor and Gamble's Thank You, Mom campaign leading up to her fourth Olympic Games.
It sounds like your family has been really important in getting you where you are today. Tell me about this family motto of yours?
Back in 2005, for my parents' 30th anniversary, my dad came up with the acronym for Chu, commitment, honor and unity. These are the values our family as always had, but it was a way, on this special occasion, to make it more concrete. They are things we really believe in. I'm fortunate to have such an amazing family and so thankful for them. It hasn't just been my Olympic journey, it's been our Olympic journey.
How does the lead-up to this Games feel compared to your other three?
This one is the hardest so far. I say that because every Olympic cycle we're pushing the envelope to be better. Our coaches are expecting a lot of us at every practice and every game and continue to push us. We went through a lot of growing pains to be where we needed to be in terms of team tactics and fundamental skills. We grew tremendously as a team.
What does your training regimen look like?
Earlier on in the season we were lifting off-ice three days a week. Off-ice strength-training is so important. We're committed to that aspect. And then we were skating five or six days a week. That may be five practices or a combination of practices and a game or two.
In addition to being in great shape, what kind of role do diet and nutrition play?
Nutrition is huge for us. We work with a nutritionist who is part of the U.S. Olympic Committee. She does amazing things for us, like teaching us how we can better fuel our bodies immediately before and after a workout. What we do in those time frames really makes a difference in both quick recovery or to keep our energy up. Of course, it's also about balance and moderation: I like a burger and fries like everyone else. But having a balance diet helps us perform our best.
It's got to be kind of a commitment. It's easy to say, "I want to be healthy." But to actually go through the process: Keeping great options in your fridge or planning enough in advance to bring snacks or pack lunch. You have to put yourself in the best environment or make changes.
Do you have a go-to pre-game meal?
When we're on the road, we'll have a team meal given to us, but it's similar to what I might eat at home as well: some lean protein, some kind of carb like a potato or pasta, fresh vegetables. I like a peanut butter and jelly if I can, so I'm not hungry when I actually get on the ice.
How does sleep impact your performance?
We talk about the fact that we want to step on the ice and perform to the best of our ability, meaning have great energy, our minds are focused. We know we can only do that if we've trained well, gotten the proper nutrition and gotten the proper amount of rest, and that includes sleep. We have a coach who tracks our sleep. We can check in and say, "This week I was only getting six to seven hours, but my body typically seems to function better at eight or nine hours." We make sure when we're traveling to step away from the stimulation of phones and computers and relax.
What are your goals for Sochi?
Our team goal is to win the gold medal. For the last four years we've been training extremely hard to hopefully execute come Sochi. That's our dream. And also representing Team USA to the best of our abilities, to be great representatives of a country that we love and a sport that we love.
That sounds like it could be, oh, just a little stressful! How do you keep the pressure at bay?
We work with a team psychologist, we like to call her a mental skills coach. She teaches us different techniques that help us in different situations, whether it's quieting our mind and getting focused or visualization. Visualization is a huge tactic that we use that has great benefits to the actual on-ice execution.
Check out Chu's "Thank You, Mom" video below:
As told to Sarah Klein. This interview has been edited and condensed.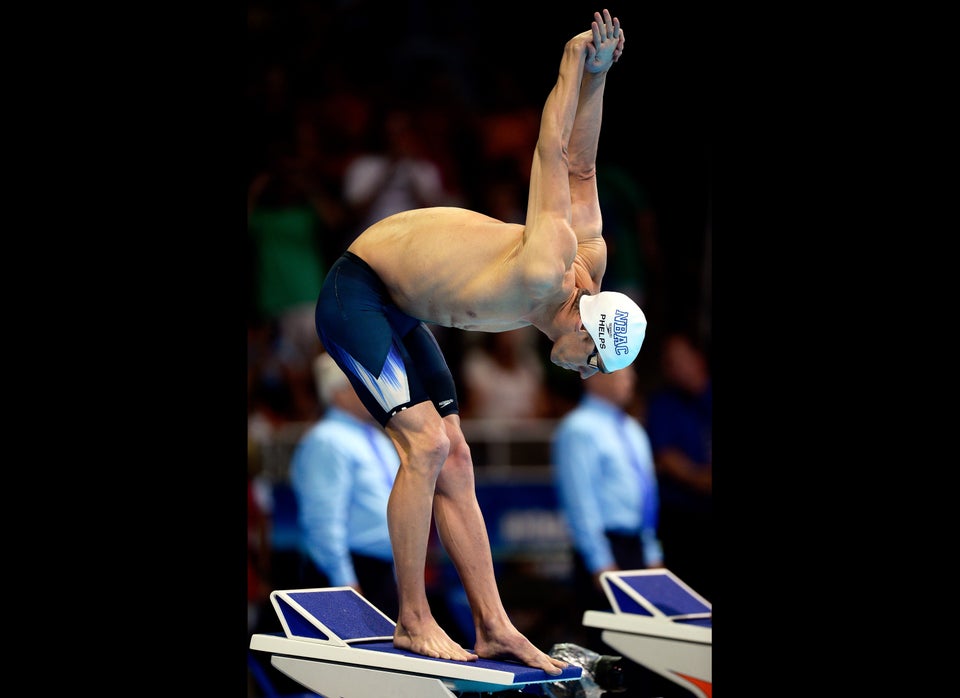 Inspirational Quotes From Olympians