"When I was very young, back in Hungary in the ballet school, my teacher showed us a VHS with Julie Kent," Zoltan Boros, a dancer with Columbia Classical Ballet, said. "I didn't know her, and I didn't know much about ballet ( I was around 12), but I still remember how amazing she was."
Julie Kent is an icon. She's the quintessential image of an American ballerina, poised and elegant. When onstage at the Kennedy Center or the Metropolitan Opera House, she seems an ethereal vision painted in the Rococo style, where everything is ideal, fragile, and ephemeral. She's emotion physicalized, evoking the world's misery, joy, and serendipity with every arabesque or change in épaulement.
"As a young ballerina in training, I easily recall seeing Julie's face grace the cover of countless magazines. She was, and will always be, the epitome of the strength and beauty it takes to be a ballerina of her caliber," Kate St. Amand, Co-Artistic Director and Choreographer for SYREN Modern Dance, explained.
But Kent is a real person, too. She laughs, breathes, and eats like us mere mortals. She even goes to Starbucks, where I met her for breakfast a few months ago. I asked her questions, and she answered thoughtfully, pausing for meditation. Sometimes, she'd dodge to the counter for a napkin or take a bite of her food before finishing a sentence. She's flesh and blood. And she's a genius -- a genius whose wisdom displays an unrivaled diligence in her craft and an extraordinary gratitude to those who helped her along the way.
"One of the most wonderful things about being a dancer is tradition and knowledge, the experience being handed down from one era to the next to the next," she said. "I think that my work has been a complete reflection of my own ability to gather, store, interpret, and use information that all these other remarkable people have given me."

On Saturday, June 20, Kent will have her farewell performance with the American Ballet Theatre, a company that has supported her throughout her dance career. She auditioned for ABT in October of 1985, when Mikhail Baryshnikov was Artistic Director. He noticed her -- a sixteen-year-old from Maryland who studied at the School of American Ballet-- and offered her a position with one of the most prestigious ballet troupes in the world.
Along with her coach, Georgina Parkinson, Kent cites Baryshnikov as one of her fundamental influences when she was a young professional. She learned what it meant to be a dancer from watching and examining his example.
"His whole process as an artist is so serious and not about the attention that your work gets you or what you get to be, but simply about the work itself," Kent said. "And that is really rare now. Often, you see young people wanting to know what it is that they get to be. 'I want to be this. I want to be this.' Instead of 'I want to do this.' They're two different things. One is focused on the process, the work. The other is focused on the result, and at the end of the experience, you realize the reward is the process itself, not where it gets you. Once you're there, you're done."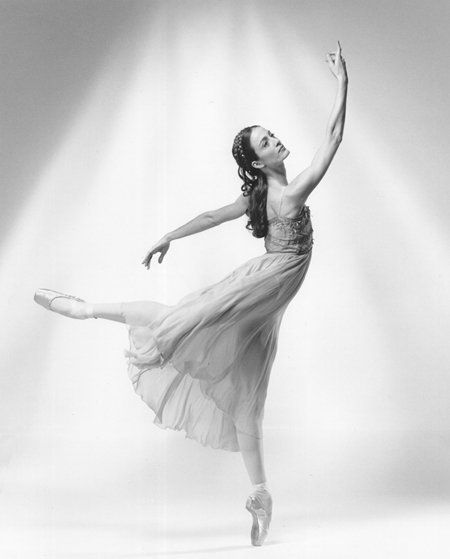 For Kent, ballet has always been about the experience. She wanted to try a certain variation, not sign a soloist contract. Because she dedicated her time to engaging with her art form instead of exploiting it for fame or celebrity, acclaim came as a byproduct of passion. Throughout the '80s and early '90s, Kent rose through the ranks of ABT until she was promoted to Principal in 1993. Meanwhile, she also forayed into film. In 1987, she was featured in "Dancers" alongside Baryshnikov, and in 2000, she starred in "Center Stage" with her coworker, Ethan Stiefel.
Kent applauded the eternality of video and its mass appeal, especially contrasted with the fleeting nature of live performance. "With a film, you can watch it tonight," she said. "It's just a great way to link what we do as dancers -- as live performing artists -- to a medium that's supposed to be forever. It's a wonderful bridge, and I'm so happy that I had the opportunity to have those two experiences where they're captured in time."
As both a stage and screen superstar, Kent became a role model for thousands of aspiring dancers who wanted to replicate the magic she captured through motion. Alexandra Trevino, a former dancer with the Louisville Ballet and the current co-Artistic Director of the Corpus Christi Ballet, recalled when Kent visited her home studio as a guest artist.
"I was so excited and nervous to meet her because she's the epitome of a gorgeous ballerina," Trevino said. "She was everything you dreamed your idol would be and more. Seeing her dance was such an inspiration for all of us, especially myself because I was close to graduating from high school and hoping to embark on a career as a ballet dancer. She came over to me specifically after the performance, showered me with praise, and boosted my confidence by letting me know what a beautiful dancer I was. She really made an impression on everyone as being one of the kindest, sweetest, most genuine people."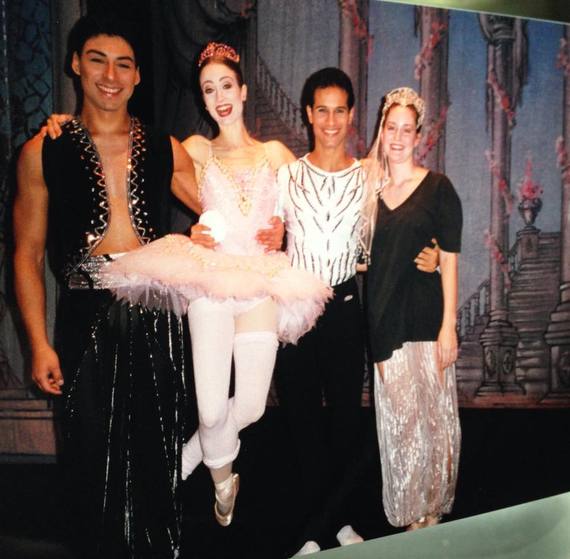 Julie Kent as Sugar Plum with Alexandra Trevino as Arabian and José Manuel Carreño as Kent's cavalier. Photo credit: Alexandra Trevino
After nearly three decades of meaningful interactions with others like Trevino, Kent has resolved to retire from ABT and pursue other opportunities as a dancer, mother, and muse for Anya Cole's line of hand-knit, cashmere clothing, Hania. Kent also intends to follow in the footsteps of Jenifer Ringer, the acclaimed New York City Ballet prima who recently published a memoir. Kent says she's planning to write a book, sharing stories and advice from her time onstage. After all, ballet's lessons can easily be universalized to apply to nearly any occupation or lifestyle. Dance requires concentration and commitment, just like everything else.
Kent's decision to leave ABT was influenced by many factors -- some concrete, others abstract. For one, the repertory won't reflect her fortés in the near future. Kent is celebrated for her dramatic interpretations of female protagonists, and ABT's current Artistic Director Kevin McKenzie has chosen to remove story ballets like "Romeo and Juliet," "Manon," and "Lady of the Camellias" from his company's rotating bill.
Kent has also been waiting for the right moment to retire for a few years now. After she had two children and her 25th anniversary with ABT passed, she started to consider the possibility of life after Lincoln Center. No injury has forced her to stop. She's never grown apathetic to her field. But recently, she's felt that it's time to explore new horizons.
"You just have to move forward, you know? You have to keep moving forward in life, because that's what life is," she said. "It's a forward progression. You just can't keep staying, and staying, and staying. And it doesn't make it easy. None of this is easy for me because as you can imagine, it's been my entire life for the past thirty years, but just because it's difficult doesn't mean it's bad."
Finally, Kent wants to give the dancers of Gen Y their turn to transform into artists. "The next generation can't really come into their own until they're put into a position where they have to," she noted. "It also happens in life. When you lose a parent or you lose an important mentor or an older figure in your life, you take on a certain responsibility."
For many a millennial, Kent's exit from ABT will actually be like losing a mentor. We've watched as she's dazzled viewers night after night, always honoring ballet with her devotion and love.
"I had the real pleasure of watching Julie Kent live," Paola McCormick, a student at the San Francisco Ballet School, said. "Kent getting deep into the drama of playing the role of Juliet during the balcony scene pas de deux brought me to tears -- as I'm sure she has countless times to many others, leaving an imprint in their hearts, as well as in the history of ballet."
Vikas Arun, a dancer with CATastrophe! Dance Company, agreed. "What always struck me about Julie Kent was her emotional commitment in all her roles," he said. "Not only is she a stunning technician but an extremely engaging actor, and that ability to let the audience truly feel a story, particularly in a pas de deux, set her apart from the rest."
Like McCormick, Arun saw Kent in "Romeo and Juliet." He reminisced about "the way she would appear to float in and out of her partner (particularly during the balcony scene)," and he called her "breathtaking." Coincidentally, Juliet will be Kent's final role with ABT this weekend, and longtime partner Roberto Bolle will play her Romeo.
Saturday evening's show is sold out. Aficionados from around the world will clap and clamor as Kent takes her bow, and you can expect a long standing ovation for one of the ballerinas who brought dance into the 21st century. Then, the auditorium will grow silent, Kent will return to her New York City apartment, and an era will end.
And that makes sense; dance is fleeting. "It lives, breathes, and dies the same day," Kent explained. "It's over. Once the curtain comes down, it's only alive in the memory of the people that saw it and experienced it, and that's it."
But memories are strong, especially when they're memories of brilliance. Like Margot Fonteyn, it will take a long time for people to forget Julie Kent. And who knows what other accomplishments she'll add to her legacy? Pulitzer winner? International model? We'll have to watch and wait. In the meantime, she's left us with some sagacity about how to become our best selves:
"I think it's important to understand that you don't have to be born with some incredible, outstanding talent in order to be a success," she said. "What you need to do is focus on learning. You have to zoom in and focus really hard on the task at hand, and then you have to come out and focus on the big picture. It's just developing yourself, and it's not easy, but to me, it's what it's all about. Fulfilling your potential."
Calling all HuffPost superfans!
Sign up for membership to become a founding member and help shape HuffPost's next chapter