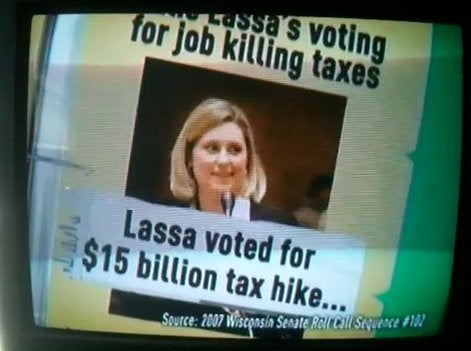 Wisconsin Democratic congressional candidate Julie Lassa is calling on her opponent to denounce a new attack ad by the U.S. Chamber of Commerce that displays her home phone number and tells viewers to call and tell her to "stop voting for job-killing tax hikes."
"Sean Duffy's special interest backers crossed a line in their attacks that put Julie and her family at risk to harassment and abuse," Lassa campaign Manager Rick Fromberg said in a statement. "Sean Duffy should let it be known to his outside special interest groups that there is no place for these kinds of attacks in Wisconsin elections."
According to a person close to the Lassas, the family had to unplug their phones the day the ad went up and her two daughters can no longer answer the phones because of all the calls.
The ad points to Lassa's votes to raise taxes and displays her phone number on screen at the very end. A spokesman for the Chamber pointed out that Lassa's home phone number is already publicly available on her state legislature home page, listed as her "district telephone." When The Huffington Post followed up and asked whether the Chamber knew that that number was actually her home phone, we did not receive a response.
"Julie is known for her outreach to her constituents and she's made government accountability and transparency a cornerstone of her work in the public sector and part of her campaign for Congress," said a staffer on the Lassa campaign. "The Chamber made a conscious and deliberate decision to use her personal number and not her office number. This is a breach of privacy and it abuses values that Julie holds dear, and the commitment she's always made to the Wisconsin families she represents."
The Huffington Post reached out to the Duffy campaign for comment but did not receive a reply. In a statement to The Hill, however, Duffy spokeswoman Wendy Riemann said, "The better number to call Sen. Lassa at about her horrible, anti-job record is her campaign office at 715-344-8222."
UPDATE: A spokesman for the Chamber has since contacted The Huffington Post and said they have changed their ad, adding they "did not know that it was her home phone, since it was listed as a district office."
*************************
The Huffington Post wants to know about all the campaign ads, debates, town halls, mailings, shenanigans, and other interesting campaign news happening by you. E-mail any tips, videos, audio, and photos to election@huffingtonpost.com.
Calling all HuffPost superfans!
Sign up for membership to become a founding member and help shape HuffPost's next chapter