Democrat Julie Oliver is running for Congress in Texas' 25th District, and the political newcomer faces a tough road against Republican incumbent Roger Williams in the red district in a red state.
But Oliver, a 46-year-old attorney and mother of four, is a long shot to win against an incumbent in a largely rural, solidly Republican district, which went for Donald Trump in the 2016 presidential election by double digits. Williams is an avid Trump supporter.
Oliver told HuffPost she "would be lying" if she said Trump's election wasn't for her "some part of the decision" to run. But the candidate, who has worked for over a decade in health care finance at an Austin hospital, added that when the Republican-led Congress repeatedly attempted to repeal the Affordable Care Act last year, that's what really "lit a fire" in her to seek office.
Now as part of her progressive platform, she's supporting Medicare-for-all ― and not accepting any corporate PAC money for her campaign.
But it's her story of struggle that she's hoping voters will connect with: She grew up poor, raised by a single mom outside Dallas, and during a stint as a homeless runaway teen, she got pregnant, as she recounts in a campaign ad.
"I have encountered so many people who are just like me," Oliver says in the ad. "In fact, they face adversity that is much tougher than the adversity I've seen in my life."
"I think bringing that humanity to legislating is what's sorely needed in our country, because people live lives of struggle, because people live with challenges," she adds. "I would hope that people could see a little bit of themselves in me and realize that you can overcome the odds."
Oliver grew up in poverty in the small town of Ovilla on the outskirts of Dallas, her mother a schoolteacher and then a house cleaner. When Oliver was 17, she and her mom weren't getting along, and Oliver ran away with her boyfriend, dropping out of her senior year of high school. They lived as squatters in abandoned buildings, stealing food to eat. Three months in, she got pregnant. When they called her boyfriend's parents and the dad arrived, Oliver said he dropped cash at her feet and said, "You're not getting in my car. Take a bus home."
Oliver was scared. She said she grew up in a "very conservative environment" and was worried her mom would "lay into" her. But when Oliver got home, her mother offered only support, and others in town were also kind and gave her baby supplies. "It was not the reception I was expecting," Oliver said.
She went back to high school and graduated a week after giving birth to her daughter, now her eldest, who is a Ph.D. candidate at Texas Christian University. Oliver went on to finish college and get a law degree from the University of Texas, becoming an attorney and then a health care finance professional.
"When I hear, 'You're a pull yourself up by the bootstraps kind of girl,' I'm quick to correct and say, 'No, I'm the product of a community of support,'" Oliver says in her campaign ad.
She told HuffPost she got out of college debt-free, thanks to the federal government's Pell grants, and earned income tax credits helped her along the way. Now she's campaigning on providing those kinds of supports to other Americans.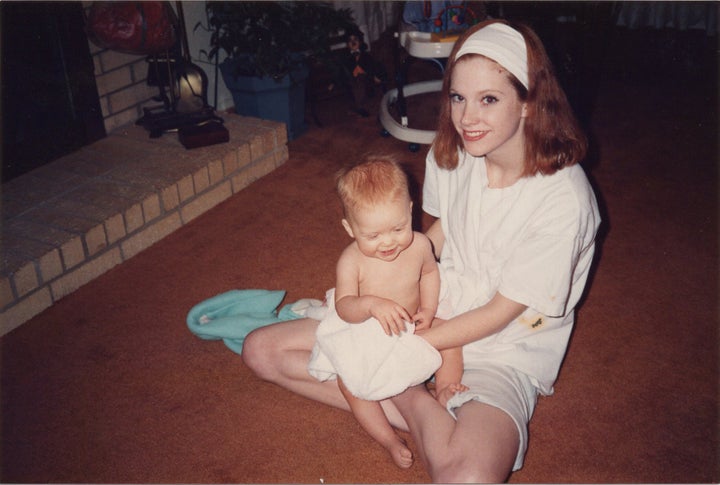 Her district, which is largely white and mostly rural ― stretching about 200 miles from East Austin up to the outskirts of Fort Worth ― is "heavily gerrymandered" in Republicans' favor, said Ed Espinoza, the executive director of the progressive media group Progress Texas.
Oliver's strategy has been to spend her time driving up and down the district's multiple counties knocking on doors. She says she has put over 40,000 miles on her car doing so since November.
"People are quick to write off Texas districts," Espinoza said. "It's easy if you're just looking at a Texas stereotype, but it is fertile ground." He noted that the state is fast growing, with an influx of younger people and people of color, who tend to vote Democratic.
Senate candidate Beto O'Rourke, a Democrat with whom Oliver has campaigned, is in a high-profile race against GOP Sen. Ted Cruz, and that could help with Democratic voter turnout.
Oliver has made health care a central part of her platform, which could be a winning strategy in rural Texas. The state has the highest rate of uninsured people in the country, and rural areas nationwide have seen hospitals close in recent years.
Health care, particularly coverage for pre-existing conditions, is a deeply personal issue for Oliver, whose son had to go into intensive care when he was born and later developed a heart condition and immune deficiency.
She garnered endorsements from the progressive Indivisible Project, the Texas AFL-CIO and the gun safety group Moms Demand Action.
"Trump won this district," said Crystal Perkins, the Texas Democratic Party's executive director. "But we've never had a Julie Oliver."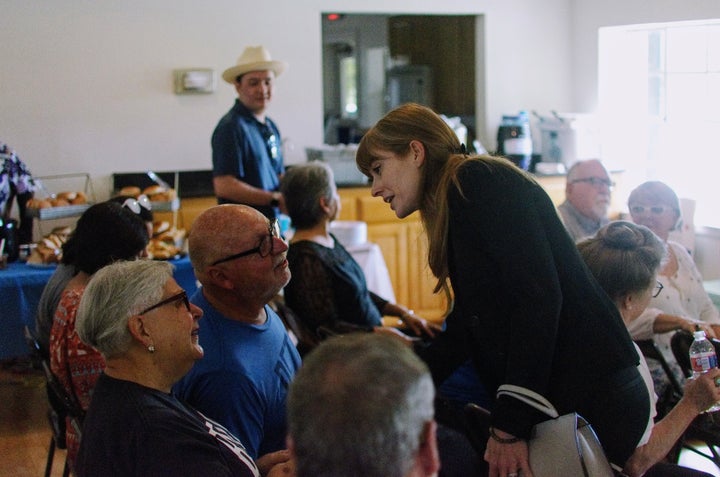 Popular in the Community