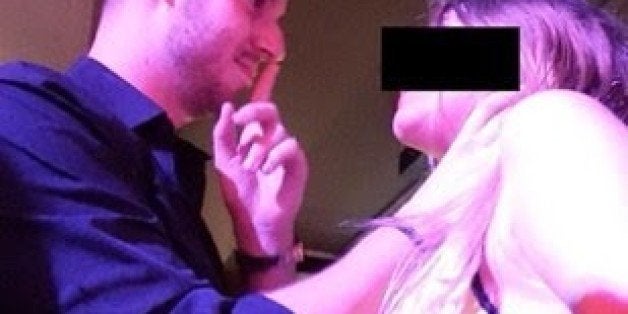 "These step-by-step techniques will get her eyes brighter for you than a little dog's."
"Get her to like you even if you're boring."

The man in the photo above is the Julien Blanc, a 26-year-old California man.
He is the source of the quotes above.
He wants to come to Brazil, but we do not want him here.
Blanc is a "professional" who, through seminars, teaches men to "pick up" women. He is known for "teaching" tactics such as: never give women a chance to say no, make racist remarks, attack women's self esteem--and the "tactic" of practically strangling women in bars, with hands around their throats, and even forcing their faces into his crotch.
If you are still not familiar with this guy's "work", and are curious to find out, there are videos on YouTube in which he demonstrates his tactics for "seducing" women. In the video below, he tries to apply them. Watch:
According to Blanc's official schedule, he plans on being in Florianópolis between 22 and 24 January 2015, and in Rio de Janeiro between 29 and 31 of the same month, to give talks and to teach Brazilian men how to seduce women.
In order to prevent his arrival in Brazil, a public petition created on the internet and addressed to the national immigration office requests the Federal Police to prevent the entry of the American Julien Blanc into Brazil. The text of the petition reads:
"On behalf of thousands of women who daily fight violence against women in São Paulo and in Brazil. (We wish to) inform you (the head of the immigration office) urgently that in January 2015, a foreign seminar will be organized in Rio de Janeiro and in Florianopolis, which exalts the culture of rape, crimes involving assault and racism, and a deep lack of respect for women."
Since Nov. 11, the petition has gathered nearly 400,000 signatures.
Recently, as Marie Claire reported, Blanc was deported from Australia, after the activist Jennifer Li created an internet petition demanding his expulsion from that country.
The film producer and feminist activist, Jazz Mota, one of the creators of the Brazilian petition, informed Correio Brasiliense that the campaign's objective is not only to prevent Julien from entering the country.
"It deals with a greater cause: the fight against violence against women, as we cannot take it any more, and this is proof that we are together in the fight against this."
Demonstrations against Julien's visits have taken place in different parts of the world. In the United Kingdom, activists requested authorities not to give him a visa, as was also the case in Canada. A recent report asks whether it is possible to ban Blanc from Japan as well.
However, in an interview with Vice Brasil, the Brazilian relationship coach Guilherme Pinheiro considers the petition irrelevant. He said that, "if he is boycotted [in Brazil], some other instructor will be sent in his place. These guys are not exactly the stupidest guys on the planet."
While Blanc has not yet applied for a Brazilian visa, Brazil's Foreign Ministry has been receptive to his opponents, indicating that the pick-up artist is unwelcome in the country.
This post was originally published in HuffPost Brazil and was translated into English.
Popular in the Community