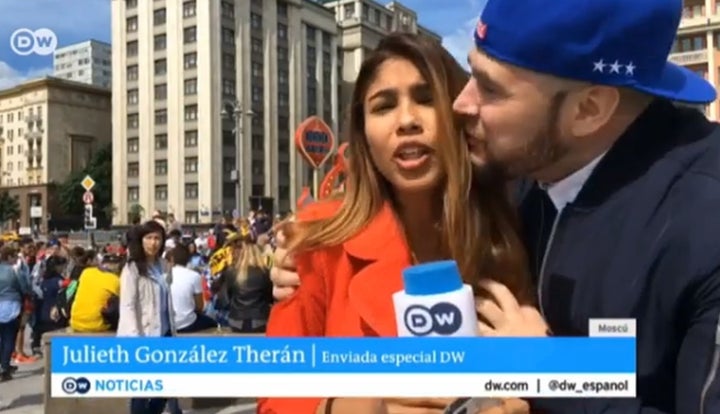 Julieth Gonzalez Theran, a reporter for Deutsche Welle's Spanish news channel, was reporting live from the World Cup in Russia on Friday when she was accosted and groped by an onlooker.
Video of the incident, which was shot in the city of Saransk, shows the Colombian journalist reporting outside prior to the first match of the tournament. As she speaks, an unidentified man lunges into the shot. Without hesitation, he grabs Gonzalez Theran's breast and kisses her cheek. He smiles as he steps out of the frame.
Gonzalez Theran maintained her composure throughout the incident. Deutsche Welle, a German broadcaster, later shared the video on Instagram, saying, "It is not a kiss, it is a nonconsensual attack."
"RESPECT! We don't deserve this," Gonzalez Theran wrote. "We are equally valuable and professional. I share the joy of football, but we must identify the limits of affection and harassment."
"I had been at the scene for two hours to prepare for the broadcast and there had been no interruptions," she said. "When we went live, this fan took advantage of the situation. But afterwards, when I checked to see if he was still there, he was gone."
Women journalists are sometimes reluctant to report such instances out of concern that it could unfairly damage their careers.
"Journalists who experience them often fear that they will be seen as more vulnerable and unable to do their jobs well," Maria Salazar-Ferro, emergencies director at the Committee to Protect Journalists, told HuffPost.
Sexual assault and harassment of women journalists received widespread attention in February 2011, when CBS correspondent Lara Logan was sexually assaulted by a mob while covering the Egyptian revolution.
Logan's assault prompted CPJ to collect data on victims. Salazar-Ferro said they've since learned it's a worldwide problem ― especially at events like the one Gonzalez Theran has been covering.
"Mob-related sexual violence against journalists covering public gatherings, such as sporting events, are among the most prevalent," Salazar-Ferro said.
Bibiana Steinhaus, Germany's first female Bundesliga referee, told Deutsche Welle she's experienced harassment similar to that of Gonzalez Theran.
"This type of attack has happened several times in the past," she said. "Don't kid yourself that similar misogynist things do not happen."
While reports of such incidents are more likely to make headlines today ― especially if they happen during a live broadcast ― much work remains to be done to keep them from occurring in the first place.
"Reporters, photographers and their commissioning editors have to consider sexual harassment and assault of journalists a serious security concern," Salazar-Ferro said.
REAL LIFE. REAL NEWS. REAL VOICES.
Help us tell more of the stories that matter from voices that too often remain unheard.
BEFORE YOU GO
PHOTO GALLERY
TV Journalists Killed On Live TV