A few years after I was married, my now ex-husband went into business with a man whose girlfriend was a high-class call girl. A gorgeous Czechoslovakian woman, she looked like Catherine Deneuve. I was fascinated by her and befriended her, and over a period of time gained her trust and became her confidante. Eventually, she married her boyfriend and -- to my knowledge -- left the world of expense account dinners with married industrialists at La Grenouille and $5,000-a-night trysts at the Plaza with foreign dignitaries.
Her attitude was that most women are whores at some level; at least she knew her price. She had set boundaries, she felt, and her compartmentalized "whoring" was more defined than that of the housewife whose husband controls the finances, puts work above the family and leaves all the drudgery of running the household and managing the kids to his partner.
The incomparable Juliette Binoche is just such a Parisian housewife in the new film, Elles, by Polish feminist director Malgoska Szumowska.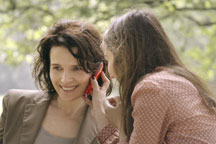 photo: Szymon Roginski
Anne, Binoche's character, tries to supervise her two sons -- the older has not been going to school; the younger is addicted to video games -- cooks and cleans and shops and, perhaps to avoid sleeping in the same bed as her husband, stays up nights working on an article for a women's magazine on two young women who are putting themselves through college by working as prostitutes.
Anne finds herself fascinated -- and turned on -- by the two young women. Charlotte is a quiet, elegant Parisienne whose low self esteem developed early in the housing project where she grew up and Alicja is an angry, hard-drinking, bleached blonde from Poland, who is hell-bent on getting Anne to let down her chignon.
The film is sexy and violent, and yet remains, perhaps because it's starring Binoche, one of those endearing, small, slice-of-life French films (despite the director being Polish) in which very little happens and the characters barely change from beginning to end.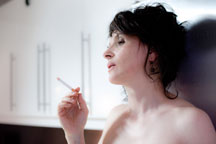 photo: Szymon Roginski
And Binoche is riveting. She knows how to seduce the camera way better than the two young prostitutes know how to seduce their clients. Whether she's getting drunk with Alicja and talking with a mouth full of food, masturbating or dangerously wielding a blade as she cuts open Coquilles St. Jacques, you can't take your eyes off her. Every emotion, no matter how subtle, registers on that alabaster visage; one minute you're laughing with her, the next she's breaking your heart.
The last scene of the film takes place in the family's apartment, windows wide open, every noise from the street blasting into the room and drowning out the banal breakfast table conversation. Maybe nothing much has changed, but the luminosity of the morning suggests there just might be more clarity going forward.
REAL LIFE. REAL NEWS. REAL VOICES.
Help us tell more of the stories that matter from voices that too often remain unheard.