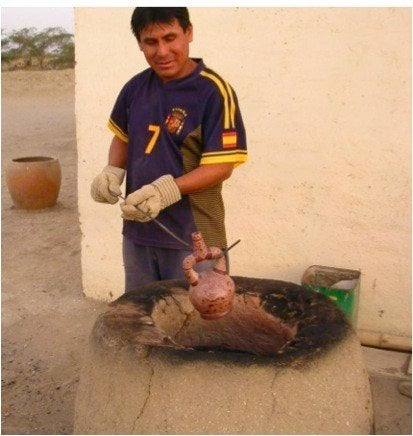 Two weeks ago, I wrote about the devastation of the world's cultural heritage, and how empowering entrepreneurs could save it and alleviate poverty in the poor communities where it is found. Julio Ibarrola is one such entrepreneur, who has transformed his life and others in his community from struggling campesinos to flourishing artisans while preserving important cultural heritage with the help of the Sustainable Preservation Initiative ("SPI").
Julio was born and lived his entire life in San Jose de Moro, Peru, site of a famed Moche cemetery and ritual center. Until 2011, Julio was a part-time day laborer in town, working for under ten dollars a day when jobs were available. Since 1992, Julio also served as a member of the excavation team of the archaeological project at the site during its 4-6 week annual season, and as a part time guard there.
Fascinated by the remarkable fineline ceramics excavated in the site's many tombs, Julio set out to discover how these objects were made. Through trial and error, Julio discovered the process by which these ceramics were shaped, fired and painted. These discoveries made a significant contribution to archaeological knowledge!
Julio began to make replicas of some of the excavated ceramics of the site. Over time, the quality and beauty of his pieces improved and were remarked upon by archaeologists, passersby and the rare tourist at the site. He would sell the occasional piece, but never made a living at it. In 2010, his best year ever, Julio sold $265 of replicas. While his products were beautiful, Julio had no access to the capital necessary to start and grow a business, nor the training to do so.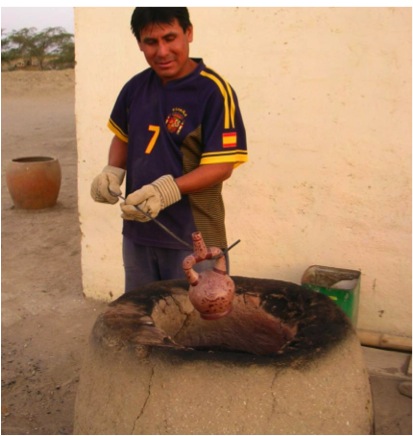 Julio Ibarrola firing a Moche replica
Then Julio got access to that capital and training, and an empowered entrepreneur emerged! The Sustainable Preservation Initiative selected Julio as one of the local artisans it would support with its People not Stones grants. These grants create and support locally-owned businesses whose success is tied to the continued preservation of archaeological sites. Working with Julio and others, SPI invested to construct a visitors center, crafts workshop, store and exhibition area where local artisans such as Julio could sell their wares. The workshop includes training for additional local artisans, taught by Julio and others, as well as basic education in tourism and business management.
Julio and several of his students are now full-time ceramicists, making a good living through the production and sale of their handmade products. Artisans at the site generated revenues of more than $5,000 in 2011 and over $10,000 in 2012. Julio sold one piece for $275, more than his entire earnings in 2010!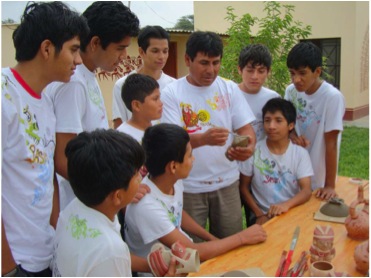 Julio Ibarrola (center) and his students
Thirteen people are now working in the center selling ceramics, textiles, snacks and guidebooks, while another 7 prepare meals in their nearby homes for tourists visiting the site. Julio and a local metalwork, Eloy Uriarte, manage the center and its thriving, growing artisanal and touristic businesses.
Julio is proud not only of his work but also that looting and encroachment at the site have stopped since he started his business. His workshop is adjacent to the ancient cemetery, and everyone working there and their families are exceptionally vigilant about preventing any damage or incursions thereon. They know that if the site disappears, so will their new entrepreneurial businesses and all of the benefits that flow from them.
Julio has helped inspire an entire generation of new entrepreneurs in San Jose de Moro. Several new businesses have sprung up around town to serve the tourist trade, each started by a newly empowered entrepreneur seeking to transform and better his or her life and each with a powerful stake in preserving the archaeological site. And local government is beginning to invest in touristic infrastructure throughout the region to encourage even more entrepreneurship.
Poor communities like San Jose de Moro are filled with potential entrepreneurs like Julio Ibarrola, exceptionally bright and talented individuals lacking capital and training. SPI is working to empower these entrepreneurs in Peru and elsewhere, and has launched a crowdfunding campaign which is in its final week to help them near two other sites in Peru. Why? Julio says it best: "To be able to maintain our cultural traditions and help my community is the greatest gift in the world. It allows us to preserve our past and have a better future."
Calling all HuffPost superfans!
Sign up for membership to become a founding member and help shape HuffPost's next chapter