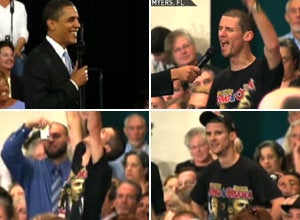 College student Julio Osegueda stole the show at President Obama's Fort Myers town hall Tuesday afternoon, just one day after attempting to sell tickets to the event on Facebook.
Osegueda enthusiastically asked Obama the final question of the event.
"It's such a blessing to see you Mr. President, thank you for taking time out of your day!" Osegueda shouted. "Oh, gracious God, thank you so much!"
Osegueda, a 19-year-old student at Edison State College and a four-year employee at McDonald's, asked Obama a question about employee benefits.
Obama graciously answered the question while many in the crowd laughed and some onlookers even took photos of Osegueda as he asked his question.
"You sound like you've got good communication skills," Obama told the aspiring broadcaster/DJ, who is majoring in communications at Edison State College.
Monday, Osegueda took to his Facebook page to try to sell his extra tickets to Tuesday's event:
Julio is selln an obama ticket for 2maros event. taking offers less than ebay and craigs list which are asking a thousand bux a piece. 10:44am
Julio is seln an obama tiket 4 2maro. takn offers. 8:53am
When he was unable to sell it, he declared he would "keep his extra tiket as a collectors item," and that he wasn't mad "cuz its illegal n e ways."
Osegueda appears to be an avid Obama supporter. His Facebook photo is an image of an Obama poster declaring, "This Is Our Moment," and his MySpace page features several references to Obama as well.
"It still hurts to see young men and women like me getting hurt, putting their lives on the line," he said.
"I was just seeing no one else was doing anything to get his attention, so that's when I started jumping up and down and he picked me," he said.
Regarding his work at McDonald's, Osegueda said he likes working the drive-thru best:
"Right now I work everything, cash register, grill, drive-thru," he said, adding, "Drive-thru's my favorite because I get to interview the people on the intercom and talk to them.

"Like, if someone orders an iced tea, I might say, 'You mean you want a large, ice-cold, tasty, refreshing beverage?' "
Popular in the Community