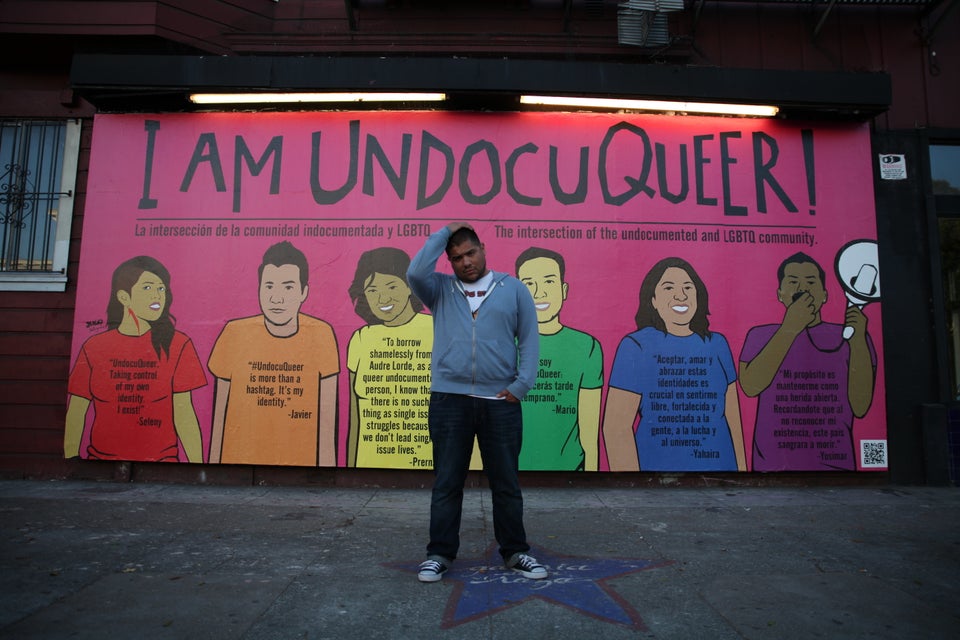 Julio Salgado's UndocuQueer Billboard
Julio Salgado has a simple message -- he is 'UndocuQueer' and he's not alone.
In fact, a glance at the billboard created by the Mexican-American artist and activist, in San Francisco's La Misión neighborhood, will show you the faces and quotes of six others hoping to highlight "the intersection of the undocumented and LGBTQ community."
(Check out a video of the project below and pictures above)
Recently, HuffPost spoke with the artist about the inspiration behind his latest project and what kind of impact he hopes it will have within the LGBTQ and Undocumented communities.
HP: You have a Journalism degree from California State University, so how exactly did you get into political art after graduating?
JS: When I started college I started as an Art Major but I didn't really like the Art Major. The art that I was studying was a lot of European art, you know, a lot of white men that didn't really have anything to do with my life. [laughs] So I found that through Journalism you could tell stories. I learned the importance of documenting things. In my case, being undocumented and queer, there are a lot things from both communities that I really wanted to document and for me the most natural way to do that is through political art."
HP: Tell us a little more about the billboard.
JS: The images that you see on the billboard, the "I Am UndocuQueer images," I started doing last year and basically [they] represent the intersectionality of being undocumented and being queer. I feel that a lot of the activists doing the groundwork were in fact undocumented and queer and it hit close to home because I'm undocumented and queer.
I think it's really important that it's there for the month of Pride because a lot of times when we think about Gay Pride we think Gay Marriage, we think white males and it's important for us to tell the LGBT community 'Hey we're also undocumented, we're also immigrants.' There's other issues that are not being talked about in the mainstream gay media.
HP: And how exactly do the LGBTQ and Undocumented communities intersect?
JS: There's homophobia within our [immigrant] communities so what we need to do, the undocumented people who are also queer, [is] call out and say 'hey if you're talking about social justice and you're trying to talk about treating everybody equally, we need to start with ourselves. How is our homophobia affecting certain things.' And likewise when you're in queer spaces, a lot of the times [what's said is] we should focus on gay marriage, we should focus on joining the military but we don't focus on immigration.
Recently there was this march by the Human Rights Campaign in DC and they told undocumented people and trans folk not to talk about those issues because they were there to talk about gay marriage. And for me it's like 'woah, it's part of who we are' if you're talking about gay rights it's beyond marriage.
HP: In the video of the billboard's unveiling you used the word "gentefy" (derived from the Spanish word for people or folk), can you tell me what the means to you?
JS: We [Salgado and roommate Jesus Iñiguez] came up with this word because we think about 'gentrified' and what that means, 'people with money coming into our barrios and communities' and really displacing us. Rent goes up and people can't afford to pay it. So we thought, wouldn't it be cool if we 'gentefy' those spaces and take our communities back. By us putting a billboard there in big bold letters saying 'I am undocumented and queer and you're not going to get it but we're here,' it's like a little social commentary.
HP: So as far as your work and your activism, what are your plans for the future?
JS: As artists we have to find new and creative ways to tell a story. So I want to continue to do that, I want to continue to be creative and really pay homage to the work that activists and organizers are doing because art is not more important than organizing. It should never be. I think both things should go hand in hand.
Check out a video of the billboard's unveiling below and more pictures of the project above.
Popular in the Community