Commotion erupted briefly Friday night in New York City's Central Park as a protester stormed an outdoor stage during the assassination scene of Shakespeare's "Julius Caesar," while another shouted from the audience, calling the crowd watching the provocative play "Nazis."
The New York Public Theater's presentation of the 400-year-old play features actors in modern-day garb and attempts to explore issues of politics, idealism, plots and dictators in Shakespeare's examination of Caesar's life and death. The actor playing Caesar sports a navy blue suit, a red tie and reddish blonde hair, and grabs at his wife's crotch in a characterization that evokes President Donald Trump.
Just as the assassination scene was beginning Friday night, Laura Loomer, a right-wing activist, barged onstage. "Stop the normalization of political violence against the right," she shouted. "This is not acceptable." A voice on the loudspeaker then announced: "Ladies and gentlemen, we're going to pause. We're going to pause. Security. Security."
As security came to corral Loomer, the audience booed her, then applauded as she was escorted away.
That's when Posobiec jumped up, shouting to the rest of the crowd, "You are all Nazis like Joseph Goebbels" ― a reference to Adolf Hitler's minister of propaganda. "This is all Goebbels. You are inciting terrorists. Goebbels would be proud. You are Nazis."
Again, the audience loudly booed Posobiec as he was taken away by security. The play resumed after he and Loomer were removed.
Loomer ― a reporter with The Rebel Media, a far-right Canadian outlet that started a "Free Laura" campaign Friday evening ― and Posobiec held a Twitter press conference after they were taken to the Central Park Precinct. Loomer said she'd been charged with disorderly conduct and trespassing, which she called "kinda weird because it's a public park." She said she has set up a website for contributions to her "legal defense fund."
Donald Trump Jr., the president's eldest son, retweeted a complaint about the play after a gunman opened fire Wednesday on a GOP congressional baseball practice, critically wounding House Majority Whip Steve Scalise (R-La.) and injuring three others.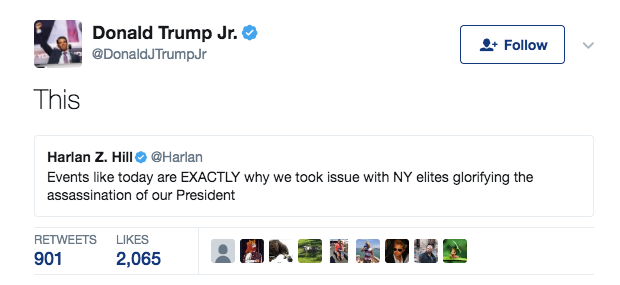 The theater has defended the work, which can be interpreted as a cautionary tale that warns against violence. In the play, the republic falls apart shortly after Caesar's assassination.
"Our production of 'Julius Caesar' in no way advocates violence towards anyone," the theater said in a statement. "Shakespeare's play, and our production, make the opposite point: those who attempt to defend democracy by undemocratic means pay a terrible price and destroy the very thing they are fighting to save."
Support HuffPost
The Stakes Have Never Been Higher
Popular in the Community