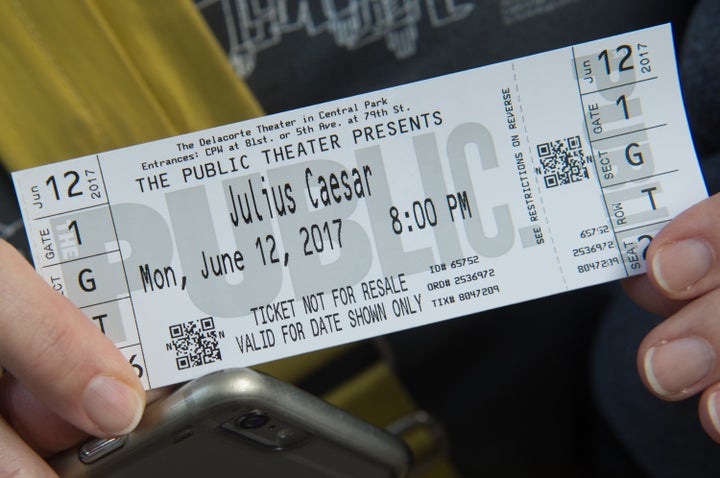 But a little digging by intrepid journalists has laid bare the hypocrisy of such ire: Not only has Delta previously sponsored a version of "Julius Caesar" in which an Obama-esque character suffers the same fate as the current Trumped-up Caesar, but President Donald Trump himself has reportedly donated to the storied company behind the production.
On Monday, a Washington Post reporter discovered that the President's very first donation from the Trump Foundation fund went toward none other than The Public Theater.
Oskar Eustis' interpretation of the 1599 play "Julius Caesar," now running as part of New York's iconic Shakespeare in the Park festival, stars actor Gregg Henry as Julius Caesar, donning a flaming blonde coif and a dangling red tie to boot. Some people are angry about the depiction because, in the play's most iconic scene, Caesar's senators brutally stab him to death. The visceral power of seeing a Trump-like figure on stage, covered in blood, has led incensed critics on the right to ignore the play's 400 year history as well as its message ― which, for those who slept through 11th grade English, is basically don't kill your local despotic ruler.
The play made headlines earlier this week when corporate backers Delta Airlines and Bank of America pulled their sponsorship of the production following a surge of backlash, topped off with a tweet from Donald Trump Jr. Delta released a statement condemning the "graphic" nature of the production, which they said "crossed the line on the standards of good taste."
Except Delta didn't seem to have the same hostility toward a 2012 staging of "Julius Caesar" which starred a Caesar with a curious likeness to then President Barack Obama. As reported by The Washington Post, Delta was happy to back the collaboration between the Acting Company and the Guthrie Theater in Minneapolis. Spoiler: It did not feature an alternate ending. Caesar still died.
Previous stagings of the play have featured other American leaders in the lead role, including George W. Bush, Bill Clinton and Abraham Lincoln. Somehow, these interpretations received little concern or pushback.
Artists have spoken out against the threat of censorship looming over the "Julius Caesar" conversation, advocating for the importance of free speech and political theater. The Public Theater, meanwhile, issued a statement that suggests it won't be apologizing for its play anytime soon: "We stand completely behind our production."
Artistic director Eustis expressed his opinion on Tuesday in an interview with The New York Times. When asked "Is Trump Caesar?" he responded: "Of course not. Julius Caesar is Julius Caesar. What we are doing is what we try and do in every production, which is make the dramatic stakes as real and powerful for contemporary people as we can, in our time and our place."
Eustis went on to call out the thousands of people who rang corporate sponsors with heated complaints without ever seeing it or even knowing what it was about. "This is not about my play or my production of a play," he said. "This is really an example of what this kind of demagoguery does."
And yet, even President Donald Trump himself, at some point, might have supported a show like Eustis'. As Washington Post reporter David Fahrenthold tweeted on Monday, Trump's very first donation from his Trump Foundation fund reportedly went toward none other than The Public Theater in 1987.
As the debate over "Julius Caesar" rages on, confused parties can look to the past for guidance and context. Try, for example, looking back on your old "Julius Caesar" notes from high school, which will no doubt reveal that the play does not in any way advocate for violence, but in fact actively warns against it. Or glance over the history of the play itself, which has featured the stabbing of the previous three U.S. presidents with little fanfare or outrage.
Or, consider the history of Delta's own support for similar works ― and President Trump's.
This piece has been updated to include statements from Eustis made on Tuesday.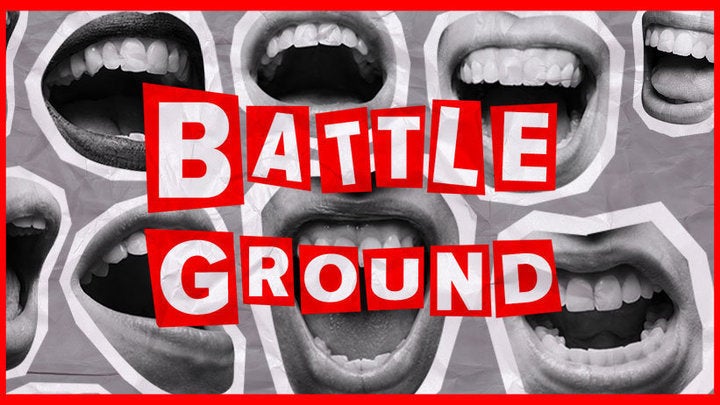 Popular in the Community