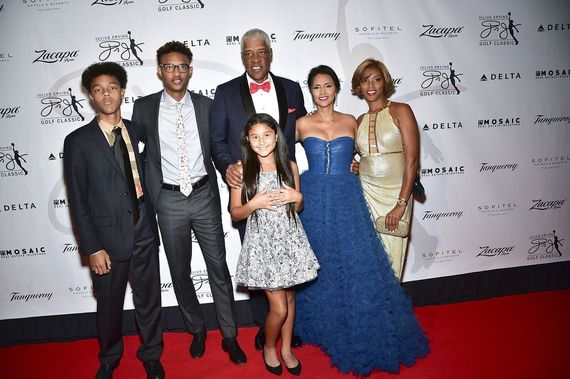 Philadelphians could relive the glory days of the Philadelphia Seventy-Sixers September 10-12 as Julius "Dr. J" Erving returned to town for his annual Julius Erving Golf Classic weekend. The weekend benefits the Salvation Army of Greater Philadelphia, Grab a Ball &Play, an organization that gives athletic balls to underprivileged children started by Erving's daughter Jazmin, and DEFY, a charity established by Dorys Erving that provides healthy meals and nutrition training to overweight children. The choice of the Salvation Army as the beneficiary charity was personal for the basketball icon. When Erving was growing up on Long Island, New York, the local Salvation Army gave him his first chance to play with a team and the rest is history.
Perhaps the best news to come out of the weekend for basketball fans is there will be a new generation of Ervings on the court albeit not for 7 years. Dr. J, in his role as proud papa, noted Jules, his oldest son with second wife Dorys, "has 2 inches on me and joined the varsity basketball team at his high school a year earlier." The mellow Erving, who now lives in Atlanta, claims not to be a helicopter parent and back seat coaching his son. He explained, "He needs to listen to what his coach says first." His younger son, Justin, after spending the summer at basketball camp, confessed that he plans to outshine his father, the master of the dunk shot, on the court.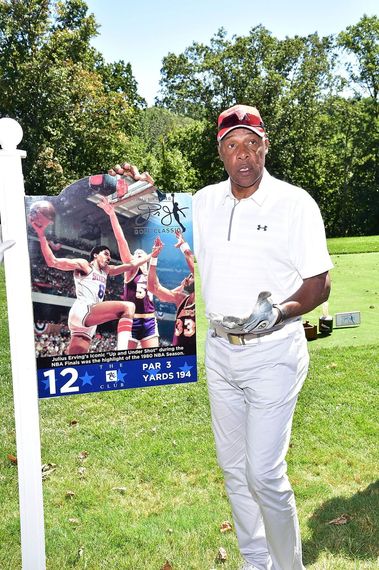 The weekend kicked off with a basketball clinic at the Salvation Army's Ray and Joan Kroc Center in Philadelphia for 150 children. With help from the women's basketball team of Philadelphia University and their coach, Tom Shirley; Erving conducted drills and coached. Then, there was a panel discussion off the court that will probably have a greater impact on the lives of those attended. Erving, current 76ers star Jahail Okafor, Sixers coach Brett Brown, Erving's daughter Jazmin, and others discussed the importance of reading in their lives and urged the children to read as much as they can.
Movie star Chris Tucker, who confirmed he was in talks to film another "Rush Hour" movie, former basketball superstar Shaquille "Shaq" O'Neal. Allan Iverson, former baseball player Reggie "Mr. October" Jackson were among those that attended the gala at the Sofitel Hotel. Ben Simmons, Jahail Okafor, and Jerami Grant, who expressed his affinity for Beethoven, from the current roster of the Sixers, came out to support their legendary predecessor at a jam packed black tie affair. Eddie Levert, best known as the lead vocalist of the O'Jays, performed. He delighted the crowd by playing songs from his new album, "Did I Make You Go Ooh".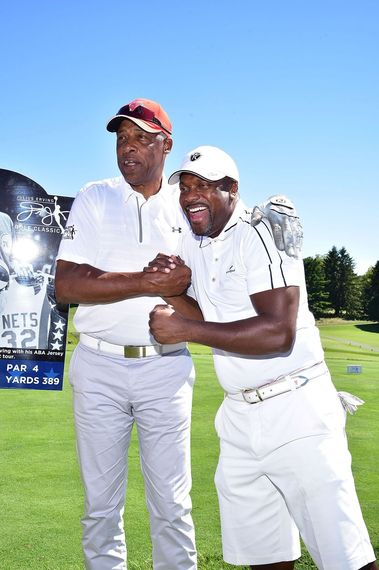 Shaq became emotional when he introduced him. He said, "Julius saved me from becoming a juvenile delinquent. I was failing in school. My dad said son, if you improve your grades to Bs and Cs (I wasn't any A kind of guy), I will take you to see your man Dr. J play. At that time, I did not know what I wanted to do. We are at Madison Square Garden. Doc throws it down from the baseline as he usually does. The crowd goes crazy. I turn to my dad and say I want to be like this man right here. Thank you Doc. I learned from you how to be smooth, how to dress, and how to give back to the community." Both O'Neal and former Sixers player Allan Iverson had asked Dr. J to be a presenter when they were inducted into the Basketball Hall of Fame 2 days earlier.
Erving, when he took the stage, said, "I am grateful, thankful, and humbled that so many celebrities, sports celebrities, business celebrities that we established a relationship, at some point in time, had come out to support this." He paid tribute to his former Salvation Army coach, Don Ryan, whose phenomenal track record in mentoring young boys includes American Express CEO Ken Chenault, former NFL player and current Oakland Raiders wide receivers coach Rob Moore, and executive vice president and general manager of the New York Knicks Steve Mills. He recalled, "Don Ryan taught us fellowship and respect for each other on or off the court. He always made us bring our report cards to practice. When he looked at them if they weren't good enough, some people weren't practicing that day. His emphasis was on education becoming a whole person, physically, mentally, spiritually, and emotionally."
The party, in the form of a golf tournament, continued the next day at the Ace Club in Lafayette Hill. Golf is the great unifier among professional athletes. Erving plays golf every day. It seems that many pro athletes, regardless of the sport they played, also play golf. Former pro football player Marcus Allen, perhaps better known as a friend of OJ Simpson, won the tournament narrowly beating out former NBA stars Alonzo Mourning and Reggie Theus.
Calling all HuffPost superfans!
Sign up for membership to become a founding member and help shape HuffPost's next chapter