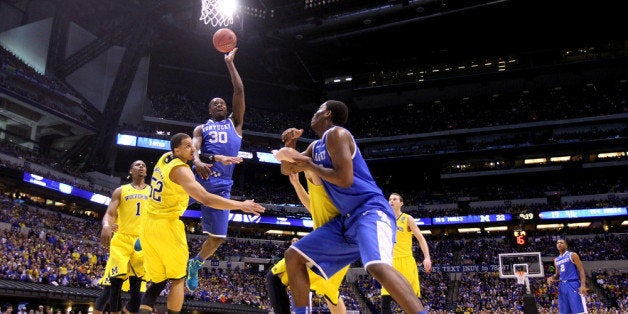 Before he was earning comparisons to basketball legends like Mose Malone and Charles Barkley, standout Kentucky freshman Julius Randle was getting pushed around by a relatively unknown 6' 2" former women's college basketball player named Carolyn Kyles. The first person in the family to wear No. 30 in a college basketball game, Kyles last played for the University of Texas at Arlington in 1985 and gave birth to Julius in 1994. Without the example Kyles set for her son in the years since, Kentucky might not have reached the 2014 Final Four.
"My mom is my everything," Randle told CBS for a moving segment about his rise to stardom that aired before the Elite Eight. "I truly admire everything about her and to do that all by herself truly says something about the person she is."
Herself a basketball player, Kyles recognized signs of her son's talent years before Kentucky head coach John Calipari came calling. She nurtured it by not taking it easy on him on the court.
"I would push him around. He'd fall down and hop up all mad. I'd throw hook shots on him, and it would just kill him," Kyles told Kyle Tucker of the Louisville Courier-Journal before the Sweet 16. "I couldn't feel guilty, because this was the position I was in. I had to be both mother and father. I couldn't be weak. I had to be strong. I couldn't baby him. I had to make sure my kids were strong, show them how to get out there and fight for what they wanted. That's what they saw in me every day."
As opponents of Kentucky during the 2014 NCAA Tournament can attest, pushing around the 19-year-old freshman forward is no easy task these days. Standing 6' 9" and tipping the scales at 250 pounds, Randle is as powerful a forward as can be found in the college ranks. He still hasn't gotten too big to recall how he used to get pushed around by his mom.

"When I was younger, she used to be beat me in one on one," Randle told CBS. "She kind of had a power game a little bit like me. She used to beat me up on the court."
Before heading off for Lexington, Randle attended Prestonwood Christian Academy about 30 miles from AT&T Stadium, the site of the 2014 Final Four. As a senior at Prestonwood, Randle averaged 32.5 points and 22.5 rebounds per game as he led his team to a state championship. A McDonald's All-American in 2013 who was projected to be one of the top selections in the 2014 NBA Draft before playing a game at Kentucky, Randle has lived up to his advanced billing.
Kyles was in stands at Lucas Oil Stadium in Indianapolis as No. 8 Kentucky tipped off against No. 2 Michigan in the Elite Eight on Sunday afternoon but she was not there when the final buzzer sounded on the instant classic. Kyles had to leave the game during the second so that she could catch a flight back to Texas to ensure she at work on Monday morning.
"If I'd called my manager and asked if I could have tomorrow off, they know what's going on," Kyles, who caught the thrilling conclusion to the game at the airport before her 7:50 p.m. flight, told the Lexington Herald-Leader. "They would have said, yes. I'm not that type of person. I'm trying to keep my obligations."
Although it was another Kentucky freshman, Aaron Harrison, who drained the game-winning shot against Michigan, Randle played a large role in making sure that his mom would have another chance to see him play this season. He scored a team-high 16 points and grabbed a game-high 11 rebounds as the young Wildcats punched their own tickets to Texas with a 75-72 win.
REAL LIFE. REAL NEWS. REAL VOICES.
Help us tell more of the stories that matter from voices that too often remain unheard.