(Adds quotes, moves dateline to Albany, N.Y., changes byline)
ALBANY, N.Y., July 16 (Reuters) - The northeastern United States sweltered on Tuesday in a scorching summer heat wave, complete with stagnant, sticky air and no winds for relief, forecasters said.
Even in a summer already filled with stretches of very hot weather, this week will be stubbornly brutal, with no relief in sight until the weekend brings thunderstorms to the region, they said.
"Plain and simple, this week may feel the worst of any week for this summer in the Northeast," said Accuweather.com meteorologist Alex Sosnowski.
"The I-95 region will be a virtual sauna bath," he said.
The thunderstorms predicted for Friday and Saturday are likely to be severe, forecasters warned.
The National Weather Service issued heat advisories for dozens of northeastern cities and surrounding areas in Connecticut, Massachusetts, Rhode Island, upstate New York and Long Island.
A heat advisory is issued if the heat index - a measure of how hot it feels when relative humidity is factored in with air temperature - reaches 100 to 104 degrees Fahrenheit (38 to 40 degrees Centigrade), it said.
"It feels like I am in Florida again, the way that the humidity mixes with the heat," said musician Brad Hester, 26, sitting shirtless on his porch in Albany. "We're getting a tropical kind of consistency."
The NWS warned of the dangers of heat-related illnesses, asking area residents to be on the lookout for signs of fatigue, sunstroke, muscle cramps and heat exhaustion.
Through Friday, places such as Baltimore, Washington, Hartford, Connecticut, and Philadelphia can expect temperatures in the high 90s F (mid 30s C).
"A lack of a breeze in the humid conditions at night will make it very rough in urban areas without air conditioning or a fan," Sosnowski said.
Locals used their imaginations to stay cool.
In Brooklyn, New York, sound designer Jamie McElhinney, 37, said riding his skateboard creates a welcome breeze for his long beard.
"I try to aerate my beard and move around a lot," he said. "That and just going from shaded spot to shaded spot, kind of like a fish swimming upstream - going from rock to rock to rock."
In Albany, Walmart worker Jay Sebastiano, 31, recommended "air-conditioner and beer," while Price Chopper employee Ally Cunniff, 24, said: "I stay inside in front of the A.C. and waste my days on the Internet."
Michael McCabe, 21, who raises chickens in Port Ewen, New York, said he beats the heat by controlling his thoughts.
"I think 'cool' thoughts, control my heart rate and regulate my body temperature," he said.
His chickens take a more down-to-earth approach and burrow in dirt under a pine tree, he said. "The ground temperature tends to be cooler in the summer than the air, especially in well-shaded spots like under a pine tree," he said.
Not everyone was hot and bothered. Zohar Kline, 36, a native of Israel, was taking a smoking break outside a shop where she works in the Roslyn Valley community outside Philadelphia.
"Most people suffer over the summer here, but I love it, love it, love it," she said, saying she had no need to find ways to cool off.
(Additional reporting by Noreen O'Donnell and Ellen Wulfhorst in New York and Dave Warner in Philadelphia; Writing by Ellen Wulfhorst; Editing by Kenneth Barry and Gunna Dickson)

Before You Go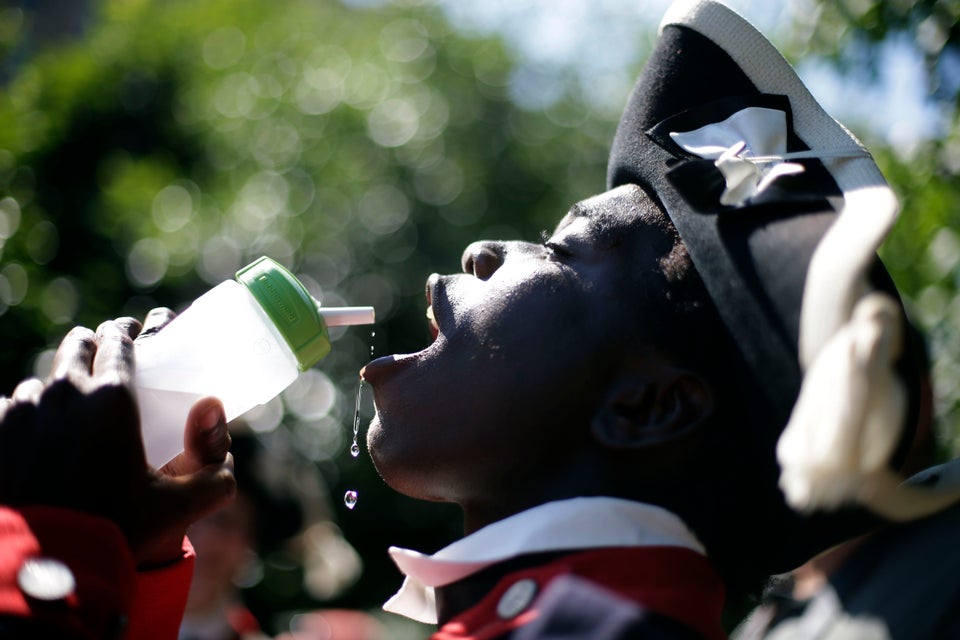 East Coast Heat Wave 7/16/13
Popular in the Community