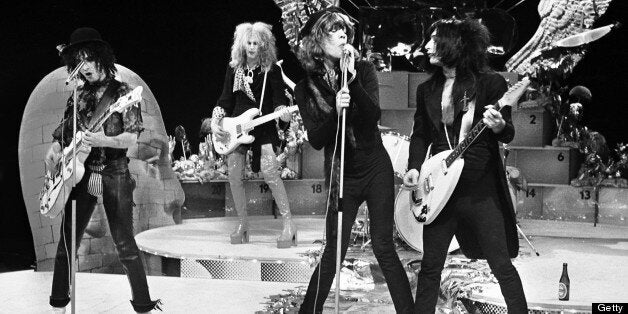 July 27th marks the 40th anniversary of the release of the New York Dolls self-titled debut album on Mercury Records, produced by Todd Rundgren. For me, this is an intensely personal moment. The New York Dolls were personal friends of mine. It was the first time I ever watched pals become stars. A year or so later, KISS's Paul and Gene gave me a taste of what it was like to be high school pals with guys who became gods. I've written about the Dolls before. To mark the 40th anniversary of my one gig opening for the Dolls, on the night they got signed, I excerpted the New York Dolls chapter from my book out on Rhino Records, "My Life In The Ghost of Planets: The Story of a CBGB Almost-Was," here on Huffington Post. It's a fun read, if I say so myself, and a true witness to history. Because, folks, nothing was ever the same after the Dolls hit us between our thighs.

So, instead of me yammering redux, I got in touch with my old friend, Kathy Miller, the head of the Dolls first fan club. Maybe 200 people saw the Dolls before I did in August 1972. I doubt even 35 had seen them before Kathy had her head turned inside out that spring. Here's my interview with Kathy Miller...
Binky: How on earth did you get into the Dolls so early? I recall you and Linda Danna, your partner in crime looking like Karen carpenter clones, in terms of your rather staid and dare I say it, square appearance at the time.
Kathy: First it's hard for me to fathom that it was 40 years ago that the New York Dolls first album was released. Jesus, I'm old. In the beginning there was the legendary music journalist, Lillian Roxon. She lobbed the opening grenade by calling for a boycott of the 1972 Rolling Stones MSG concert in the Sunday Daily News. "Instead, go see the New York Dolls!" She ran a photo of David Johansen in a bowler derby with a dollar bill in the brim. For many of us this was the first look. The following Tuesday we were in the Oscar Wilde room, tucked away in the maze of little theaters that was the Mercer Arts Center.
Binky: God bless Lillian, a true saint. She gave me words of encouragement, too. How did you first perceive the band? I mean, they were such a unique looking and sounding bunch.
Kathy: It has been written that the Dolls created a Dionysian love child of R&B fused rock & roll with girl group pop-tunes. I'd agree. They had Three Stooges stage presence in Mommy's dress-up clothes if Mommy was Carmen Miranda or Norma Desmond. If you squinted they reminded you a little of the Rolling Stones but, as Johansen has said, "Younger and faster." They didn't walk when they could lurch or swagger. They had an insouciant wit and attitude. That night at the Mercer Arts Center I became a True Believer. I'd gotten to the point where if you couldn't say it in three minutes with a pulverizing riff I didn't want to hear it. The NY Dolls got to the same place at the same time because that was what they delivered. These 5 shambolic kids from the Outer Boroughs brought the fun back. The NY Dolls were the revenge of Bridge & Tunnel urchins taking it to "the City" on their terms. I signed on for the duration.
Binky: I love it, the revenge of B & T urchins! Interesting that the members of KISS were outer-borough kids, too. Okay, so you've fallen in love... How'd you get invited into the Inner Circle?
Kathy: That first night we met Laura Kaufman (RIP) from Leber/Krebs, the Dolls' new management team. She made an offer too good to be true. If we handed out fliers all around the city and helped deliver an audience to the NY Dolls' gigs we could get our names on the guest list for free admission to the clubs. It was like the Devil and Daniel Webster bargain. There were five of us (Linda Danna, Andy Savva, William and Charles Charas, and me.) We became the rock & roll equivalent of Mormon missionaries. Neither snow, nor rain, nor gloom of night kept us from our appointed rounds. We never missed a Dolls gig in the boroughs. Plus, our effectiveness moved the boys up to the main room in the front of the Mercer Arts Center. The culmination was the New Year's Eve show on December 31, 1972. There were so many people shoved into that room body heat sent steam up the walls and it rained back down on us dancing fools. The papier-mâché chandeliers over the stage melted and turned upside down inside out.

Binky: So, that debut album, Kathy...
Kathy: Yes, seven months later, I was holding their first album in my hands. There in black & white was the address for the NY Dolls fan club that Linda Danna and I started. Once people heard this, I was positive the Dolls would be the biggest thing since the Beatles. As befitting True Believers, every day, after school, my sister and I would cart our stereo to our terrace to blast the album so the girls coming down the street from Queens Vocational High School could hear what we thought was the Greatest Rock & Roll Band in the World. "Who IS that?" the girls in their Beauty School uniform would yell up at us. We'd yell back "The New York Dolls!" We were playing and selling it one listener at a time. God knows New York's rock station, WNEW-FM wasn't playing it.
Binky: So, you wanna do what some interviewers have big stars do, a track-by-track breakdown, Oh, Dolls Fan Number One?
Kathy: Well, the Dolls were riding a rip tide of unrest. This is music by kids, for kids. "Personality Crisis".... "We can't take it this week/And her friends don't want another speech/Hoping for a better day to hear what she's got to say/All about that personality crisis, you got it while it was hot/But frustrations and heartache is what you got." It hasn't dated on iota. (And it's fun to howl along as the Wolfman.) "Looking for a Kiss" takes a turn towards the dark side: "When everyone goes to your house, they shoot up in your room/ Most of them are beautiful, but so obsessed with gloom/ I ain't gonna be here, when they all get home/ They're always lookin' at me, they won't leave me alone/I didn't come here, lookin' for no fix/ I been houndin' all streets all night long/ Baby just looking for a kiss." Foreshadowing? At this point Johnny Thunders still had his baseball player's physique.
Junk wasn't the only thing that came home from Vietnam. When the Dolls wrote "Vietnamese Baby" soldiers were still dying there. This album was released a month before that war finally ended. And it took over a decade before the United States of America could bring itself to recognize the vets and the casualties. The government, however, did realize they'd made a strategic mistake. They ended the Draft. Nobody could protest an "All Volunteer Army." (And nobody does now, do they?) "Vietnamese Baby" in concert was always pretty harrowing. For starts, you could actually hear Jerry Nolan's rat-a-tat-tat machine gun-approximating drums and Johnny Thunders' flame-thrower guitar solos. Johansen's lyrics are vivid: "Catch me your slaves, shot at/Every rifle on the way and I gotta/ Show you more mustard gas than any girl ever seen/Since I been blasted, I've been blown, I've been backing away/You've got to back it away/You've got to take a search of values, yeah/But I've got a concert out to play/With a Vietnamese baby on your mind Your pretty little mind" It ends with "talking about your overkill... now that it's over, what ya gonna do?" The trashy, campy NY Dolls raised the specter of post-'Nam guilt.
Only the Dolls could find a Bo Diddley song so obscure everyone thought they wrote it - "Pills" - with the Rock & Roll Nurse dispensing what everybody in the audience was hoping for. Only the Dolls could write a space age ballad about loneliness - "Lonely Planet Boy" - that remains their prettiest song to date. And bassist Arthur Kane's one and only ditty - "Private World" - with his basic boat-anchor bass line and chunky cha-cha-cha melody speaks to the world kids live in: "Shut that door!" "Trash" is their cheeky pop tune, complete with a nod to Mickey & Sylvia. "How do you call your lover boy?" It was recently given a new lease on life by NY Dolls 2.0 as a reggae tune.

Only the New York Dolls could write an anthem for disenfranchised youth - "Frankenstein". It's a pretty appropriate description of their audience: "these shoes are too big... your jacket's too small." Or, "In a place where they don't expect nothing/You're trying not to dirty your hands/ I'm asking you as a person/Is it a crime, is it a crime/For you to fall in love with Frankenstein."
"Jet Boy" became the Dolls true signature song. Driven by a relentless Johnny Thunders riff, and Johansen's androgynous lyrics, it is an anthem for kids up all night. You can't really hear it but there is a perfect storm of rhythm and riffs and propulsion whirling underneath Johansen's wailing vocal. It's Sylvain's churning guitar and the driving drums of Jerry Nolan. Thunders' guitar flits and darts all around them like a berserk hummingbird.
Binky: Wow, you sound like a rock critic. Not good! [laughter] How about you take us home with that Big Picture Analysis stuff, Kathy...

Kathy: Okay... here goes. If ever there was an album that needs, demands, 21st century digital love, it's the first NY Dolls album. All that Rundgren got right was the din. It has din alright, and occasionally Thunders breaks out of the swamp and Johansen screams through. No wonder Nolan was pissed off for decades - and it happened to him a second time with "L.A.M.F."! I heard a rumor back then that Rundgren spent only half-day doing the mix. But still, this record is vindication. It's never gone out of print. More importantly, it lives as a subversive document, speaking in secret code about teenage rebellion and anarchy like that frequency only dogs can hear. It ignited the punk movement in the U.K. Mick Jones' heard it - "must be into the NY Dolls and Mott the Hoople" - when he advertised and connected with Joe Strummer. Steve Jones of the Sex Pistols was playing Sylvain's big white Gretsch guitar, complete with the glamour girlie sticker on the front. Morrissey signed on to head up the U.K. fan club from the night they played on the telly, and decades later, got them back together again. If Johnny Thunders could've copywritten or trademarked his hair he'd've been a multi-multi-millionaire from every L.A. hair metal band in the 1980's who borrowed his coif. Nobody's ever figured out how to do what he did on guitar.
The Dolls gave New York City something it never, ever had - a Rock Music Scene. We'd had a music INDUSTRY but never a SCENE. I would look at other cities with a severe case of Scene Envy - Liverpool, London, San Francisco, Ann Arbor MI, even Cleveland, fer chrissakes, and Los Angeles. L.A. is a factory town and even they had a scene with bands like the Byrds, Love, the Doors, Buffalo Springfield, Grass Roots and Beau Brummells. NYC? Nada. The Velvet Underground. The Rascals. Tumbleweeds blowing...
After the NY Dolls original bands, visionary bands, were sprouting from every crack in the concrete, from every nook in the cranny. Suddenly there were dozens and dozens. They were like cockroaches. Everybody who was anybody in the New York City rock scene I first saw in the Dolls audience. All those people now in the R&R Hall of Fame - Ramones, Blondie, Patti Smith, and Talking Heads - were Dolls fans in the audience. Isn't it about time the New York Dolls were inducted into the R&R Hall of Fame? C'mon. How long are you going to hold a grudge?
Binky: Thank you, Kathy. The New York Dolls not being in the Rock 'n' Roll Hall of Fame is an absurdity. Their musical/cultural impact is still being felt FORTY YEARS LATER.
Kathy: Amen and good night, my dear.
Popular in the Community