July 4th celebrations are synonymous with backyard barbecues, but with the price of many BBQ items soaring, Americans may want to watch what goes on the grill this summer. "More Cluck, Less Chuck" and BYOB could be the recipe for keeping the cost of Independence Day cook-outs in check.
Sizzlin' Prices
The cost of a typical 10-person barbecue has increased 28 percent over the past 10 years, according to the Rabobank BBQ Index, from $51.90 in 2004 to today's cost of $66.82. Most of that cost increase has come since 2007, when barbecue costs reached $55.62 -- 17 percent cheaper than today.
The Rabobank BBQ Index tracks the overall price of an average 10-person barbecue and the impact that rising -- or falling -- commodity prices have on each of the various consumer food items: a cheeseburger on bun with lettuce, tomato and pickles, chicken, chips and ice cream on the side, and soda and beer to wash it down.
Cost Drivers for July 4th BBQs: Beef, Dairy, Beer
While commodity price fluctuations are not always passed on to retail prices, this July 4th, American consumers will feel the impact of volatility in the commodity markets. Beef prices in particular have exploded recently, with retail ground beef prices -- the heart of the American barbecue -- rising 14 percent over the past year, and an astonishing 71 percent over the last five. Beer, which makes up 28 percent of the 2014 barbecue bill, is up 20 percent over the past ten years. Retail cheese and ice cream prices have both jumped 15 percent since 2009, with cheese prices up 11 percent in the past year alone.
Why are prices so hot in these core barbecue ingredients?
Beef Might Be For Dinner, But it Will Cost You

: Cattle herds in the United States are the smallest in 63 years and beef exports have grown substantially, using a larger share of U.S. production. It's a simple matter of supply and demand, with the higher costs being passed on to the consumer. Beef is 14 percent of the 2014 barbecue cost.

Milk is in Demand -- Not Just in the U.S.

: While U.S. demand for dairy has slowed in recent years, growing demand in China and other developing markets has kept prices rising. U.S. dairy exports rose 26 percent in the first quarter of 2014. It's supply and demand again: As supply comes under pressure, prices rise. Cheese is 4 percent of the 2014 barbecue cost, but ice cream is 15 percent.

Craft Brews are Lifting Beer Prices

: The popularity of more expensive craft beers in the U.S. has helped push the price of domestic and premium beer upward as well. And the weeks leading to Memorial Day and July 4th see some of the heaviest beer sales of the year, regardless of price. Beer is a whopping 28 percent of the 2014 barbecue cost.
Lowering the Heat on BBQ Budgets
If you're on a budget, or simply don't want to break the bank this July 4th, you can still serve up a delicious barbecue that features all the time-honored traditions. Evaluate your budget, be choosy in your choice of meats and beverages, and consider these pointers:
More Cluck, Less Chuck

: Although beef prices are sky rocketing, it doesn't mean you have to go meatless. Opt for grilled chicken -- prices for white meat are holding steady in the U.S. Or, offer a mix of hamburger and chicken, which also expands your menu choices.

Ask Your Friends to BYOB

: Having guests bring the beer may be the smart route this summer as it will save you about 30 percent of overall barbecue costs. The good news is that beer companies will heavily promote their brands before the holiday, so there will be cost-saving opportunities to search out. And don't forget soda, 5 percent of the 2014 barbecue budget: Slowing consumer demand has increased discounting, and prices are down 4 percent over the past five years.

Green Keeps Budgets Lean

: Tomato prices have risen 12 percent year-over-year due to the drought in Mexico, but vegetables are, as always, among the lower cost and healthier items. Lettuce, tomatoes and pickles combined make up only 10 percent of the 2014 barbecue cost.

Don't Hold the Bun

: Pricewise, it makes sense to serve the burger with a bun, as costs for bread are basically flat vs. the past five years. While you might cut calories or glutens by skipping the bun, you're not cutting any significant price corners -- bread is just 4 percent of the total 2014 barbecue cost.

Go for Seconds on Snacks

: Potato chip prices are down, likely as a result of more people moving towards healthier options. At 7 percent of total barbecue costs, you can serve up seconds on chips and other snacks.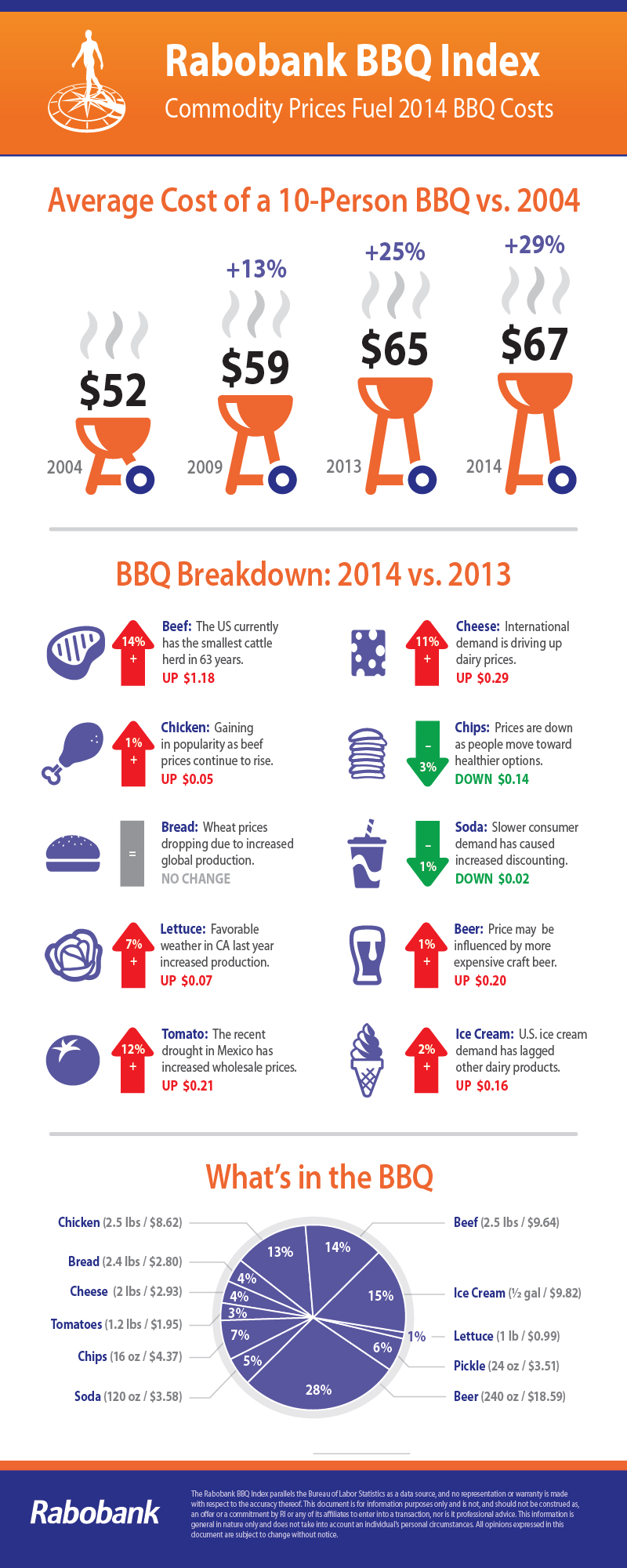 Infographic by Rabobank
PHOTO GALLERY
15 Ways To Save On Eating Out
REAL LIFE. REAL NEWS. REAL VOICES.
Help us tell more of the stories that matter from voices that too often remain unheard.