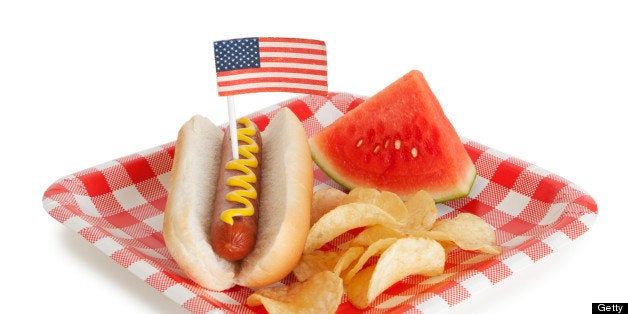 As you sit down to a July 4th meal, have you ever given any thought to where those foods come from?
Hamburgers and hot dogs may seem all-American but pigs and cattle were brought to the New World by Spanish explorers; as Texas Parks and Wildlife notes,
As colonization increased, hog numbers subsequently increased. They provided an important source of cured meat and lard for settlers.
PHOTO GALLERY
Fourth of July Dining in D.C.
According to legend, on July 4, 1776, John Adams — who fought for independence and eventually because the second President of the United States — and his wife, Abigail, sat down for a celebratory meal of turtle soup, New England poached salmon with egg sauce, green peas, and boiled new potatoes in jackets. They followed the meal with Indian pudding or Apple Pandowdy.
What was served at the first Independence Day celebration? No one knows for sure but a Philadelphia chef told ABC News "the menu likely would have been based on the recipes of British culinary authority Hannah Glasse."
Glasse's July menu suggests the signers of the Declaration would have supped on roast turkey and fricasseed rabbit, pigeon, crawfish and lobsters. There would have been tongue and turnips and lamb testicles. And for dessert, apricot tarts and roasted apples, plums, jellies and custards.
PHOTO GALLERY
D.C. Fireworks 2013
And here's a look back at July 4, 2012:
PHOTO GALLERY
July 4, 2012
Calling all HuffPost superfans!
Sign up for membership to become a founding member and help shape HuffPost's next chapter