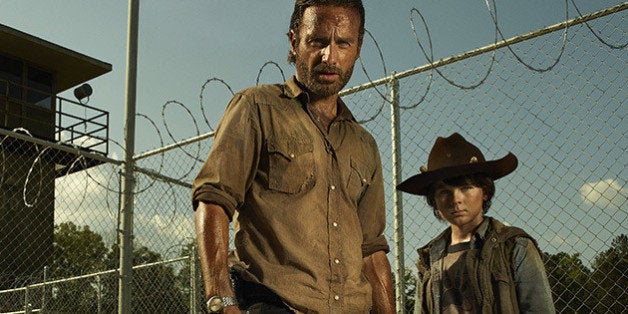 The Fourth of July may just be the most patriotic holiday of the calendar year. It's the day we celebrate our country's fight for freedom and independence. It's also the day we pig out on hot dogs, get up early to catch parades, and occasionally light ourselves on fire launching fireworks. But really, if you want to memorialize the day the right way, you should partake in America's favorite pastime. (And no, we're not talking about baseball.)
Oh, sure, sing the national anthem until your lungs give out and head to that dreaded family barbecue, but don't forget to do what true Americans do: watch some good TV. Here's your ultimate guide to all of the TV marathons this July 4th.
"The Walking Dead" Marathon on AMC
Cleverly nicknamed the "Dead, White and Blue" marathon, AMC is gearing up for Season 5 with this zombified recap for viewers to sink their teeth into. After you've gorged on those flesh-eating monsters and relived some of your favorite characters kicking the bucket on the show, stay tuned for a special "Talking Dead" Season 5 preview with never-before-seen footage from the show. The marathon begins at 9 a.m.
"Star Trek: The Next Generation" Marathon on BBC
Live long and prosper, America. The BBC is airing an all day ode to the Enterprise and its crew with this interstellar marathon. Watch Patrick Stewart and LeVar Burton seek out new life and new civilizations, and to boldly go where no man has gone before. Watch all of the action starting at 8 a.m.
"America The Story Of Us" on History
This one's for all the history buffs out there. The 12-hour television event chronicles the history of America, focusing on its leaders, influencers, failures and successes. From the Civil War to the Revolution, it's the best way to binge-watch how this great nation was formed. The series begins at 7 a.m.
"The Real Housewives of New Jersey" Marathon on Bravo
Really, what says America more than a bunch of Botox-injected women flipping tables and screaming at each other over a nice Italian dinner. Watch the ladies of New Jersey insult, degrade and generally embarrass each other and themselves on national television beginning at 9:35 a.m.
"NCIS" Marathon on USA
Watch Special Agent Gibbs and the gang thwart terrorist plots, handle kidnapping threats and solve murder mysteries with a dose of cheeky humor added in for fun. The marathon starts at 6 am.
"The Game" Marathon on BET
One of the network's most successful shows and most watched comedies is airing reruns starting at 8 a.m.
"Keeping Up With the Kardashians" Marathon on E!
Celebrate America with America's favorite family. Relive every ugly-cry moment, mom-ager meltdown and family therapy session with the gang from Calabasas starting at 7 a.m.
"Sex and the City" Marathon on E!
If you want even more fashionable moments and dramatic cat fights, stay tuned on E! for a mini "Sex and the City" marathon. Watching Carrie, Samantha, Charlotte and Miranda navigate sex and relationships in the Big Apple might just be the trendiest way to celebrate Independence Day. The marathon starts at 2 p.m.
"The Twilight Zone" Marathon on SyFy
Have a good scare this Fourth of July by re-watching some of the best episodes from one of America's oldest horror TV shows. The sci-fi event kicks off at 8 a.m.
"Awkward" Marathon on MTV
What says America better than a group of pubescent teenagers trying to fight their way through the social hierarchy of high school. From losing your v-card to finding a date to the winter dance, the show reminds us why we'll never miss those awkward years. The marathon starts at 11:34 a.m.
The Duggar Family Marathon on TLC
Switch out the "K's" for "J's" and you've got America's second favorite family. The Duggars may lead an unconventional life, but they make for some great TV. Watch all the family drama unfold on beginning at 6 a.m.
"America's Next Top Model" Marathon on Oxygen
Show your patriotism by watching Tyra Banks whip a group of underfed models into shape. The girls compete for the top spot on the show and are constantly judged by a panel of so-called industry experts but the real fun comes in watching all of the cat-fights that erupt once you place 20 women in one house and tell them they have to share a bathroom with each other. The competition starts at 8 a.m.
"American Ninja Warrior" on Esquire
Watch a group of America's best athletes as they attempt to complete one of the most insane obstacle courses we've ever seen all in the hopes of becoming America's ninja warrior. The competition starts at 6 a.m.
ABC Family Movie Marathon
Catch a couple of "Flintstones" flicks and see Johnny Depp in all his swashbuckling glory with ABC Family's movie marathon starting at 11 a.m.
FIFA World Cup on ESPN and ESPN2
Don't miss out on any of the action going down in Brazil. Put on your favorite team's jersey, get your chant going and tune into the beautiful game when Germany faces France at 11:30 p.m. on ESPN2 and don't miss the home country take on Columbia at 3:30 p.m. on ESPN.
"Criminal Minds" Marathon on A&E
Watch Agent Hotchner and his elite profiling team take down the bad guys and save the world by analyzing the most dangerous criminal minds in America. The marathon starts at 4 pm.
Macy's Fourth of July Fireworks Spectacular on NBC
Watch as Nick Cannon hosts the annual event. Performers for this year's light show include Ariana Grande, Miranda Lambert and Lionel Richie. The special launches at 8 p.m.

Before You Go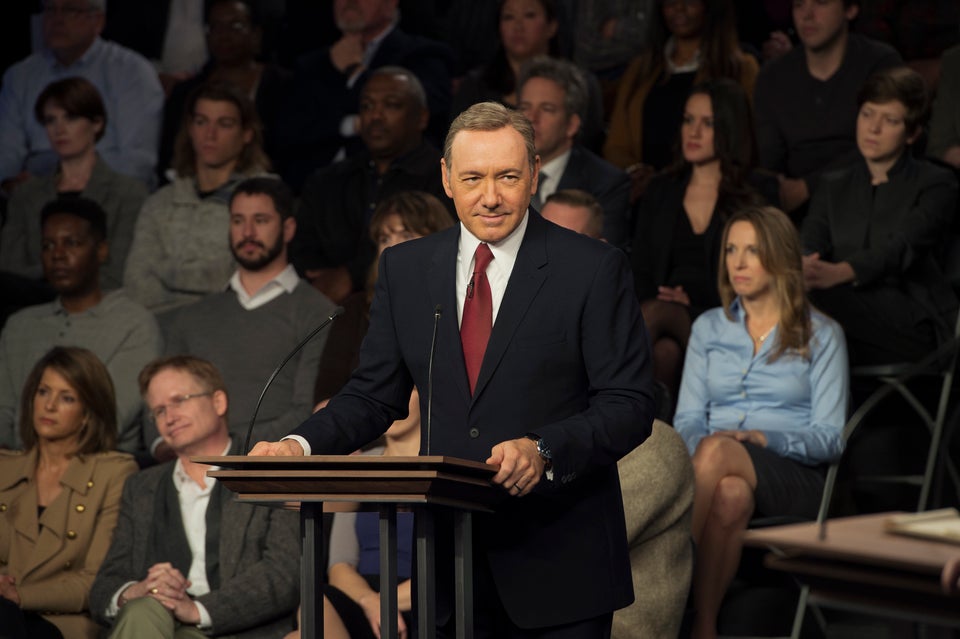 "House of Cards"
Popular in the Community