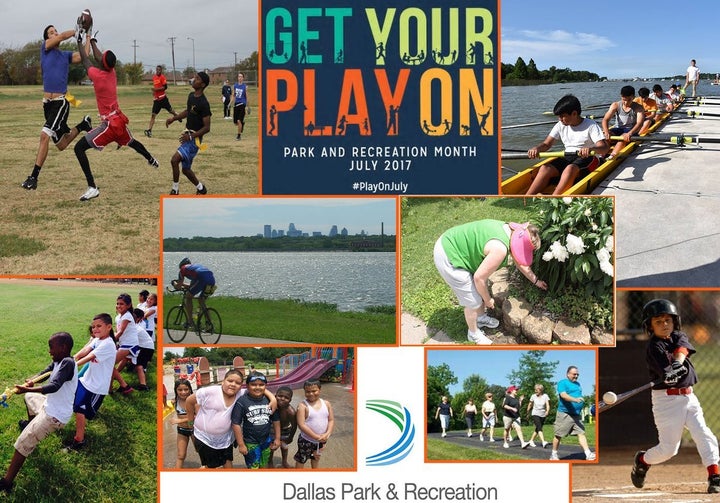 "Play is a vital part of our mental wellbeing, physical health and personal interactions," Barbara Tulipane, NRPA president and CEO, said in a released statement this week.
"To discover the power of play, visit your local park or recreation center where you can gather with family and friends, and participate in a variety of fun indoor and outdoor activities that will motivate and challenge you," said Tulipane.
Since 1985, Americans have celebrated Park and Recreation Month in July to promote the importance of parks and recreation in health and wellness, conservation and social equity, and to recognize the thousands of park and recreation employees that maintain our nation's local and community parks.
Park and recreation agencies across the country are recognizing the month through summer programs, events, contests, commemorations and celebrations. Ten park and recreation state associations including Colorado, Florida and Pennsylvania are promoting the Month and advocating for access to parks and recreation for health, conservation and social equity.
"National Parks and Recreation Month is the perfect opportunity to highlight the beauty of our open spaces, the importance of recreation facilities and the positive impact they have on our wellness and quality of life," said Essex County, New Jersey executive, Joseph DiVincenzo, Jr.
"The area overlooking the Orange Reservoir provides a beautiful and unique spot to host a diverse lineup of activities to exercise, entertain and inspire you," DiVincenzo said. "We invite the public to celebrate with us and look forward to seeing you at our upcoming events."
According to the U.S. Department of Health & Human Services, only one in three children are physically active every day and less than five percent of adults participate in 30 minutes of physical activity each day. Through the use of outdoor exercise equipment, group fitness classes, and sports leagues, parks are places where all people can play, regardless of age, income or ability.
"I think Parks and Rec Day is a great way to bring the community together," said Missouri's Cape Girardeau Parks and Recreation Department's recreation manager, Penny Williams. Referring to one of the many free public events scheduled at Southeastern Missouri's Osage Centre, Williams said the Parks and Recreation Month initiative is "full of activities and games for anyone to have fun and be active."
In 2013, research found adults in the following states to be most likely to report exercising three or more days a week for at least 30 minutes: Vermont (65.3%), Hawaii (62.2%), Montana (60.1%), Alaska (60.1%). The least likely were Delaware (46.5%), West Virginia (47.1%) and Alabama (47.5%). The national average for regular exercise is 51.6%.
"If you can't get to a park, we will bring a park to you," said Sioux Falls Parks and Recreation recreation program coordinator, Susie Garry.
Encouraging people to share why play is so important in their lives throughout the month, the NRPA is hosting a weekly contest, #NRPAPlayChallenge.
"This year's theme of call to play coincides perfectly with the focus of Dallas' parks, recreation centers, athletic facilities, golf courses, community swimming pools, leisure programs for all ages, and family attractions," said Willis Winters, director of Dallas Park & Recreation, one of the nation's largest municipal park systems.
"We hope you will take advantage of the many fun and beneficial activities and events in our parks and recreation centers that are planned throughout the month of July that will help you and your family Get Your Play On," said Winters.
Popular in the Community