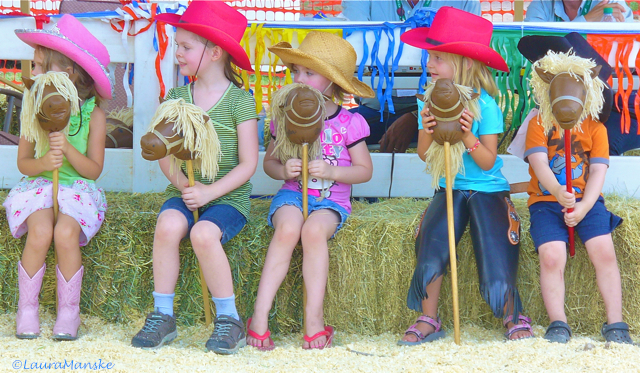 As a happily stiletto-wearing New York City gal, I also love to kick up my Western boot heels attending rodeos all over America. And the rowdy revelry that has grabbed my heart more than any other show is Cheyenne Frontier Days -- the world's largest outdoor rodeo competition, affectionately called the Daddy of 'em All. In its 117th year, this Best of the West, family-friendly celebration runs July 19th to 28th and showcases almost 1,500 bull-riding, steer-wrestling, horse-galloping, barrel-rolling, lasso-twirling contestants, who vie for $1-million in money and prizes.
You don't have to know the difference between a hooey and a honda (rope knotting/looping terms) to appreciate cowboys' and cowgirls' athletic prowess. Sure, the romping-and-stomping hoopla in Frontier Park's grandstand arena is the rodeo centerpiece that draws visitors to Cheyenne from as far away as Australia and Argentina, but what I adore most is watching the many circles of smiles -- on faces young and old -- that carry forward across various CFD venues, like ripples created by stones skipped across a lake. CFD, sanctioned by the Professional Rodeo Cowboys Association (PRCA), is as sweet and old-fashioned as it is up-to-date and professionally managed.
"Travelers who've never experienced CFD would be amazed to discover our size, scope, and nonstop action in the arena and track," says Darin Westby, general chairman of CFD. What gets the most high-fives? "The thousands of area volunteers, who give graciously and generously of their time and energy to make this annual event a success," he explains. Indeed, beyond a small, paid, logistics staff, CFD is made possible only by the coming together of approximately 2,300 can-do Wyomingites, who freely flip flapjacks at breakfasts, scoop chili at cook-offs, toot horns at train buff meet-ups, tend livestock, landscape grounds, direct traffic, hand out flyers, build fences, paint signs, haul trash, collect tickets, and plenty more.
In the arena, matches last all afternoon, so wrangle a schedule first thing in order to focus on the championships that light your fire. Stretch your legs at other times, because there is so much do-si-do to do here. These are my other favorite finds in the Frontier Park and Fairgrounds.
• Kick-off your CFD fun with a behind-the-chutes tour, which will lead you to the animal pens and inner-gates. You'll better understand how rodeos work and events are judged.
• Explore Old West Museum, brimming with historical artifacts, an impressive collection of pioneer wagons and carriages, and inspirational artwork.
• Talk to cowgirls and cowboys, who often are open to tell you about their life. I always learn something new from them, especially humorous philosophical tidbits, such as "Don't squat with your spurs on," "If you think you're a person of influence, try ordering somebody else's dog around," "Success is getting back on the horse one more time than you fall off," and "If you find yourself in a hole, the first thing to do is stop digging." Last year, I asked a Cheyenne rancher for his top advice. He told me never to touch a cowboy's hat. I didn't have a chance to follow-up with a "Why not?" But it seems like a smart recommendation.
• Shop Wild Horse Gulch -- a row of quaint-looking stores in Old Frontier Town -- for silver-turquoise jewelry, leather-fringed fashion, and country-themed housewares.
• Relish the Native American music, dance, crafts, and storytelling in the Indian Village with members of Northern Arapaho and Shoshone tribes.
• Meet beautiful rodeo queens sporting glittery tiara-embroidery on their cowgirl hats.
• Chow down on tangy barbecue and spiral spuds.
• Take a whirl on Carnival Midway's Ferris wheel and merry-go-round.
• Slide into a pair of Western boots, sold in huge tents. Be dazzled by the hundreds of styles, designs, and colors.
• Dance at straw-on-the-floor Buckin'A Saloon, where Chancey Williams & the Younger Brothers Band strum memorable music moves.
• Savor the sparkle of stars under an ink-black sky at outdoor concerts headlined by Toby Keith, Jason Aldean, Alan Jackson, Dwight Yoakam, Luke Bryan, Rascal Flatts, Journey, and Styx.

Approximately 3 percent of CFD's revenue is donated to Cheyenne community organizations as well as regional groups (some as far away as Montana and Colorado). In addition, a $64,000 annual college fund awards scholarships to young volunteers, plus nearly $55,000 goes to the aid of volunteers facing a financial or health crisis. "It's important to help our neighbors whenever we can," adds Westby.