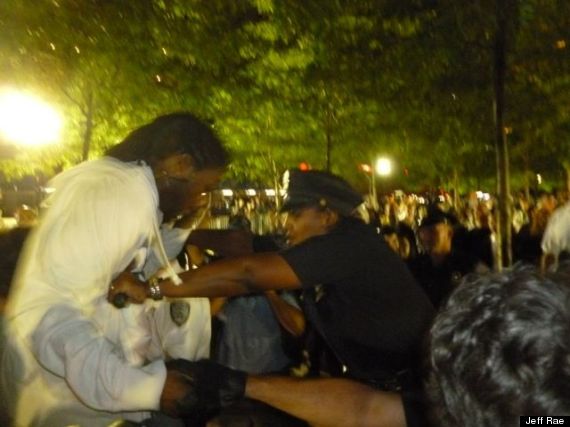 While nearly 200 people were arrested during Monday's Occupy Wall Street protests, New York City Councilman Jumaane Williams was pushed by an NYPD officer while trying to explain his purpose at Zuccotti Park.
Council Member Williams was in Zuccotti Park to observe and ensure that the rights of protesters are being protected, something which he has done at multiple Occupy Wall Street actions without incident. In the midst of a police action involving one protester, two NYPD officers approached the Council Member and pushed him while he tried to explain his purpose at the park. He was neither arrested nor injured during the incident. Council Member Williams will continue to work with the NYPD and protesters to ensure both the protection of First Amendment rights and the safety and security of our city.
Prior to the incident, Williams had tweeted, "A little concerned. Tensions raising on both sides #OWS supporters should come out tonight btwn 6 and 8pm" and then "Have seen #NYPD show restraint. Have also witnessed some very questionable arrests at #OWS."
Williams was also the subject of police brutality during 2011's West Indian Day Parade, when he and former aide for Public Advocate Bill de Blasio Kirsten John Foy, both of whom are black men, were wrongfully arrested while on their way to a post-parade event at the Brooklyn museum.
De Blasio said in support of Williams and Foy, "It's broad daylight, they get thrown to the ground, they both get arrested. If that's what happens to an elected official and a senior appointee, imagine what happens to a general member of the public."
Williams, one of the city's most outspoken critics of the NYPD, argued the incident pointed to the larger issue of NYPD stop-and-frisks, which he says unfairly target minorities.
Popular in the Community