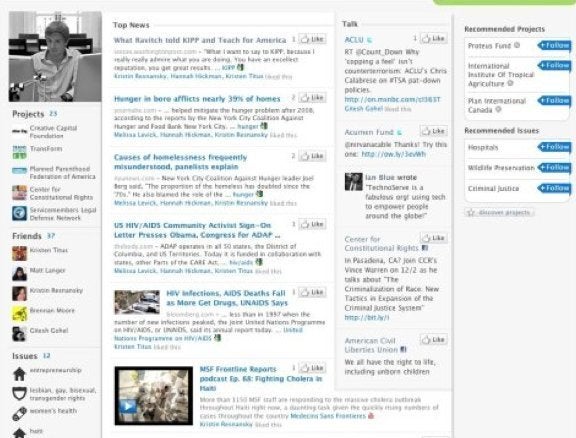 If everything goes according to Chris Hughes' plan, Nov. 30, 2010 will be remembered as a critical and celebrated moment for the multi-billion dollar nonprofit and charitable industry.
Earlier this morning, Hughes launched his latest project, Jumo.com, which the Facebook co-founder describes as a "social network for the social sector." Jumo means "together in concert" in the African language of Yoruba, and Hughes' nonprofit, non-partisan venture is a bold declaration that the nonprofit world has finally gone social. The site looks a lot like Facebook (where your homepage is filled with a news feed from friends and groups you like), and feels a little bit like Twitter (where you follow the nonprofit groups that interests you) and aims to do for charitable institutions what Yelp has done for salons, restaurants and other businesses: put people and their experiences front and center.
At its most basic, Jumo offers an unprecedented hub -- a thorough and diverse online directory -- of nonprofit groups and organizations. Some 3,500 groups representing a wide array of social issues (poverty, environment, education, gay rights, etc.) are indexed on the site as of today, and all major geographic areas around the world are represented. At its most bold, it announces the arrival of a major player, and possibly a game changer, in a nonprofit industry that in the past have struggled to innovate and collaborate. Supporting an organization is not just limited to giving money and volunteering time. It also means promoting the group within your own social network and, when necessary, providing feedback and engaging with the organization.
"Most every site that's out there focuses on donations. And, don't get me wrong, donating to organizations, especially right now, is really important. But Jumo is taking a very different approach. It's not just about how much money are donating to this or that group. It's about what kind of relationship you are building with that organization," Hughes told me early Sunday evening, as he sat in the conference room of Jumo's headquarters in Manhattan's SoHo district. He turned 27 last Friday and, like his small and agile staff, he spent most of his Thanksgiving weekend preparing for today's unveiling.
"A relationship is built over time," Hughes continued. "Maybe you start volunteering. Maybe you do start to give money. Then maybe you tell all your friends and family and co-workers about it. You personally feel a sense of ownership, and the technology enhances that relationship."
In other words, the era of a quarterly e-mail blast from the charitable organizations you support -- if you even get an e-mail blast -- is not just antiquated in the age of Facebook, Twitter and YouTube, it's downright inadequate. Just as politicians need to meet voters where they're at, just as news organizations need to adapt to a more social network-based news distribution model, so, too, do nonprofit groups.
From an organizational stand-point, Jumo has been about a year in the making. Hughes announced a soft launch in mid-March. He's raised more grant money since (about $3.5 million from groups such as the Omidyar Network and the Knight Foundation and other individual donors) and subsequently hired more staff. He now has a staff of eight and plans to hire more people, including a monetization director. Even though Jumo is itself a nonprofit group, Hughes -- who invested some of his money and as executive director does not draw a salary -- wants his organization to be self-sustaining. Revenue will come from two sources: tips on donations (similar to the peer-to-peer philanthropic group Donors Choose), where users can decide what percentage, if any, Jumo gets from each donation; and from sponsorships, though Jumo did not partner up with any group for the initial launch.
Since summer, one of Hughes' busiest employees has been Kristin Resnansky, Jumo's outreach director. A former hedge fund analyst, It's Resnanky's job to interface and interact with hundreds of organizations that are featured on the site -- "the seed list," as the 35-year-old called it. She assured groups that they don't have to do anything to be a part of Jumo -- no extra work needed. All information on specific nonprofit groups are culled from their Web sites and their social networking presence. After today's launch, she added, any group that is mission-driven can join Jumo, may it be a tiny non-governmental organization in Kenya or a double- and triple-line business (a business that draws profit but has strong social impact).
But, really, the idea for Jumo -- for launching a social networking site devoted to philanthropy and charity -- had been knocking around Hughes' head since the end of the 2008 campaign, when he worked as director of online organizing for Barack Obama. He's done his research, traveling around the world, particularly Africa, and learning from experts such as Jeff Sachs, the Columbia University professor; Susan McCue, founding president and former CEO of the ONE Campaign, who serves on Jumo's board; and Jeffrey C. Walker, the veteran business executive who co-founded JP Morgan Partners and serves as chairman of Millennium Promise.
His days at Harvard, sharing a room with Mark Zuckerberg and helping launch Facebook, taught Hughes that the Internet is getting more and more social -- we're sharing more information, trivial and serious, than ever before. His time at the Obama campaign, working on the 11th floor of high-rise in downtown Chicago, proved that organizing online complements on-the-ground mobilization.
He was ready to start something new -- on his own.
"I feel more ownership over Jumo," he said simply.

CLICK BELOW FOR A SLIDESHOW ABOUT JUMO AND ITS STAFF.
Related
Popular in the Community