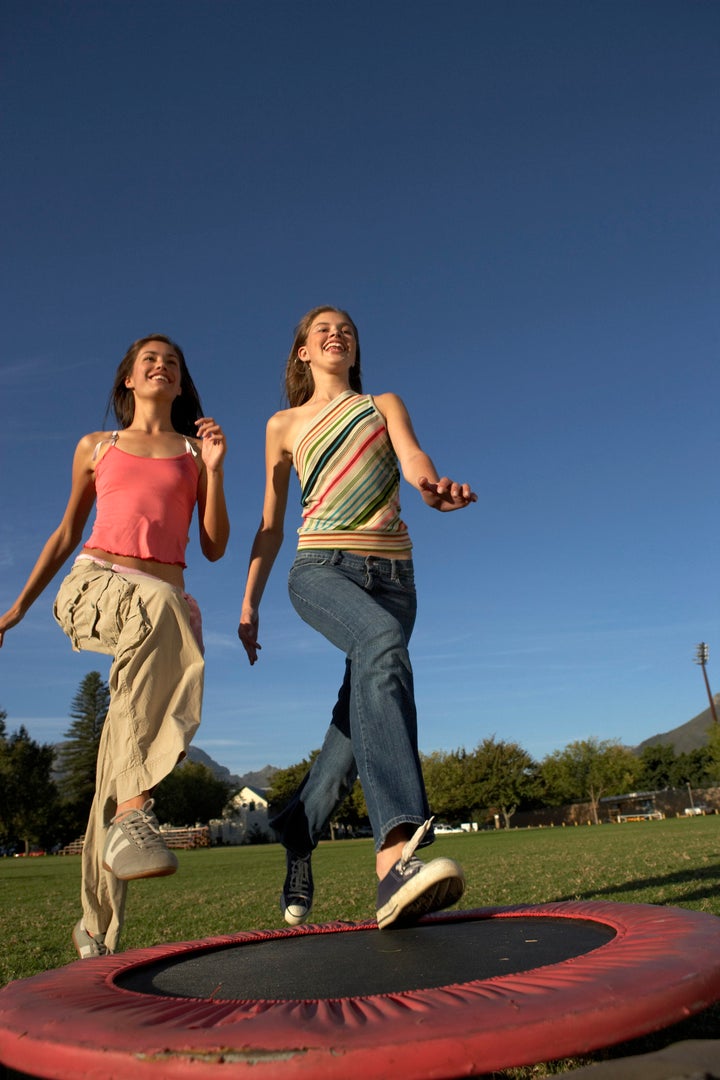 How many times have you told your kids to go and jump on the trampoline? Many times, if you have one, because kids typically love to jump on trampolines and it is a great way for them to get their wiggles out. It also works great for attitude adjustments when my kids are acting up, however jumping on a trampoline can be equally if not more beneficial for grownups. If you remember back to the days of junior high for the gymnastics section, we all got to learn the basics of jumping on a trampoline. Seat drop, knee drop, belly drop and, if you were daring, a back drop. Gymnastics was my favorite part of PE, so when I was the fitness correspondent for the Today show I did a segment on trampoline jumping. It was amazing to find out all the health benefits that one could gain by just jumping up and down. Out of all the different aerobic exercises, jumping on a rebounder or a trampoline that sits in the back yard, is one of the most efficient forms of exercise yet devised by man.
The improvements that people can experience when they jump over a period of time can include: an increase in muscular strength, improved posture, balance and coordination, improvement in the blood, lungs and all the internal organs, weight loss and an overall sense of well-being. Jumping on a trampoline literally sounded like the fountain of youth to me. The reason is quite simple: because it puts gravity to work for you with the least amount of muscular effort. Regular exercise of jumping up and down where you rebound can jiggle your entire metabolism.
Growing in popularity are "air-obics" classes that are performed entirely on a trampoline and facilities like jumpskyhigh.com have wall-to-wall trampolines that host classes, birthday parties or just the opportunity to go and jump. In some cases you might burn up to 1,000 calories an hour in a jump aerobics class. However, jumping on a trampoline or a rebounder doesn't go without risk. It is imperative to have a net around your trampoline. Many kids and adults have experienced some horrific accidents when they fall off the sides. Springfree Trampoline is the trampoline that I have at my home and the one I used on the Today show. It is assembled with the net so that there is no chance of someone falling off. Your rebounder must also be placed in a location without any sharp objects or furniture around. Make sure each time the legs are in properly as well as the springs to insure a safe jumping environment.
I can't say enough about jumping. It is amazing for your body -- not to mention the fun factor. I always have a smile from ear to ear when I head out to my trampoline. As a celebrity trainer, I found that adding in a round of seat drops and swivel hips gave a one-of-a-kind workout to such stars like Kim Basinger and Jennifer Lopez.
Get out there and start jumping! As I watch the sun set on my backyard, the trampoline is calling my name. A quick five-minute blast of calories? I am on it. Check out my jumping skills on both the Springfree and the mini rebounder on the clip. I also wanted to add one of my favorites videos of some other people who like to jump. Why not let everyone get a little healthier?
Popular in the Community