Western Illinois University is probably what most people think of when they imagine a midwestern state school. Located in the middle of a cornfield, our students come to learn and find creative ways of entertaining ourselves. Road trips through the winding back roads, sunbathing in the lawns on campus and just catching up on someone's front porch make up our weekends. While some may find this boring compared to the big city, for most of us it is just what we like. Illinois has it's own special charm after a while.
Even with its ability to convince its residences to stay, the weather leaves much to be desired. The winters are harsh, and the summers might be even worse. With the humidity curling the pages of our textbooks, easy and comfort are key to WIU students. However, comfort doesn't have to mean sacrificing style and students on our campus have mastered the art of looking polished and relaxed.
That balance doesn't come without some effort in our town, though. More than an hour from any town larger than 15,000 people, Western Illinois students have found many resourceful ways of getting their fashion fix. Armed with tanks full of gas, a handful of thrift stores and online shopping apps, Fashionistas and Fashionistos on our campus are ready to battle for best dressed while walking through campus.
Even after living on campus for the last year, I find it hard to pinpoint what makes up a typical WIU student. Our population is mostly from Chicago and it's suburbs and then small towns throughout Illinois, Iowa and Wisconsin, so each of these cultures brings something to the table. Urban Chicago fashion pushes some of the small town cultures to their limits, but the Midwest brings a sweeter feel to some of the edgier fashions brought in from the big city.
This Fashionista takes a tip from each aspect of what makes up a typical summer outfit for a Western Illinois student. There is nothing easier than pulling on a jumpsuit when the days are long and the temperatures are rising. Jumpsuits have been seen across all fashion outlets from runways to blogs, and our students are ready to show that the Midwest isn't behind the times. The lightweight and loose fabric keep things calm, cool and collected, while the long pant ensures a more sophisticated look than a romper with shorts.
While picking out your own new favorite jumpsuit for the summer, don't be afraid to go for an all over print while wearing a jumpsuit. It's appropriate at all ages, but college students can especially pull off the fun and casual look of black and white tribal print.
Sandals are a must for summer fashion, and braided straps create a boho attitude not uncommon to WIU students. Gold accessories between her ring and purse attachments add subtle sparkle to the ensemble. A sweet peach leather purse finishes off the summer vibe. With our Leathernecks mascot proudly displayed all around campus, there is never a bad time to rock a leather bag or jacket around here.
Armed with her iced coffee and tortoise shell glasses, this Fashionista is ready for whatever Western Illinois has in store for her this summer. Whether it is studying for tests or barbecuing by the pool, this Fashionista isn't going to miss a beat.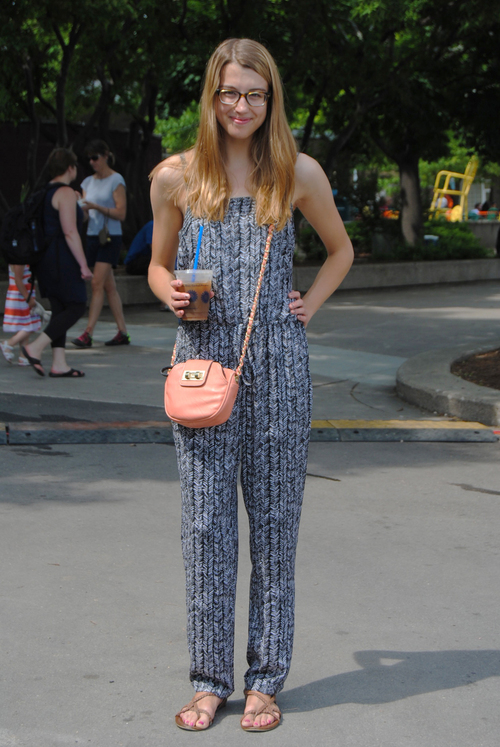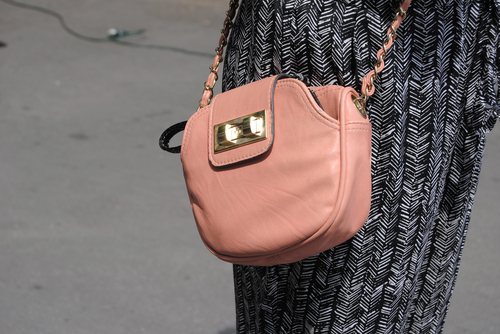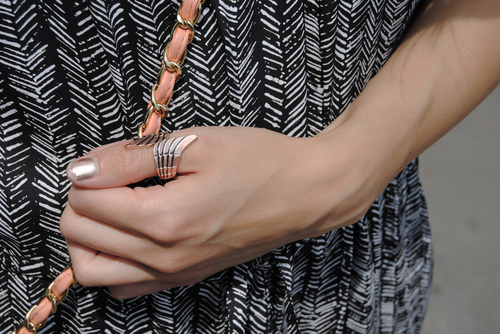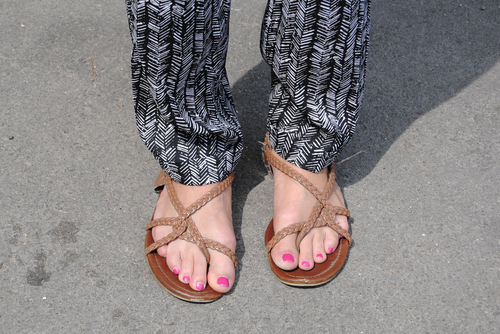 Katie Gassmann is a senior at Western Illinois University studying Fashion Merchandising. This summer she is interning with CollegeFashionista for a second semester and Lands' End. This fall she will be an editor at The Western Courier and then graduate in May. After graduation she plans to move to a big city, fulfill her dream of being a buyer or merchant at a major clothing company and learn to rock climb.