There is obvious truth in the fact that opposites attract. But while a wedding often celebrates the bringing together of two kindred spirits, sometimes those around them mix like oil and water.
Jumping The Broom (Stage 6 Films/TriStar/Sony Pictures), explores the sparks that fly when two very different African-American families meet for the first time during a weekend wedding on Martha's Vineyard. Directed and co-produced by Salim Akil (The Game), making his feature film debut, the film presents the story of Sabrina Watson (Paula Patton) a pampered, slightly ditzy young lawyer on the rise, who makes a personal vow of no more sex until marriage. She soon meets Jason Taylor (the excellent Laz Alonso), a smart, ambitious young investment analyst ascending the ranks on Wall Street. During a fast and furious courtship, Sabrina is offered a career-making assignment in China. Convinced that she's the one, Jason proposes marriage, even though the couple has only known each other for six months -- and neither has met the other's family.
They take a leap of faith, hoping that both families will mesh as well as they have. Things turn out differently when Sabrina's wealthy, well-educated parents, haughty Claudine (Angela Bassett) and accommodating Greg (Brian Stokes Mitchell), meet Jason's working-class, postal worker mother, Pam (played with equally deft shades of comedy and emotion by Loretta Devine).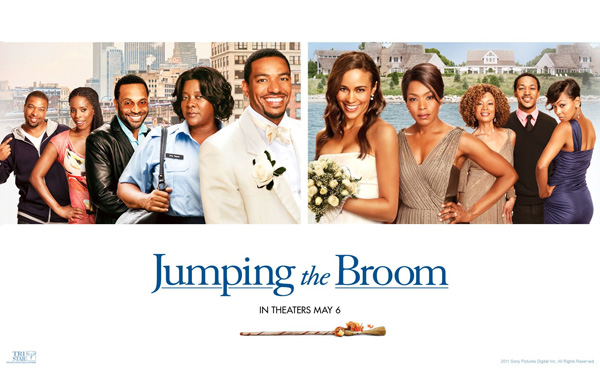 Upon her arrival on the Vineyard, Pam already has a chip on her shoulder: she hasn't met the girl about to marry her precious only child, and her soon-to-be in-laws have sent a car and driver to pick her up at the ferry -- her son is nowhere in sight. She brings the broom that she and her late husband jumped over at their wedding, hoping her son and his bride will continue the tradition. When Sabrina dismisses the idea in short order, Pam's frustration deepens.
Meanwhile, Pam's best friend and co-worker, Shonda (Tasha Smith), is excited to take it all in. "It's August on Martha's Vineyard," she says when they arrive. "I'm looking for Barack and Michelle."
Bombs really start to go off when class differences are brought into full view at the rehearsal dinner. Pam offers up a blessing for the meal that turns into an accusatory screed on the Watsons' uppity attitude and atmosphere (Claudine has an affinity for voicing her disdain in French phrases).
Although Jumping The Broom is essentially a tale of disparities in class and cultural traditions, it also examines the often shocking power of lies. When Pam stumbles onto a long-held Watson family secret, her anger gets the better of her and she reveals it, to devastating effect, altering the course of the blissful weekend.
The ensemble cast -- a more than capable mixture of established and up-and-coming talent -- pulls off a believable group dynamic. Divine and Bassett are both formidable actresses, and bring insight and potency to their roles; it is actually quite good fun to see them go at each other. Alonzo really impresses as a conflicted groom, struggling to please the two main women in his life: his mother, whom he adores, but who suffocates him emotionally; and his wife-to-be, whose modern ideas sometimes frustrate him.
Anastas Michos' cinematography makes grand use of the peaceful beauty of Martha's Vineyard (though the film was actually shot in Nova Scotia); his gorgeous exterior shots underscore and contrast the raging disagreements that keep popping up throughout the wedding weekend.
Jumping The Broom's spin on the universal themes of family conflict is refreshing. The film doesn't try to put a copycat "urban" tag on the proceedings, but instead tells an interesting story free of Hollywood's often narrow depictions of African-Americans. You will laugh, but you will most likely see yourself in some these characters.
Jumping The Broom is rated PG-13 (for some sexual content) and opens nationwide on May 6.

Support HuffPost
The Stakes Have Never Been Higher
Popular in the Community