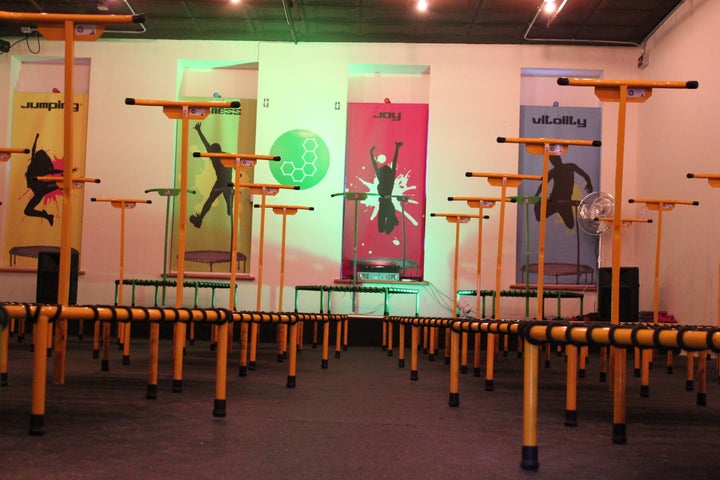 What We Tried: JumpLife's signature JumpDance class.
What We Did: Marching, jogging, sprinting, twisting, kicking and squatting, all on our very own mini trampolines to a soundtrack of dancey pop music with black lights and lasers.
For How Long: Classes are 45 minutes.
Where: JumpLife's TriBeCa gym. Many studios and gyms across the country offer trampoline classes, often called rebounding, and DVDs are also available.
Sarah's Take: Much more challenging than I was expecting! The silliness factor slowly melted away after the lights went down. I had to concentrate so much on the moves (and on staying centered on the trampoline) that I knew no one else could be watching me stumble. Our instructor, Montserrat Markou, also the president and CEO of JumpLife, limited her "hangtime" on her instructor's trampoline in favor of performing more and faster movements. This wasn't the high-flying display I had been anticipating! I struggled to keep up with her quick toe touches and swiveling kicks, and couldn't have done it without the upbeat dance playlist. It only took about 15 minutes to feel my legs and abs working -- hard! I left sweaty and tired, but also pain-free. I know if I had done the same aerobic moves on a gym floor for 45 minutes I would have been achey all over, and not in a good way!
Amanda's Take: I have to admit, this class was a lot of fun. I had no idea what to expect going into it, but I was pleased to find that it was a cardio class that really got my heart pumping but didn't leave me feeling utterly exhausted afterward. I felt kind of silly doing some of the moves, but the dance music transformed it into almost a Zumba-type class, where I found myself jumping to the beat of the music. There were moments during the workout where my feet hurt a bit (I'm not used to all that jumping!), as well as where my stomach felt just a little bit queasy, but those moments wore off relatively quickly and I enjoyed most of the class. I liked that I could slow the pace of my jumping if I needed to give my body a break (without completely stopping jumping altogether), and could speed it back up if I wanted to really get my heart racing. I also really appreciated the warmup and extensive cool down; I think those were a big reason why my muscles didn't totally hate me the next day.
What Fitness Level Is Required: All levels are welcome. The low-impact nature of trampoline fitness makes it perfect for people just starting out, living with chronic pain or recovering from nagging injuries. And there's no pressure to keep up with the instructor or anyone else in the class, as long as you just keep moving.
What It Helps With: Cardio, of course, but definitely core strength, too!
What It Costs: Newbies can test drive a first class for $15. After that, a single class costs $28. Package deals are available, as are discounts for students and seniors.
Sarah's Take: Sure! It felt more like play than exercise, but with all the benefits, and my knees, shins and ankles relished the low-impact break.
Amanda's Take: Definitely! Like Sarah mentioned above, the fun definitely outweighed the difficulty of the workout class. I'm all about fitness that's also enjoyable!
For photos and some of the tracks from Montserrat's JumpLife playlist, check out the slideshow below: