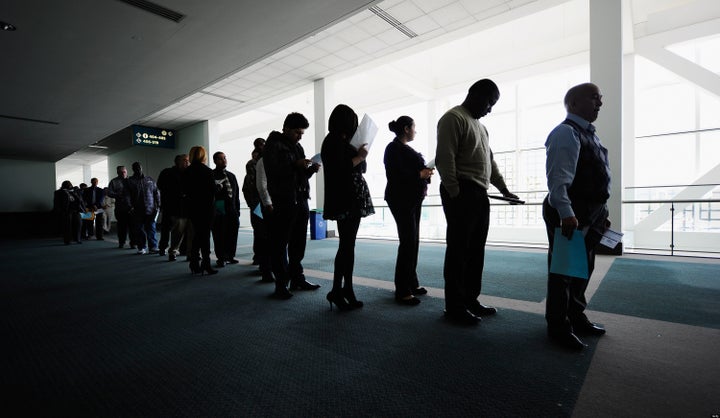 This story was reported in collaboration with our partners at Patch.com
Two years after the official end of the Great Recession, much of the country has yet to feel a sense of meaningful recovery. Friday's unexpectedly grim government report on the state of the American job market deepened fears that genuine economic revival could yet be a long way off.
Economists had anticipated the report would show about 120,000 private sector jobs added to the economy in June -- barely enough to keep pace with population growth. Instead, the gain was a paltry 18,000 net jobs, as the unemployment rate climbed from 9.1 percent to 9.2 percent.
The report was so uniformly discouraging that it dislodged optimism that recent expansion in manufacturing and a modest rise in housing prices might presage the return of vigorous economic growth. Instead, negative sentiments that have hovered over the economy for more than three years intensified.
"The signs of growth that we did have are deteriorating," said Heidi Shierholz, an economist at the Economic Policy Institute in Washington. "We are backsliding. The chances are that we go into another recession or we muddle along at technical growth, but actually making no improvements as far as Main Street goes. The chance of one of those things happening is extremely high."
Across much of the United States, ordinary people expressed similarly gloomy thoughts -- the Labor Department report merely provided official affirmation to the reality that jobs are scarce.
"I've had nightmares about my family living on the street," said Said Nasser, a 40-year-old father of five in Dearborn, Mich., who has been without work since early 2009, when he lost his job as a recruiter for a temporary employment firm that folded. "It feels bad not to be working, because it's hard on my family, and I feel like it's been really stressful for them, too. My wife has also looked for work and she hasn't been able to find anything either. I'm praying every day that something comes up."
In Doswell, Va., about an hour's drive north of Richmond, N. David Cooper, 56, has been losing hope he will ever regain his former middle class life. He has been out of work for more than a year. He expressed dismay that job creation seems to be a low priority among the political set.
"I feel washed out from the statistics, in terms of not being heard," he said, "in terms of the energy that it has taken for me to keep trying to find work. I don't feel like I'm even on the radar screen in Washington."
Only two years ago, Cooper spent part of his day helping other people find their way: He served as the executive director of a faith-based non-profit agency that delivered job training and housing programs, a position that paid more than $60,000 a year.
Even after he lost his job in late 2009, in the midst of the recession, Cooper felt confident that he would quickly find another. He holds multiple degrees -- a Master's in divinity and social work, and a graduate certificate in non-profit management. He had access to a large network of colleagues. In nearly three decades of working life, he had been laid off only once, in 1997, and had quickly found his way back to the ranks of the employed.
But even after submitting 273 job applications, by his count, and despite embracing networking as a full-time vocation, Cooper remains unemployed.
He and his wife have cut back on all luxury expenses. They never go out to eat, he says, and he worries that they may soon need to rely on food stamps. He is contemplating swallowing his pride and shelving his dream of doing work he finds meaningful to apply for a position at a nearby restaurant.
"We're at the point now where my unemployment benefits are going to expire," he said. "I just don't see any other options."
Friday's jobs report underscored Cooper's feeling that few fresh employment options appear on the way. Employers have apparently become so accustomed to running companies with lean payrolls, that the practice has become entrenched in American business -- particularly amid data showing that consumers remain saturated with debt and unwilling to spend.
"Today, companies are producing more goods and services than ever before," said Bernard Baumohl, chief global economist at The Economic Outlook Group, a forecasting and research firm. "The economy is able to do that with 7 million fewer workers. If we can do so much with so much less, where is the incentive to hire?"
Given that many employers have fresh memories of having to lay people off, some are reluctant to hire anew, for fear they would again have to cut people loose if the economy failed to improve.
"They're being cautious about their hiring," said Claire Louder, president and chief executive of the West Anne Arundel County Chamber of Commerce in Odenton, Md., a suburb perched between Washington, D.C., and Baltimore. She added that many companies now feel the need to sit on larger amounts of cash because credit lines and loans are hard to secure, sidelining money that might have been used to hire workers.

That spells little relief for the 6.3 million Americans who have officially been out of work for six months or longer, and for whom gloomy outlooks are becoming the new normal.
The average duration of unemployment reached 39.9 weeks in June, a new record.
At the same time, growing numbers of would-be employees have been giving up, joining the ranks of so-called discouraged workers.
"I send out 50 to 60 resumes a week," he said. "Nobody ever gets back to you." Companies are "putting jobs out there," he added, "but they are not hiring."
Even those who remain employed have been absorbing the troubling economic realities and wondering how long they can hang on to their paychecks.
A new survey from Glassdoor.com -- an online career and workplace community -- finds that employees are now as pessimistic about their prospects of gaining raises and as worried about losing their jobs as they were during 2008 and 2009, the worst years of the recession.
"The American employee has been shaken up pretty badly in the last couple of the years," said Rusty Rueff, a Glassdoor career and workplace expert. "What we're seeing here is a sort of settling into the reality of where things are -- maybe not holding out as much hope as they once held out that there's going to be a big recovery, and all of it is going to come back. Instead, people are looking around and saying, 'Maybe this is going to be what it's going to be.'"
In recent weeks, some economists have expressed tempered hopes that things were getting better. Manufacturing picked up in June for the first time in four months, and fresh data showed a glimmer of hope for the housing market, with home prices in major cities rising for the first time in eight months. New claims for unemployment benefits declined, gas prices fell, and auto makers cranked up production.
But other forces have continued to be a drag on the economy. A massive pipeline of foreclosed homes awaits processing, meaning lots of additional distressed inventory eventually landing on the housing market. Fears of a Greek debt default persist, along with concerns that a slowdown in Chinese growth could ripple across the globe.
These factors increase economists' concerns that weak employment could be a trend with staying power. If businesses aren't hiring and employees are worried, that weighs on the overall economy: Consumer spending makes up some 70 percent of American economic activity, but amid tighter credit conditions, people need wages to spend money.
Friday's jobs report did not do much to assuage concerns that a long period of stagnation could be at hand.
"I have had more emotional and psychological ups and downs than I want to count," said Fran Hopkins, a resident of Cedar Grove, N.J., who has been out of work for a year and a half (and who writes a blog for the Verona-Cedar Grove Patch). "Your hope soars when you snag a job interview; then it's dashed when there's no job offer. Repeat this over and over again and you start to feel like it's better not to get your hopes up."
Queens, N.Y., residents Marie Kadin and MaryAnn Minore were both laid off from a DHL distribution center in April, and now struggle to compete against younger workers in the job market.
"It's very hard when you're over 60," Kadin said. "Nobody wants us. We've just been leaving resumes, that's it. You get no reply."
"It's like you're an outcast," Minore added.
Popular in the Community