 Update 6:45PM EST 7/6/2012: Earlier today, I pointed out that job growth downshifted between the first and second quarters of the year. I made a point, however, of stressing the following:
The labor market is, of course, not nearly the disaster that some partisans will claim today... we're adding jobs, as has consistently been the case, month-after-month, for a few years now. It's just that we're adding them too slowly. Unfortunately, in a hotly contested election year, policy makers are more likely to target each other than to target the job market.
Cue the Romney campaign, which put out a press release saying... I'm not really sure what it was saying... but I think they're trying to twist my words such that I'm saying we're back in recession and that the president's economic policies, some of which I'm associated with, have failed.
Not even close to what I wrote. My post begins with the words: "Payrolls grew by 80,000 last month..." That's slower job growth than earlier in the year, for sure. But growth it is.
And anyone who knows my work at all knows that I consider the Recovery Act, for example, to have been instrumental in breaking the great recession and helping to partially offset the job losses of the Great Recession. More importantly, non-partisans, like the CBO, agree.
I know... it's campaign season and one expects this type of silliness. But for those who enjoy fact-based analysis of what's going on in the economy, I'll continue to call it as I see it.
The dogs may bark but the caravan goes on.
____________________________
Payrolls grew by 80,000 last month and the unemployment rate was unchanged at 8.2% in a jobs report that confirms the slower trend in employment gains that showed up a few months ago.
In order to get a better feel for the underlying trend, it's useful to average across a few months. With today's report, we now have job data for the second quarter of the year -- such quarterly numbers are less noisy and thus more reliable than the monthly ones.
Over the second quarter, payrolls are up an average of 75,000 per month, compared to 226,000 in the prior three months. First quarter numbers may have been biased up by seasonal effects that failed to reflect the warm winter, so the lower second quarter gains may reflect some "payback."
Still, I'm inclined to believe that we've actually settled into a slower trend, as shown in the figure, and that is really not where we need to be right now. The slowdown is apparent across many industries, including manufacturing, which added 11,000 in June, but averaged 10,000 per month in the second quarter compared to 41,000 in the first. Even so, continued job gains of even small magnitudes in our factory sector are extremely welcome.
The fact that the unemployment rates been stuck north of 8% for months now also confirms the downshift diagnosis (see second figure below).
Today's report suggests that the downshift looks real, and that's what should be absorbing policy makers' time and energy. Unfortunately, in a hotly contested election year, they're more likely to target each other than to target the job market.
- Consistent with the downshift, the number of involuntary part-timers has climbed steadily from 7.7 million in March to 8.2 million in June.
- After trending down fairly consistently since the official recession ended in mid-2009, the share of unemployed as a result of layoffs climbed last quarter.
- Though long-term unemployment ticked down from 42.8% of the unemployed in May to 41.9% in June, it remains highly elevated, as over five million people have been looking for work for more than six months.
- Wages and hours were a bit of a bright spot: average weekly hours bumped up a tenth of an hour and weekly earnings are up 2.2% over last year's level. With inflation running below 2%, in part thanks to lower gas prices, that means real paychecks have increased buying power.
- As noted, the downshift in job growth appeared across most industries, which continue to add jobs but at a slower rate than earlier in the year (see manufacturing numbers above).
- In the public sector, a significant decline of 14,000 in local education jobs was offset by gains elsewhere in local government; still the public sector as a whole was again down slightly (-4,000). In all but three of the last 25 months, the public sector has shed jobs.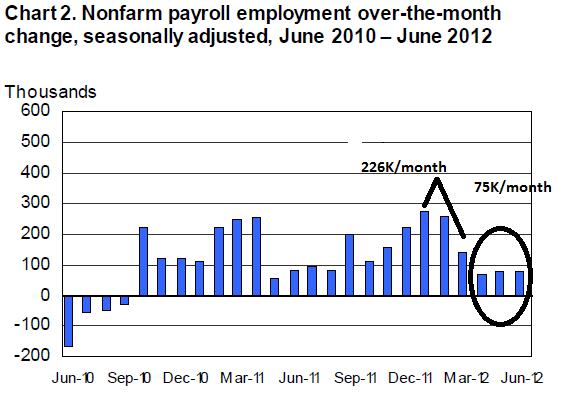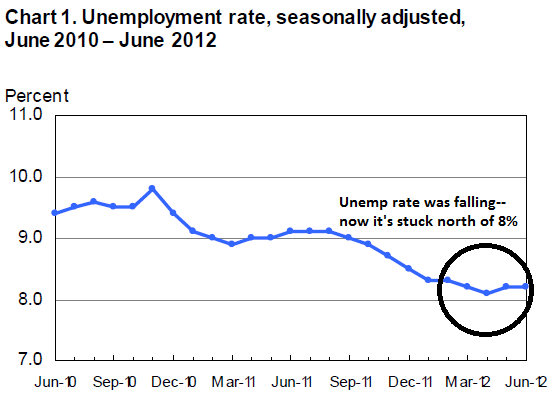 Source: BLS, my annotations (obviously...)
This post originally appeared at Jared Bernstein's On The Economy blog.
REAL LIFE. REAL NEWS. REAL VOICES.
Help us tell more of the stories that matter from voices that too often remain unheard.