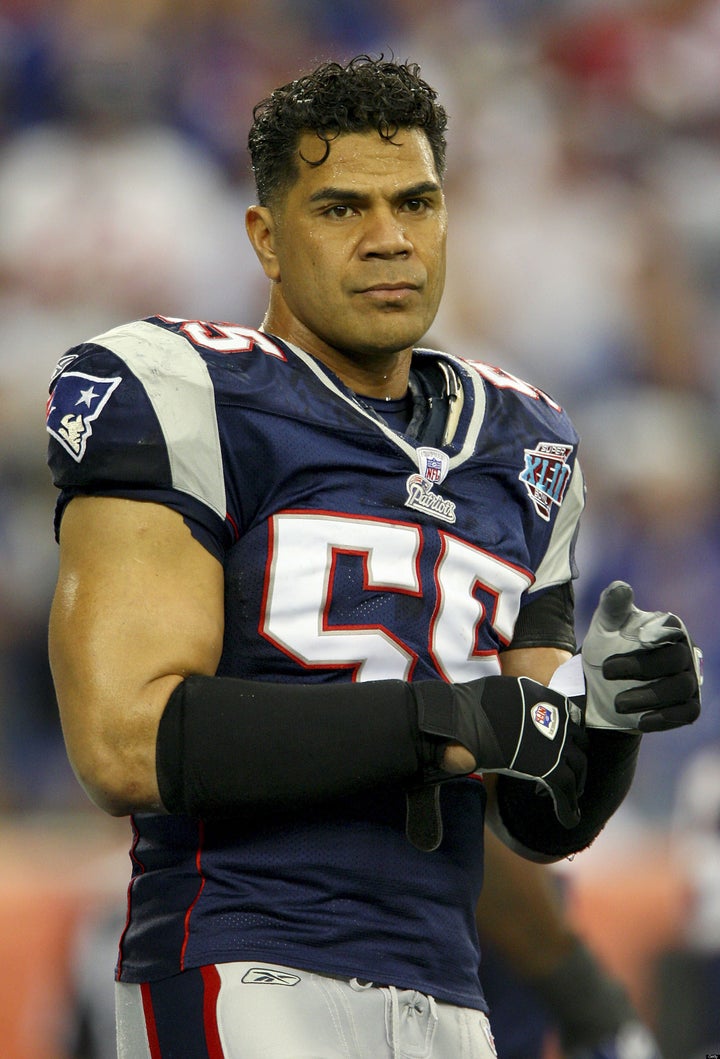 The shock of Junior Seau's death has frozen the NFL. Not because of lawsuits, rule changes, bounties or even the moving eulogies of Seau's former teammates. His horribly untimely death has frozen us, the fans.
It's as if Junior grabbed our meandering moral compass and jerked it back to a true north that has been lost behind an increasingly tattered curtain of cheering denial. Seau's suicide may be the tipping point in our ability to ignore that the sport we love passionately kills people.
A man's death should not be at all about me as a fan. My personal sorrowful reaction to his passing may be offensive to Junior Seau's grieving family and friends. I did not know Seau. I never met the man, never knew those close to him, never even saw him play in person.
But for 20 years, when No. 55 appeared onscreen every colleague, coach and analyst had nothing but the highest praise for the player and the man. His smile and effervescent personal energy made us feel good just looking at him. He was the face of everything that we as fans want to believe about "our" players. We marveled at the way he played the game and respected the contributions he made to his community. Yes, we admired him.
This man whom we held in such high regard killed himself quite possibly as a direct result of suffering repeated head trauma while providing us with entertainment.
And that makes me very, very uncomfortable. I feel a sense of looming, inevitable and repeated heartbreak. And I feel something tight and burning that can only be called guilt.
Chronic traumatic encephalopathy is a phrase that we fans can no longer afford to conveniently forget, much less ignore. C.T.E. is not a naturally evolving disease. It is caused exclusively by brain trauma. And it cannot be diagnosed before death.
Junior Seau is the twelfth well-known retired professional football player to kill himself in the last 25 years. And those are only the deaths that are acknowledged to be suicides.

After defensive back Andre Waters' suicide in 2006, Dr. Benet Omalu of the Brain Injury Research Institute at West Virginia University told the New York Times that the 44-year-old "Waters' brain tissue had degenerated into that of an 85-year-old man with similar characteristics to those of early-stage Alzheimer's victims."
Dave Duerson's incredibly brave death and donation of his brain to the Boston University School of Medicine's Center for the Study of Traumatic Encephalopathy seems to have foreshadowed a similar act by Seau.
We want so badly to believe that these are isolated, tragic occurrences. But we know better. And it has to change. The game has to change or we can no longer support it in good conscience.
I will no longer be able to support it, much less love it. And, in an unbelievably selfish way, that makes me very sad.
The only way to live with ourselves as fans is to give up "the big hit." Immediately and forever.

ESPN's Monday Night Countdown used to have a segment called "Jacked Up," featuring the hardest hits from the previous day's games. We laughed and were entertained by NFL players being flattened. ESPN dropped the feature a few years ago, but its ghost lives on.
And let's not hide behind the "they knew it was dangerous when they buckled up their first chin strap" story. No one knew it was this bad or this prevalent. Parents wouldn't allow it.
I met neurological expert Dr. Jill Brooks at the espnW retreat last year. She is an authority on sports head traumas and her credentials stretch to several paragraphs. She is also a sports fan and mother. When I asked what sport her children were allowed to play she replied: "Fencing."
We, the fans, are the engine pulling the NFL. If we stop cheering physical devastation, the NFL will stop providing it as part of their product.
Baseball fans stopped tolerating steroid abuse and now the MLB has a reasonable testing policy (recent Ryan Braun nonsense notwithstanding).
I'm sure he meant the NFL establishment and players, but I hope the fans hear him. Junior Seau's death makes it impossible to continue turning away from the truth.

And the truth is that we, the fans, are currently complicit in these tragedies. To pretend otherwise only compounds our culpability. It's time to stop.
Related
Popular in the Community