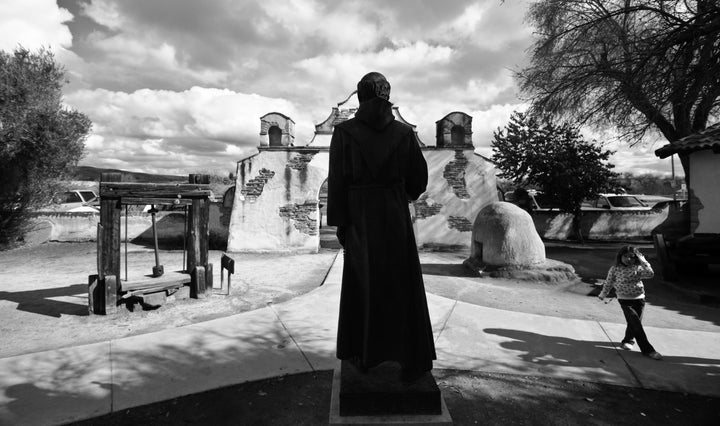 On Wednesday, Junípero Serra, the architect of the California mission system that converted 81,000 Native Americans to Christianity in the late 18th and early 19th centuries, will be canonized as a saint in Washington during Pope Francis' first visit to the United States.
Serra, the "apostle of California," is a familiar figure to residents of that state. Every year, thousands of fourth-graders in California's public schools learn about Serra, who founded the first nine of what were ultimately 21 missions stretching from San Diego to San Francisco on behalf of Spain and the Catholic Church. The history unit culminates with the "mission project," in which students play Serra by building a scale model of one of his missions.
I went to public school in Oakland, California, so I had to do the mission project in fourth grade, too. I was assigned the Mission Santa Clara de Asis, the eighth one in California, founded in 1777 to proselytize the local Ohlone Indians and blessed by Serra in 1779. But when I built my mission, I departed from the rubric slightly and constructed tall wooden crosses in the graveyard to overshadow my model church. I was only 10, but this was a political statement.
Historians estimate that 60,000 indigenous Californians had died in the missions by the time the Mexican government sold them to private landowners in the 1830s. Over the Spanish mission era, the system contributed to the direct and indirect deaths of half of the California Indian population, which is estimated at 300,000 to 1 million people before contact with the Catholic missionaries. The California Indians subjugated in these missions spoke 64 to 80 distinct languages and were part of the most diverse and densely populated region of indigenous peoples in North America before colonization. They were decimated by disease, war and the conditions in the missions, where Native people were worked and starved to death. By 1910, after a century and a half of missions, gold rushes and reservations, there were only 15,850 California Indians left.
Serra and the California missions represent the brutal history and bloody legacy of colonization to many Native people, including fourth-grade me.
"I believe that Junípero Serra actually created and brought genocide to the California Indian people," Corrina Gould, co-founder of Indian People Organizing for Change and an Ohlone tribal member, told The Huffington Post. "In less than 100 years, our way of life, our language, our foods -- everything -- was destroyed."
So I built oversized crosses for Gould's Ohlone ancestors, who met slavery and the destruction of their bodies and their way of life in Bay Area missions such as Santa Clara de Asis.
In July, Pope Francis apologized for the Catholic Church's role in the global history of colonization during his visit to Ecuador. The apology was notable, even for a papacy characterized by support for progressive politics and social justice.
In the wake of that apology, the pope's decision to canonize Serra -- and to fast-track that process by bypassing the usual requirement of two miracles attributed to the sainthood candidate -- has left Gould and many other Native people disappointed. "I believe that the Catholic Church is making a horrendous mistake," Gould said.
Indeed, the real miracle, she said, is that the descendants of "any of the California Indians that were pushed into those California missions, those slave encampments, are alive today."
Against California Indians' condemnation of Serra's record and legacy, Vatican officials have argued that Serra was actually a champion of Native rights during his lifetime, defending indigenous peoples against worse treatment by the military and government of colonial Spain.
In the midst of a wave of anti-Mexican xenophobia on the American political right, the church is also hopeful that Serra's canonization will promote greater acceptance of Hispanic Americans and recognition of Catholic contributions to U.S. history.
"[I]t will allow many millions of Hispanics who live in the United States to free themselves of a mentality that says they are barely tolerated and frequently discriminated-against foreigners on the margins of society," Guzman Carriquiry, Vatican official from Uruguay, told the Catholic News Service at a press conference in April. Carriquiry said that Hispanic Americans should see themselves "in continuation with a line of Hispanics who for centuries have inhabited large areas of what is now the southwestern, central and eastern United States. They can rightly affirm, 'We are Americans,' without having to abandon their best cultural and religious traditions."
But the Vatican's effort to recognize Hispanic Americans seems to come at the expense of the truth about Native peoples, and Gould and many other California Indians aren't buying it. They will be protesting Serra's canonization with demonstrations at missions across the state on Wednesday.
Although they cannot stop him from being canonized, Gould said that the work of educating people about his barbarous legacy must continue. Modern injustice against Native Americans rests on ignorance of how the U.S. was built.
"The truth of this history needs to be told, especially in California," Gould said. "They are still building those little missions in schools today, and in doing so they continue to perpetuate genocide against California Indians."
Related
Popular in the Community