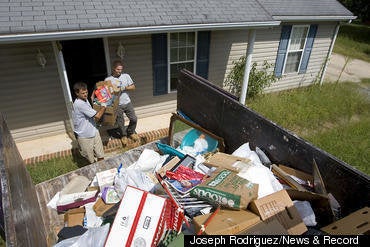 As the Huffington Post continues to bear witness to the effects of the current economic environment on ordinary Americans, we've found additional compelling stories being told by local news organizations around the country.

Junk removal services in North Carolina have the sad job of cleaning out foreclosed homes and going through the former residents' lives, reports Robert Lopez of the Greensboro News & Record. The objects left behind, like a series of heart-breaking paleontological clues, provide a reminder that foreclosed houses used to be peoples' homes.
[Steve] Turner, who oversees 1-800-GOT-JUNK? affiliates in the area, says he remembers going into one house and seeing the children's report cards still stuck to the refrigerator.

"They evidently had a young female, who I think was in elementary school," he says. "It was straight A's and B's, and it was still prominently displayed there with a magnet. And you think, 'Wow, they didn't even have time to grab this,' or maybe it was just an oversight. But that was a good student who lived in that house."
Helen Hewitt owes $800 a month on her Des Moines home, $170 for cable, more than $1,000 in credit card debt and $500 on an electric bill.

All are overdue. The bank filed foreclosure papers on her house last month. And Hewitt, 72, struggles every day against worsening health and the strong odds that she will land in a nursing home.

"I feel like God's taking everything, one thing at a time, away from me," Hewitt said.

"I want to die in my own bed, in front of my own TV, with my own kitty. It's my way of life."
Seniors sometimes forgo necessary medication to afford food and housing and to stay out of assisted living homes, Schulte and Pulliam write. Health problems, lack of work and houses crumbling into disrepair are pushing many, including Hewitt, out of their homes, despite attempts to stay.
In Detroit, a church holds unemployment support groups for a congregation on the edge of losing hope, reports Marney Rich Keenan of the Detroit News. Kevin McLogan leads a group of baby boomers trying to reinvent themselves and move out of unemployment. They are down on their luck but attempting to keep their resolve as well as their faith in a brighter future.
Tom Murray of Royal Oak, 64, was laid off as a computer programmer/analyst in March 2009 and is "looking for about anything I can find."

James Lakatos, 54, of Royal Oak worked as a structural engineer for a medium-size consulting firm in Bloomfield Hills before it downsized last November. "I was quite shocked to be let go," he says. "I worked for that company for 30 plus years. "I'm trying to make adjustments, and I know it's important to keep a positive attitude."
Severe storms in June left hundreds of West Michigan homes flooded. Many homeowners, especially the unemployed, are still struggling to rebuild. Peg McNichol of the Holland Sentinel reports about the Holland Flood Relief Task Force, a group of volunteer organizations who -- even without funding -- are attempting to put people back in homes and prepare them for the upcoming winter.
Over at the Flathead Beacon, the online newspaper of the Flathead Valley in northwestern Montana, reporter Myers Reece continues a series on homelessness in Montana, this time focusing on homeless and rural families forced into transitional housing. In some parts of the state, families account for 60 percent of the homeless population. These families, usually comprised of a mother and child, are working hard to stay together.
Popular in the Community