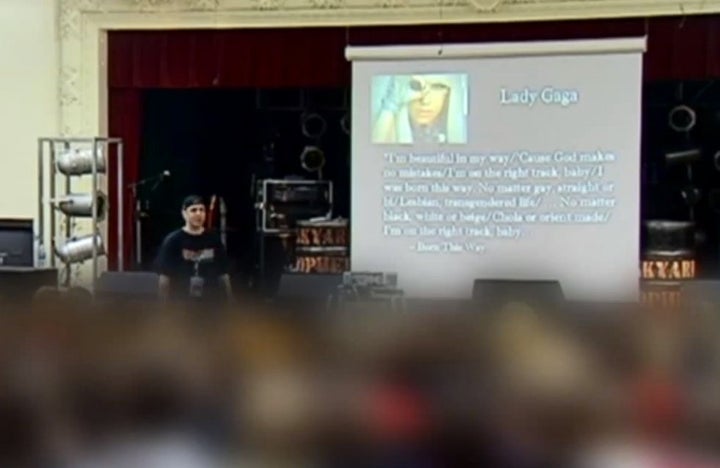 Students and staff at a high school in Dunkerton, Ia., were shocked when an assembly intended to address drug and bullying issues instead featured anti-gay messages that offended many students, staff and parents, the Lacrosse Tribune reports.
The group also told students that girls who aren't virgins at their weddings will have mud on their dresses, according to the paper.
Junkyard Prophet, the Minnesota-based traveling band that was brought to Dunkerton High School to discuss practices for good decision making, is part of the You Can Run But You Cannot Hide Christian youth ministry that holds assemblies in public schools.
Twin sisters Brandi and Randi Smith, told the Waterloo Cedar Falls Courier that, while they consider themselves to be Christian, they don't believe a performance like that should take place at a school -- and that student interaction has changed drastically since the incident.
Students have since started a petition urging school officials not to allow similar performances in the future, according to the Courier.
Superintendent Jim Stanton told the Lacrosse Tribune that the group received good feedback when they performed at the school in the past, and that they must have changed their message since then.
Stanton told Talking Points Memo that Dunkerton High School now has an "action plan" that will make sure all performers are properly screened before taking the school stage in the future and that counseling is being offered to students who may have felt ostracized by the performance.
Calling all HuffPost superfans!
Sign up for membership to become a founding member and help shape HuffPost's next chapter
BEFORE YOU GO