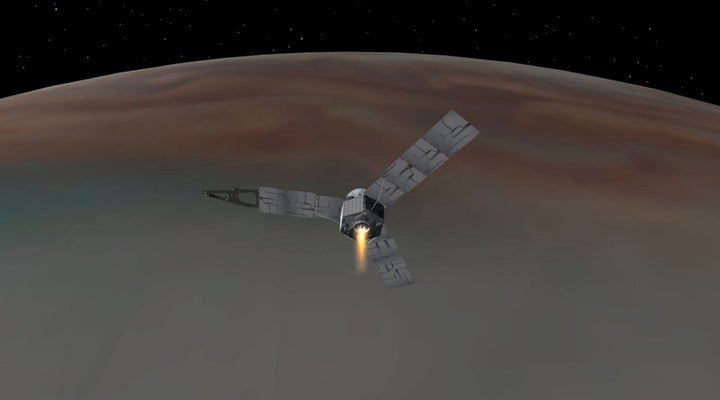 When NASA's Juno spacecraft successfully began orbiting Jupiter on Monday, the scientists behind the mission breathed a collective sigh of relief. The five-year trip to the largest planet in the solar system concluded with Juno firing a 35-minute engine burn that slipped it into orbit.
"What is more American than a NASA mission going boldly where no spacecraft has gone before?" said NASA administrator Charlie Bolden in a statement. "With Juno, we will investigate the unknowns of Jupiter's massive radiation belts to delve deep into not only the planet's interior, but into how Jupiter was born and how our entire solar system evolved."
The following NASA video allows you to fly along with Juno as it nears Jupiter. Clicking and dragging the view on your computer will give you a 360-degree experience of being in space with Juno:
The principal mission investigator, astrophysicist Scott Bolton, told his team, "We just did the hardest thing NASA has ever done."
In an interview with The Huffington Post, Bolton explained why.
"[T]he difficulty of going that close to Jupiter and dealing with the challenges associated with the radiation, the intense magnetic field, trying to do this critical maneuver in a territory that's so far beyond what we've been able to measure or even create in a lab to test. To me, it represents the hardest thing we've done."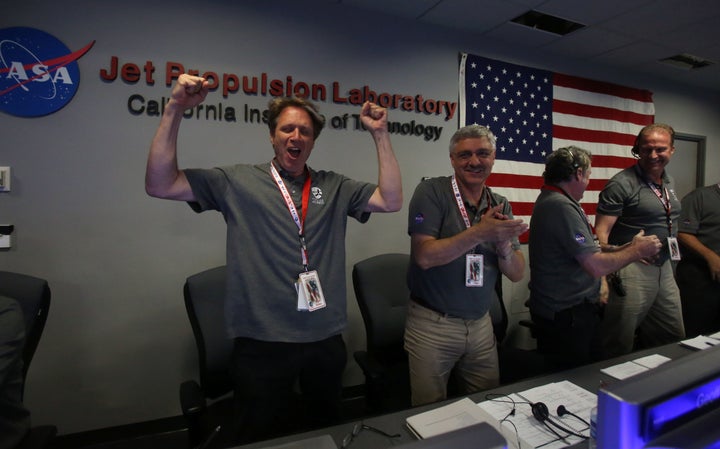 But NASA has a long history ― through its Mercury, Gemini, Apollo, Skylab and Space Shuttle programs ― where it always had to overcome technological hurdles to further advance its lofty goals of space exploration.
"What we did really was some of the hardest things that we've been able to ever do because it was, by far, the toughest environment we've had to make a spacecraft work," Bolton, who is the assistant vice president of Southwest Research Institute in San Antonio, Texas, said. "We're also moving faster ― about 165,000 miles an hour ― than anything we've ever had. We were moving past Jupiter, relative to the Earth, faster than any spacecraft has ever gone."
In the following NASA/JPL-Caltech video, the Juno spacecraft created a time-lapse movie of Jupiter's four main moons orbiting the planet. When the movie begins, June 12, Juno was 10 million miles from Jupiter, and when it ends, June 29, it was only 3 million miles from the planet:
"Every time we accomplish something and take on a challenge with NASA, going all the way back to the very first launches," Bolton added, "we're gaining expertise and confidence so that the next challenge we take, we're ready to take a little bit more, do something that's a little bit more difficult, meet the challenges."
To protect Juno from the harsh environment of extreme radiation and intense magnetic field surrounding Jupiter, the team has armor-plated the craft in titanium, "and no other spacecraft has ever had to go through that kind of a design," Bolton said. "In no other mission have we looked at it and said that we'd better armor plate this thing."
Juno is now preparing to spend 20 months investigating up close the biggest planet in our solar system.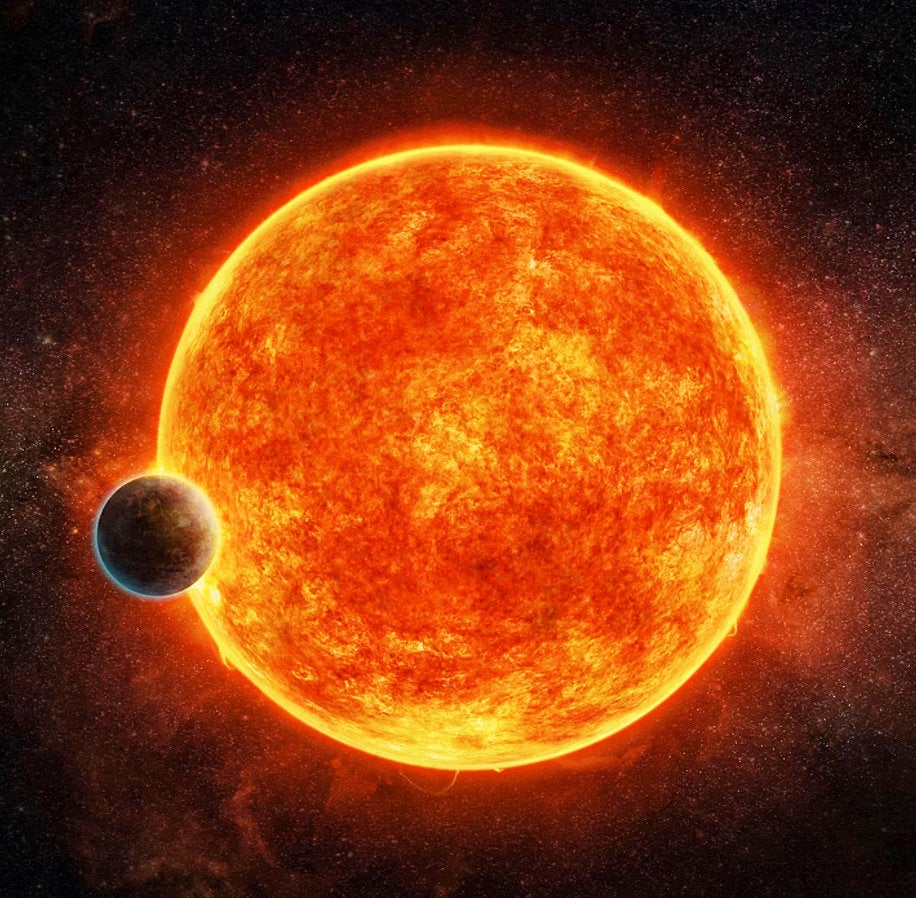 Artists' Conceptions Of Extrasolar Planets
Popular in the Community