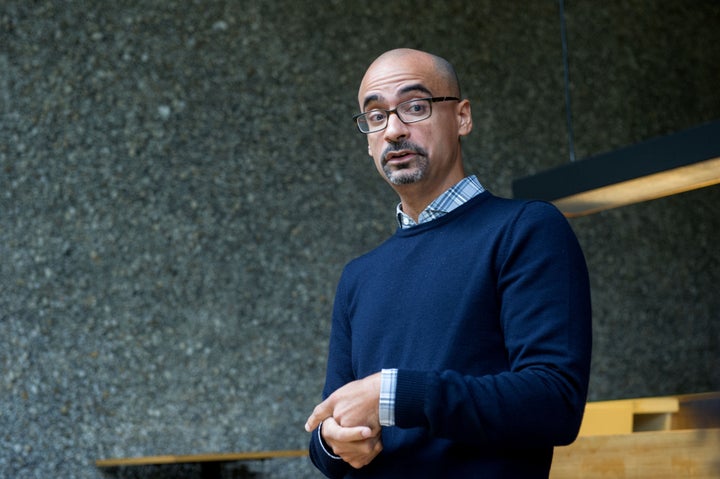 Author Junot Díaz has stepped down from his role as chairman of the Pulitzer Prize board amid allegations of sexual misconduct, the award group announced Thursday.
In a statement, the board also said it had opened an investigation into accusations made against Díaz at a writers festival in Australia last week and then on social media by several women. One of them, writer Zinzi Clemmons, accused Díaz of forcibly kissing her several years ago.
Díaz will remain on the Pulitzer board, of which he has been a member since 2010. He was awarded the chairmanship last month on the basis of seniority.
"The Pulitzer Prize Board has authorized an independent review of allegations of misconduct against one of its members," the group said in a statement. "Mr. Díaz said he welcomed the review and would cooperate fully with it."
Clemmons used the question-and-answer session at the Sydney Writers Festival last week to ask about Díaz's recent essay in The New Yorker in which he wrote about being sexually assaulted as an 8-year-old. She then asked why he had treated her the same way, causing a shockwave on social media. She elaborated on her allegations on Twitter.
"As a grad student, I invited Junot Díaz to speak to a workshop on issues of representation in literature," she wrote. "I was an unknown wide-eyed 26-year-old, and he used it as an opportunity to corner and forcibly kiss me. I'm far from the only one he's done this to, I refuse to be silent anymore."
Another author, Monica Byrne, wrote that she was subjected to "virulent misogyny" after Díaz became agitated and yelled at her during a dinner.
"His voice had risen to a shout. He literally shouted the word 'rape' in my face," Byrne wrote on Facebook. "This is after knowing me for maybe ten minutes. His response was completely bizarre, disproportionate, and violent. I was speechless and felt sick."
Other women also added their accounts.
Following the allegations, Díaz released a statement through his agent saying he took "responsibility for my past."
"That is the reason I made the decision to tell the truth of my rape and its damaging aftermath," he said. "This conversation is important and must continue. I am listening to and learning from women's stories in this essential and overdue cultural movement. We must continue to teach all men about consent and boundaries."
The Pulitzer board said Díaz would be replaced by its previous chairman, Eugene Robinson, on an interim basis.
Popular in the Community