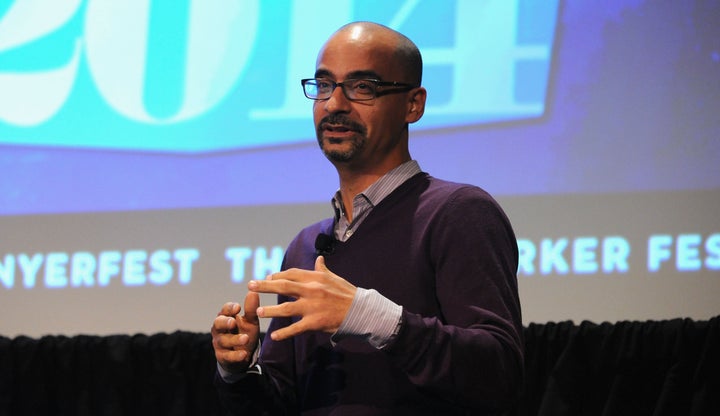 Junot Díaz says he was "confused" and "panicked" when multiple women accused him of sexual misconduct and verbal abuse in May. 
The Pulitzer Prize-winning author, editor at the Boston Review and MIT professor recently spoke with The Boston Globe in his first interview since multiple women accused Díaz of misogynistic behavior including verbal abuse and forcible kissing. Díaz said he was "shocked" by the allegations and categorically denied the accusations made by four female authors. 
"I was, like, 'Yo, this doesn't sound like anything that's in my life, anything that's me,'" he told The Boston Globe. 
At least four female authors accused Díaz of abusive or misogynistic behavior, with one alleging he physically assaulted her. Novelist Zinzi Clemmons tweeted in early May that Díaz "forcibly kissed her" when she was a graduate student. Three other women said he verbally abused them.
"I'm far from the only one he's done this 2, I refuse to be silent anymore," Clemmons tweeted.
The allegations emerged after Díaz revealed he had been sexually assaulted as a child in a New Yorker essay published in April.
The writer, whose stories often center on men who treat women poorly, tried to distinguish himself from his work. 
"There is a line between being a bad boyfriend and having a lot of regret, and predatory behavior," Díaz told The Boston Globe.
He also distanced himself from his initial statement in response to the allegations, in which he said he takes "responsibility for [his] past," and added that "we must continue to teach all men about consent and boundaries."
"I've written a lot of crap in my life. One does when one's a writer," Díaz said. "But, definitely, that statement is the worst thing I've written, the worst thing I've put my name to. Boy, I wish I'd had the presence of mind to rewrite the damn thing."
As a survivor of sexual assault himself, Díaz said that the Me Too movement is very important to him.
"For someone like me, who's a victim and a survivor, me too stuff matters," he said.
Díaz, who won the 2008 Pulitzer Prize for fiction with his novel The Brief Wondrous Life of Oscar Wao, was cleared by two separate investigations to continue working at MIT and The Boston Review. Three Boston Review editors resigned in protest after the literary magazine decided to keep Díaz on the staff despite the allegations. Díaz stepped down from his role as chairman of the Pulitzer Prize board in May. An investigation by the Pulitzer board is still ongoing. 
REAL LIFE. REAL NEWS. REAL VOICES.
Help us tell more of the stories that matter from voices that too often remain unheard.