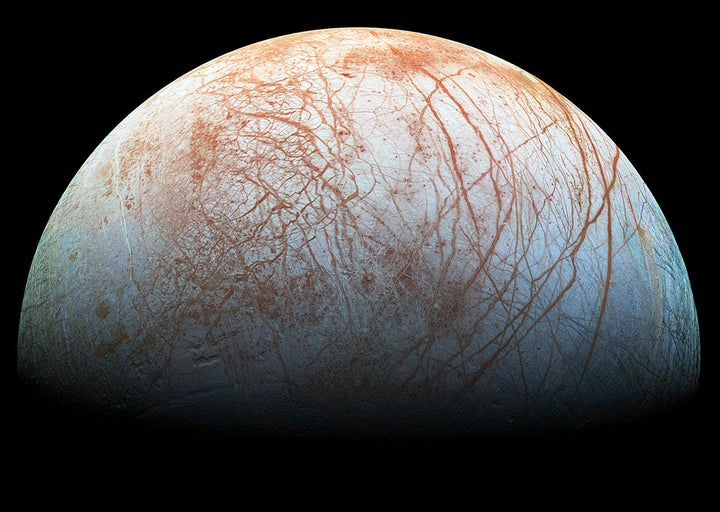 Jupiter's ocean moon Europa -- one of the planet's four main moons -- may be chemically balanced to spawn life similar to Earth's oceans, according to a new study.
There's been a lot of recent talk, speculation and excitement over the seeming barrage of new possible habitable planets discovered recently in our galactic neighborhood. But a study published this week in the journal Geophysical Research Letters suggests Europa -- just 390 million miles from Earth -- may harbor life.
In the 1990s, NASA's Galileo mission to Jupiter found indications that Europa -- similar in size to our own moon -- contains more water and ice than our whole world. Early unmanned missions to Europa revealed a very thick ice surface, leading scientists to speculate there may be a liquid ocean under that frozen crust.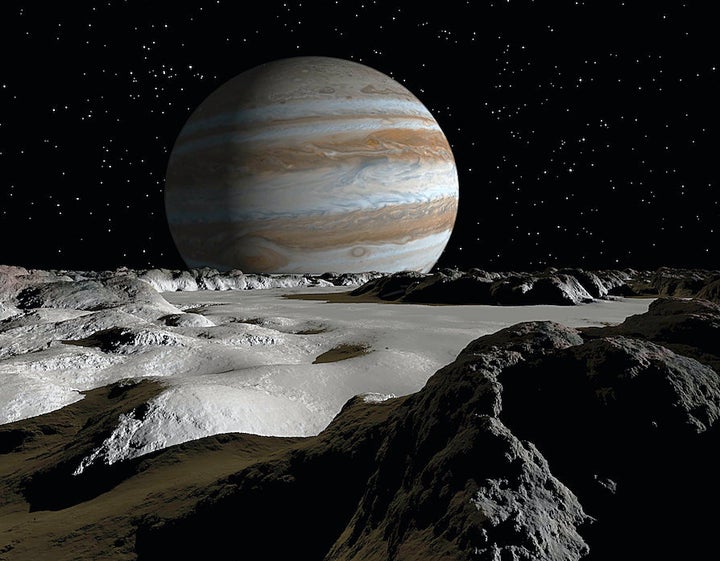 "Europa is really cold -- about 350 degrees below zero! That's a kind of cold we can't comprehend here on Earth. And that's not all. It's in a vacuum," Kevin Hand, a Jet Propulsion Laboratory astrobiologist, told Southern California public television station KCET.
"There's no atmosphere, and then you've got the radiation," Hand said. "A human would not want to stand on the surface of Europa -- as beautiful as it would be -- you would die relatively quickly because of the radiation environment." 
A manned mission to Europa would be incredibly dangerous. But it's not an impossible task for an unmanned vehicle. At the California Science Center in Los Angeles, the Jet Propulsion Laboratory has tested an underwater device called a BRUIE, or Buoyant Rover for Under-Ice Exploration.
The BRUIE can be used on Earth to explore the Arctic and Antarctic, and could expand its functions to search for habitability and life in places like Europa.
"A lot of what we do in deep space is applicable to the ocean," Andy Klesh, a Jet Propulsion Laboratory investigator said in a California Institute of Technology news report. "This is an early prototype for vehicles that could one day go to Europa and other planetary bodies with a liquid ocean covered by ice. It's ideal for traveling under the ice shelf of an icy world."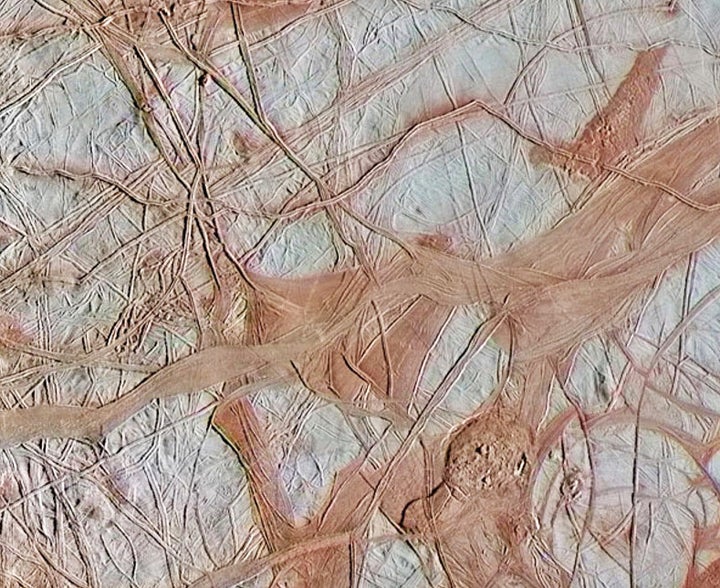 NASA plans to launch an unmanned mission to Europa -- the Europa Multi-Flyby Mission -- in the 2020s, to determine if extraterrestrial Europans exist.
"The discovery of life beyond Earth is not going to change the way you make your coffee in the morning, and it's not going to make your commute faster, but throughout the history of humanity, exploration and discovery has been a fundamental part of our drumbeat," said Hand.
"I feel like I can make a somewhat solid prediction that Europa's ocean is habitable," he continued. "So, I do think, in the coming decade, when we do explore Europa, we will find life."
REAL LIFE. REAL NEWS. REAL VOICES.
Help us tell more of the stories that matter from voices that too often remain unheard.
BEFORE YOU GO
PHOTO GALLERY
Artists' Conceptions Of Extrasolar Planets