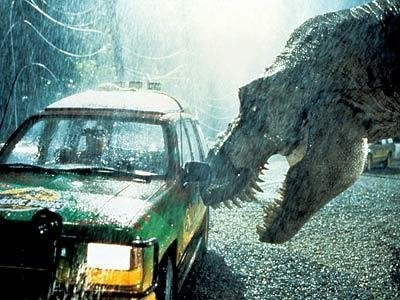 The wait is a mere flicker of an instant in time compared to how long it took the dinosaurs to come back to earth, but then, when you've got a beloved franchise like "Jurassic Park," fans tend to get antsy.
This may or may not help.
Steven Spielberg, the director who needs no introduction, made his first ever appearance at Comic-Con on Friday, to promote his upcoming motion capture adventure, "The Adventures of Tin Tin." It makes great use of technology, and footage wowed attendees at the hallowed Hall H, but it was Jurassic Park, one of his ultimate technological breakthroughs, that garnered the most buzz.
It's long been speculated and teased that a fourth film in the series -- the last hit theaters in 2001 -- would some day get made, but there's been no solid story or timeline for its production. Spielberg was albe to, kinda sorta, give an answer to that latter question of time.
According to Movieline, Spielberg said, "We have a writer who is writing a treatment and hopefully we will make 'Jurassic Park 4' in the next two to three years."
He didn't give any plot details away, but Joe Johnston, the "Captain America" director who worked on the first three, spilled a few beans last week.
"We are in discussions about 'Jurassic Park 4,'" he told ScreenRant (amongst other things). "The most important thing I can tell you is that it starts a new trilogy that will go off in a different direction -- a completely different direction that is very exciting."
REAL LIFE. REAL NEWS. REAL VOICES.
Help us tell more of the stories that matter from voices that too often remain unheard.