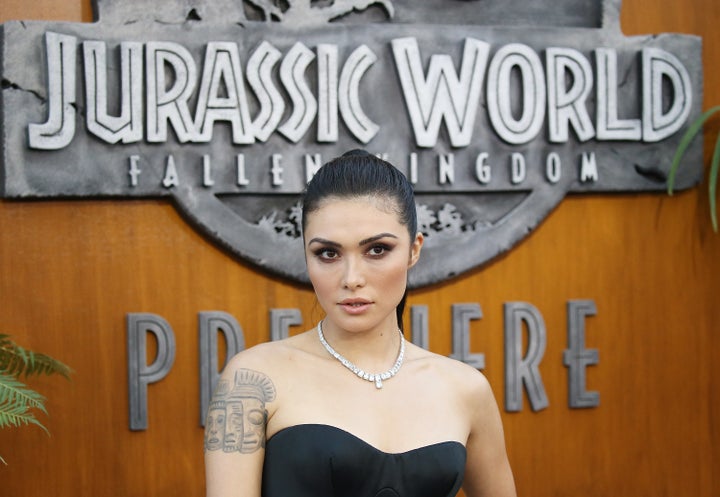 Ahead of the highly anticipated sequel's release on Friday, actress Daniella Pineda, who plays paleo-veterinarian Dr. Zia Rodriguez in the film, teased that a scene in which her character reveals she was a lesbian was left on the cutting room floor. 
"I understood why they cut it — for sake of time. It's me and Chris Pratt, and we are in a military vehicle with all of these mercenaries," Pineda said in a Build Series interview. "I look at Chris and am like, 'Yeah. Square jaw. Good bone structure. Tall. Muscles. I don't date men, but if I did, it would be you. It would gross me out, but I would do it.'"
She added: "It was cool, because it was a little insight into my character." 
Pineda defended the cut as "not relevant to the story," but expressed some hope that her character's personal life would be explored in future films. 
"I'd like to see more of that, especially in big-ass movies," she said in a conversation about the importance of including queer characters.
Tessa Thompson revealed that her character in the Marvel movie was in fact bisexual, but a scene in which a woman was seen exiting her room was excised in the final version. A queer romance was also cut from the Ryan Coogler-directed film, according to actress Florence Kasumba, who said she performed in a scene in which her character flirted with a female general played by Danai Gurira.
"Deadpool 2," however, was recently praised by GLAAD as "groundbreaking" for featuring a scene in whiche Negasonic Teenage Warhead introduces her girlfriend Yukio to Ryan Reynolds' character in the film. 
Calling all HuffPost superfans!
Sign up for membership to become a founding member and help shape HuffPost's next chapter
BEFORE YOU GO
PHOTO GALLERY
Celebrity Photos